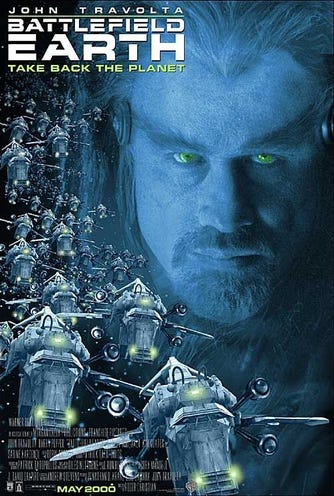 John Travolta (Terl)Forest Whitaker (Ker)Barry Pepper (Jonnie Goodboy Tyler)Kim Coates (Carlo)Sabine Karsenti (Chrissy)Michael Byrne (Parson Staffer)Christian Tessier (Mickey)Sylvain Landry (Sammy)Richard Tyson (Robert the Fox)Christopher Freeman (Processing Clerk)John Topor (Processing Clerk)Shaun Austin-Olsen (Planetship)Tim Post (Assistant Planetship)Earl Pastko (Bartender)Michel Perron (Rock)Michael MacRae (District Manager Zete)Todd McDougall (Psychlo Wrangler)Derrick Damon Reeve (Psychlo Hoser)
It's the year 3000 A.D., and the Earth is lost to the alien race of Psychlos. Humanity is enslaved by these gold-thirsty tyrants, who are unaware that their 'man-animals' are about to ignite the rebellion of a lifetime.
More about Battlefield Earth
Recently I sat down and read the science-fiction novel Battlefield Earth for the first time since I was a kid.
Battlefield Earth is a movie about aliens with adenoid problems. Or something. No one's really sure. The critical…
It is with a heavy heart that I must report that the long, pointless national nightmare that is my oft-thwarted…