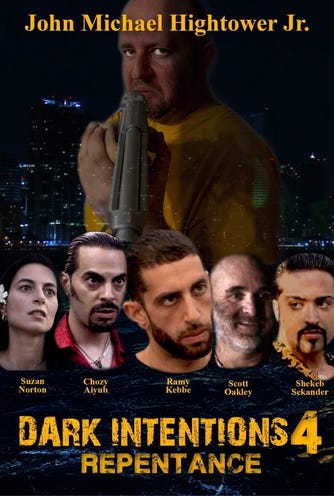 John Michael Hightower Jr. (Seth Burgess)Ramy Kebbe (Carlos Artega)Chozy Aiyub (Fernando Chavez)Shekeb Sekander (Boris Yeltzin)Scott Oakley (Terry Cauldwell)Eli Jo (Jana Anison)Tony Lewis (Chris Donovan)Angela O'Brien (Stacy Donovan)Suzan Norton (Carlina Gomez)Cate Perschke (Tara)Tessa Emily Hall (Becca)Brooklyn Brown (Dana)Dan Swift (Captain Earl Greystone)Sydney Ashley Bennett (Bevery Ford)Colin Ochs (Rick Stansfield)Bethany Kasulas (Sgt Biggs)Christopher Andrade-Lopes (Luciano)Madison Victoria (Aspen)
John Michael Hightower Jr.
In the forth installment of the Dark Intentions franchise Seth Burgess (John Michael Hightower Jr) still on the run from his arch nemesis Rick Stansfield (Colin Ochs), comes to a revolutionary place in his journey. After rescuing Tara (Cate Perschke) from Stansfield's hideout, he runs into obstacle after obstacle with Tara, in shock, being silent about her knowledge of Stansfield's whereabouts and his newfound love interest Jana (Eli Jo) has revealed some... surprises... Seth is at his end. With Captain Greystone (Dan Swift) closing in closer and closer, and a failed assassination' attempt on Rick leaving Seth's former partner Chris hospitalized and possibly to the brink of death, Seth realizes that his war with Stansfield is costing everyone too much. After coming to grips with religion and the encouragement of Tara and her friends Seth surrenders his need to be one step ahead of everyone like he has his whole life and subsequently realizes unconditional surrender is the only answer. Seth must turn to an unlikely ally and former foe, Carlos (Ramy Kebbe) who ironically, has problems of his own. Carlos is looking to make a career change and that is completely unacceptable to his gang leader (Chozy Aiyub) and his fiancé' (Suzan Norton) who has a mysterious past with Carlos and causes a war within the gang. Sparks will fly as Carlos may finally have become a "small fish" in someone else's big pond and Seth may finally realize he is not the hero he thinks he is. Both men face 2 wars of their own and together finally reach a state of.... Repentance.