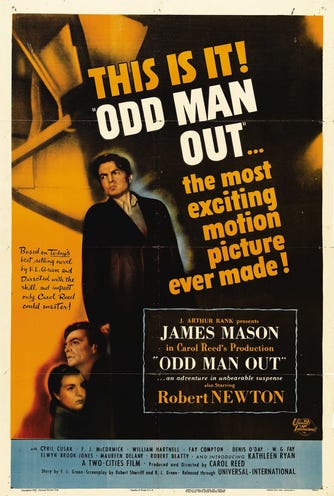 James Mason (Johnny McQueen)Robert Newton (Lukey)Cyril Cusack (Pat)F.J. McCormick (Shell)William Hartnell (Fencie)Fay Compton (Rosie)Denis O'Dea (Inspector)W.G. Fay (Father Tom)Maureen Delaney (Theresa O'Brien)Elwyn Brook-Jones (Tober)Robert Beatty (Dennis)Dan O'Herlihy (Nolan)Kitty Kirwan (Grannie)Beryl Measor (Maudie)Roy Irving (Murphy)Joseph Tomelty ('Gin' Jimmy, the cabbie)Arthur Hambling (Tom)Ann Clery (Maureen)
A wounded Irish nationalist leader attempts to evade police following a failed robbery in Belfast.
Decades ago, movie posters were a lot more aggressive, relying not on blurbs from critics but on breathless praise…
In Scenic Routes, Mike D'Angelo looks at key movie scenes, explaining how they work and what they mean.