"Say Goodbye To Daisy Miller," season five, episode one, originally aired 9/21/2004 

That's the problem with the epicness of a first kiss or an emotional upheaval: There's bound to be a letdown afterward. And after a whole summer off, these first few episodes of this Gilmore Girls season try to pick that tremendous momentum back up again. Season five does this by grounding us in our favorite place—Stars Hollow—from the morning after the Dragonfly Inn's opening all the way to the Cider Mill festival, so we know that fall, the best season of Stars Hollow (and everywhere) has arrived.
Watching these episodes like this, I believe I have taken for granted for all these years elements like set design. Maybe it's seeing the transformation of the Dragonfly, but Traci Lords or whoever designed the interior, with the automatically lived-in look of multiple prints and plaids, wallpapers and curtains, it's just spectacular. Maybe that's why I was so happy to tune in all those years, and why I still fall into it as easy as a favorite sweater or chair; I can practically smell the grease on the walls of Luke's diner. Young Lorelai and baby Rory clung to Stars Hollow as soon as they saw it; the beauty of Gilmore Girls is creating Stars Hollow a town that appealing that we automatically understand how that happened.
Wisely, the season kicks off with post-coital Dean and Rory, to get some needed alternate perspective on how that tryst happened, followed by Emily and Richard in an epic battle ("Only prostitutes drink two glasses of wine at lunch!"). I love the way Amy Sherman-Palladino juxtaposes these two relationships against each other: the glow of the first time versus the long-simmering anger of a decades-long disintegrating relationship. Both men say "Don't you dare," but for entirely different reasons: Dean not wanting Rory to move and Richard not wanting Emily to climb out the window.
G/O Media may get a commission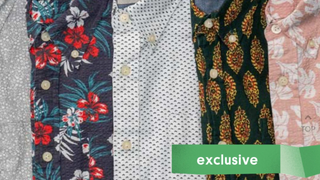 Grab three styles!
JACHS NY Summer Pack
Maybe not as wisely, the show appears determined to keep Luke and Lorelai apart post-kiss, so that we're practically as frustrated as they are. Lauren Graham nails the flurry of emotions that must be running through Lorelai's head, so devoted to her daughter that even an epic clinch from Luke must take a back seat to the possibly disastrous situation that Rory is now in the middle of. These two fight so rarely, it's almost a relief to see them finally snipe at each other in, as Lorelai points out, Rory's belated adolescent rebellion (leaving for Europe without even so much as a curt "bye").
As Richard and Emily dissolve, so do Lorelai and Rory, and the two wayward members of that foursome leave for the continent. Even as her entire way of life is falling apart, Emily never lets down her guard for even a moment, still offering wisecracks to Lorelai ("I just came in for lunch. It's not like I did anything truly terrifying like telling you that buttcrack-baring jeans have gone out of style"), and excited about this new phase of her life. Now and forever, Kelly Bishop is magnificent. You also have to love the farewell montage at the end, as Emily leaves with enough luggage to fill a two-flat building, and Richard steps into the frame of the doorway to finally light his cigar in peace. No goodbye there, either.
For all the bullshit that Dean is about to pull next episode, let's remember that Rory, for all her poor decision-making these past few episodes, is not in this alone. He started kissing her at Miss Patty's, not the other way around. And to Rory's credit, probably the thing that most makes her get on that plane to Europe is seeing poor Lindsey badgering the butcher to try to make the perfect dinner for Dean. Not that those two crazy kids weren't headed for divorce court eventually anyway, but Lindsey is clearly unaware that Dean thinks the relationship is over. She's still trying. In fact, Dean may never be more heinous than he is in these two episodes, first lambasting Lindsey for answering his phone, freaking out because he knew it was Rory, and then blaming Rory for all of his problems the next. To quote Lindsey: Whatever, Dean.
"A Messenger, Nothing More," season five, episode two, originally aired 9/28/2004 
Do you remember the first time you channel-surfed onto a show, unfamiliar, but just started watching it anyway? "A Messenger, Nothing More" might have ben the first Gilmore Girls episode I ever saw. I swear I must have watched it seven times or so since. Like "Haunted Leg," it's just one of those great, Stars Hollow-centered episodes (well, except for the Europe scenes) that like I said, just makes you want to live there. Maybe it's the way it announces the return of the season. I am as fall-minded as The Onion's Autumn Man.
On the outs with her daughter and Luke a few states away, we see an unfamiliar Lorelai here, wound up and tense, and hammering away at her staff. Sookie's tough talk appears way overdue. Meanwhile, we can already tell that the inn is going to be a delightful place to hang out, mostly due to a welcome influx of more Michel (Ignoring Taylor! Throwing Chinese checkers across the room!).
Lane gets some nice moments these two episodes, trying to help her best friend out, and standing her ground with her band. Naturally, she's going to toss her bandmates some extra fries from the diner fryer. And I liked the girl coming in to apologize to Lane, even though she only received some rude responses for her trouble (I feel like it's Lane's churchy upbringing that causes her to toss out words like "dirty trollop"). But how can Lane like Zack with his gross lothario act? Is it just based on that bone he threw her at their gig a few weeks back when he said she played well? If so, ick. Granted, he's cute, but it's tough to see where else the attraction is, but we can look forward to seeing that build over the next few seasons.

Speaking of building relationships: Why did Lorelai and Luke's next kiss have to be interrupted by the Cider Mill parade? I feel like the Palladinos were so afraid of losing that will-they/won't-they momentum that they tried to keep it going for awhile, to drag this all out as long as possible. But we know from the pair's phone calls already that they are smitten (Luke especially); maybe it's a metaphor for the town getting in their way, and an excuse for a Go-Go's quote, but it seems like a cheat.
A much better metaphor: Those red balloons that fly over Rory's head after her unsatisfactory talk with Dean. Again, it is straight-up maddening that he's blaming his feelings for her for everything, saying that he feels like an idiot, and she bailed on him, when really she was trying to do the right thing. Maybe that's what I love about this particular plotline overall: Her entire life, all we've ever seen Rory do is the right thing: painstakingly, ploddingly so. Sleeping with still-married Dean, no matter what he said, was a walk into the dark side, and they both knew it. Then she tries to make things right with that letter, which instead ends up blowing up Dean's marriage completely. Lindsey's mother is justified to go off on her: Lives were ruined. Rory, for the first time, learns how much her actions have consequences, and that there are some things that you can't just take back with a letter. As the red balloons that Lorelai accidentally set loose from the parade then fly over Rory's head, it's a sign that no matter what happens from now on, her childhood is definitely over. She kept pointing this out to Lorelai during their fight—she's 19, she can make her own decisions—but her own decisions led her to the mess she's now in. There's no longer any looking back.
Stray observations
Absolutely love Sookie's unmitigated joy at the Lorelai/Luke relationship. Although what's with all the dying alone fear?

Dean lost a lot of weight over the summer, huh? Also shaved. I know that Rory and Dean aren't exactly over yet, but I would have ben happier if this was the end, the final ramifications of the Rory-Dean affair.

Adorable baby Davey looks exactly like a mini-Sookie.

"God I'd love to spend the next three years just reading." "What book?"

Emily's so mad she even slapped a fern.

Wow, remember when The DaVinci Code was like the hugest thing ever?

Lorelai and Michel in a nutshell: "I can't believe you did this." "Oh, you can too."
Has Kelly Bishop ever been hotter than when effortlessly speaking Italian? Rory is at least right about one thing, her grandmother certainly has the gams (leftover from her days as a showgirl).

Can only imagine the actual romantic intrigue that goes on at the Renaissance Faire.

Best Gilmore outfits: I still love that aqua blouse that Lorelai wore the day after the opening. In fact, I still do [goes online to track it down]. Also that black dress with the pink midriff panel that she wore at the inn with pink shoes. Also Lane's little plaid shirt with the black lace shoulders.

Worst Gilmore outfit: Sweater vests. Why. Also, what is up with all the tiny purses?

Next week: Luke's in, guys. He's all in. And Logan Huntzberger rears his smarmy head.