Here's what's up in the world of TV for Wednesday, June 20. All times are Eastern.
TOP PICK
Futurama (Comedy Central, 10 p.m.): Matt Groening's other animated series returned two years ago for its sixth season and first to be initially broadcast on a cable network, then split that 26-episode season over two years. So now, we're starting the seventh season, though most TV sites—including this one probably—will list it as the eighth because of the vagaries of when everything airs. The important thing to note is that Futurama is back, baby, and Zack Handlen will be back with it, always there to let you know just which Bender lines have potential to turn into catchphrases and which are just busts. All of you with Bender avatars, unite!
---
REGULAR COVERAGE
So You Think You Can Dance (Fox, 8 p.m.): It's time for callbacks, which means things are about to get real. Or, rather, this will be the point where a bunch of people who shouldn't have gone through to Vegas are cut, so things can start getting real in a couple of weeks. Oliver Sava is known for his realness.
Dallas (TNT, 9 p.m.): Last week's two-hour debut scored big ratings for this reboot of the original '80s soap, and tonight's episode puts J.R. back where he belongs: in Southfork. No news on where his eyebrows are going to take up residence, but Steven Hyden recommends they get their own series.
---
TV CLUB CLASSIC
Arrested Development (11 a.m.): Celebrate Christmas with the Bluths and Noel Murray, as we drop in on "Sad Sack" and "Afternoon Delight." In fact, relive the wonderful days of late 2004, when the Parents Television Council named the former the "worst show of the week," probably because it was awesome.
G/O Media may get a commission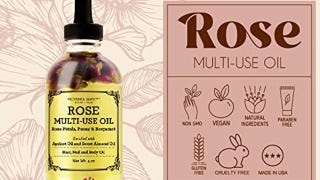 Provence Beauty Rose Multi-Use Oil
The Sopranos (1 p.m.): It's back to New Hampshire and the adventures of Vito, as he starts to get the itch to leave behind his new, nearly perfect life because it's just no fun having to be a workaday stiff. Todd VanDerWerff once moved to an idyllic small town, but Big TV Criticism's siren song was too strong!
Sports Night (3 p.m.): The Greek god Thespis is showing up just to fuck around? Why, if that doesn't say "this is an Aaron Sorkin show," we don't know what does! Then again, Thespis has cast his crazy brand of bullshit loose on many a television program. Donna Bowman blames Thespis for all typos in her piece.
---
WHAT ELSE IS ON
Baby Daddy (ABC Family, 8:30 p.m.): So there's this guy who's had unprotected sex in his life, and it turns out that one of his former girlfriends got pregnant, and now she's left the baby on his doorstep. How topical! Todd VanDerWerff hopes this show is filled with lots and lots of baby reaction shots.
Diamond Divers (Spike, 10 p.m.): Spike continues its string of shows about hyper-masculine occupations with this new reality show about a bunch of dudes who dive into the depths of the ocean to retrieve diamonds for fun and profit. When oh when will Spike make a reality show about episodic TV reviewers?
Inside Men (BBC America, 10 p.m.): Meredith Blake checks out the latest drama import on this cable network. This one's all about three employees of a security depot who plan a major heist, and Meredith already alerts us that it's a good 'un. You might want to set your TiVos. Or not! We don't care!
The Soul Man (TV Land, 10 p.m.): Cedric The Entertainer stars in this new sitcom about a hip-hop star who becomes a minister after he receives his calling. Is this the American version of Rev.? Considering the premiere is about not all of the characters' belongings making the move with them, probably not.
Crash (Fox Movie Channel, 7:30 p.m.): All who call this the worst Best Picture winner of all time have clearly never suffered through Cimarron, but we feel confident in saying this one is bottom five, and all who doubt us on that are consigned to have emotionally fraught confrontations with random strangers.
How To Deal (Encore, 9:45 p.m.): All who ask us why we have such abiding faith in Mandy Moore are pointed to this film, which has one of the worst, most melodramatic scripts you'll ever see, yet is very nearly saved by the effervescent charms of Ms. Moore. Allison Janney is also good, unsurprisingly.
MLB Baseball: Cubs at White Sox (WGN, 8 p.m.): It's time for a Subway Series, as WGN brings us the Windy City's National and American League representatives facing off in a battle to the death. The Sox are just a half game out of first in their division, while the Cubs are… pretty awful. Sorry, Cubs fans.
---
IN CASE YOU MISSED IT
MasterChef (Tuesday): We didn't watch this one, but in his review, Phil Dyess-Nugent was making Lex Luthor jokes, so we're just going to assume that the episode revealed that Gordon Ramsay's only weakness is green Kryptonite, which one of the contestants smuggled onto the set in his ear canal.