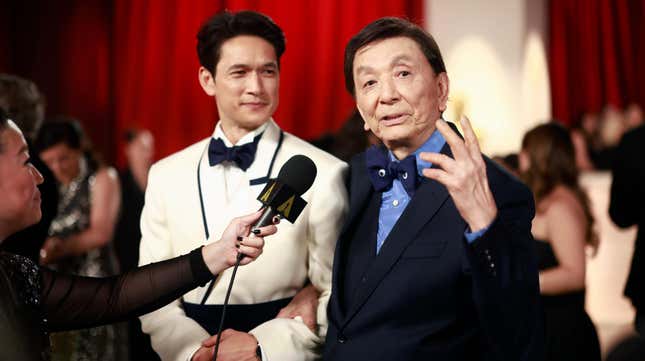 Everything Everywhere All At Once's triumphant awards season run was a special opportunity to celebrate some unsung heroes of cinema, including Oscar winners Michelle Yeoh, Ke Huy Quan, and Jamie Lee Curtis. There's also the movie family's patriarch James Hong, whose stirring speech at the Screen Actors Guild Awards touched many hearts. Somehow, at age 94 and with a long and storied career under his belt, Hong attended the Academy Awards for the first time in 2023—and his EEAAO co-star Harry Shum Jr. was lucky enough to be right there with him.
James Hong finally gets a star on the Hollywood Walk of Fame
Speaking with The A.V. Club, Shum Jr. promised that seeing the Oscars in person is just "as beautiful as it looks on television." He adds, "But having Samuel L. Jackson walk up to you—not to me, actually. I was sitting next to James Hong. I thought he was gonna come up to me, but he went to James Hong, and just said, 'I've been wanting to meet you for so long,' … and just congratulating him on his career."
The Glee alum continues, "And then he said to him, 'I'm gonna catch up to you.' He's like, 'I know you have over, like, 500 credits…I'm working my way towards that. I'm gonna get there.' So it was this healthy competition between two legends. And seeing that was… just awesome."
Shum Jr. adds that it was "just so wonderful to see someone…who has never been to the Oscars to take it in." And Hong came prepared for the ceremony: "I wish they got a shot of him eating a sandwich that one of his family members packed for him," the actor shares. "And also sharing cut apples with me while the ceremony was going." (Guess they didn't even need to dip into that snack pack that host Jimmy Kimmel left the audience members at their seats!)
"We miss those honest moments that were happening [in the] audience," Shum Jr. says of the difference between watching the show at home and actually being in the room. Sounds like he had the best seats in the house.