Explosive rock duo Local H has an equally explosive month ahead, with the release of its new album Hey, Killer and the kickoff of an extensive three-month tour. To mark the band's 25th anniversary, Local H is playing Chicago's Metro on April 19 in honor of its very first show (with '90s band Fig Dish playing a reunion set to open). Still driven by extraterrestrial guitarist Scott Lucas, Local H has seamlessly added new drummer Ryan Harding to the mix, losing nothing in the transition. Over the past few years the band has excelled at covers (check out the Local H version of Lorde's "Team," if you haven't already) with all of its dual ferocity intact.
Sharon Stone made a fraction of what Michael Douglas did for "Basic Instinct"
Hey, Killer, the band's first full-length release with Harding and eighth overall, will be released on Tuesday, April 14, and the preview tracks show that the band's original songs are as fierce as ever. Below is an exclusive A.V. Club preview of Hey, Killer's "One Of Us." Lucas describes: "Wrote the lyrics for this on the way to a wake for my friend Lexi. It's a funeral song, but I didn't want it to be morose. I wanted it to be unsentimental and kind of triumphant, and above all else, unapologetic. Anything less would've felt like lying."
Local H can transform ferocity into an actual art form, but "One Of Us" offers some welcome dramatic peaks and valleys from the band. Lucas starts out slowly and sentimentally on the guitar, describing an old friend who was "the next one of us to become none of us." His dynamic build finds a rage platform as he rants about being "blissfully numb to the feeling of years that were peeling away" and "the sweetness of cherries and stones." Even the guitar solo is subdued, as Lucas sings this ode to a friend too-soon departed, but the song soon reaches Local H's classic guitar-drum stratospheric heights.
In an A.V. Club interview a few weeks ago, Scott Lucas revealed that his favorite song was Cheap Trick's "Surrender." The influence of this anthem is evident in what could be considered the second chorus toward the end of "One Of Us." The shouted "We're all one of us / Sooner or later" throws right back to the Trick's "We're all all right," with Lucas striking his unapologetic and inclusive stance. We'll all die someday, some too soon, but we can still rage against it as we remember the ones who have gone before us. If every track on Hey, Killers sports this kind of depth, Local H fans are in for yet another captivating thrill ride.
G/O Media may get a commission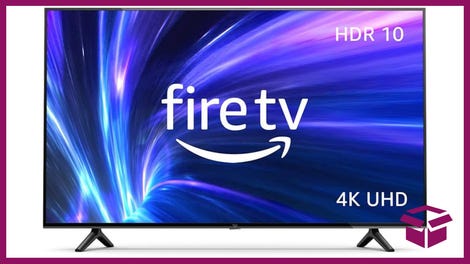 42% Off
Amazon Fire TV 50" 4K Smart TV
April 17—H.O.M.E.—Arlington Heights, Illinois
April 18—Tailgaters—Bolingbrook, Illinois
April 19—Metro—Chicago, Illinois
April 30—Firebird—St. Louis, Missouri
May 1—OK Conservatory—Oklahoma City, Oklahoma
May 2—Three Links—Dallas, Texas
May 3—Holy Mountain—Austin, Texas
May 5—Rhythm Room—Phoenix, Arizona
May 6—Casbah—San Diego, California
May 7—The Echo—Los Angeles, California
May 8—Bunkhouse Saloon—Las Vegas, Nevada
May 9—The Cave Big Bear—Big Bear Lake, California
May 11—Slidebar—Fullerton, California
May 12—Bottom of the Hill—San Francisco, California
May 15—Hawthorne Theatre—Portland, Oregon
May 16—El Corazon—Seattle, Washington
May 18—Urban Lounge—Salt Lake City, Utah
May 19— Larimer Lounge—Denver, Colorado
May 20—The Waiting Room—Omaha, Nebraska
May 21—Record Bar—Kansas City, Missouri
May 22—Spicoli's Grill—Waterloo, Iowa
May 23—The House Cafe—DeKalb, Illinois
June 12—The Loving Touch—Ferndale, Michigan
June 13—Grog Shop—Cleveland, Ohio
June 14—Chameleon Club—Lancaster, Pennsylvania
June 16—Mojo 13—Wilmington, Deleware
June 17—Great Scott—Allston, Massachusetts
June 18—The Met—Pawtucket, Rhode Island
June 19—Saint Vitus—Brooklyn, New York
June 20—Rock & Roll Hotel—Washington, D.C.
June 22—Cat's Cradle-Backroom—Chapel Hill, North Carolina
June 23—The Mothlight—Asheville, North Carolina
June 24—The Masquerade-Hell Stage—Atlanta, Georgia
June 25—Saturn—Birmingham, Alabama
June 26—Exit/In—Nashville, Tennessee
June 27—Cosmic Charlie's—Lexington, Kentucky
July 9—BBQ Fest—Kankakee, Illinois
July 10—The Hi-Fi—Indianapolis, Indiana
July 11—Frankie's—Toledo, Ohio