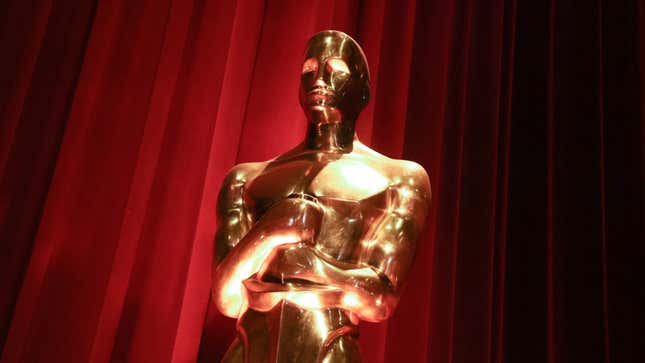 The 95th Academy Awards are just a few days away, and it's time to strap in. After the, well, unorthodox events of last year's ceremony, the Academy Awards return with a strong field of competitors, including a Palme d'Or winner, box-office record breakers, and one very contentious Best Actress race. Competition aside, one thing unites those dreaming of Tár supremacy and those touting a Top Gun: Maverick sweep: everyone needs somewhere to watch the ceremony.
That's where The A.V. Club comes in. Presenting the official guide on how and where to tune into the Oscars this year; read below for a few different potential game plans (and make sure to tap in with us on the big night for our live, night-of coverage!)
How to watch the 2023 Oscars live on air
For anyone planning to view their Oscars viewing via traditional cable, ABC is the premiere destination: according to the Academy Awards' website, the ceremony will be streaming for free on respective local ABC stations.
How to stream the 2023 Oscars
As far as streaming, the Oscars will be available via Hulu+ Live TV, YouTubeTV, FuboTV, and DirectTV Stream (which also encompasses AT&T TV.) All four services offer free trials ideal for one-night-only viewing. For any viewers who use American Sign Language (ASL), the Oscars' YouTube channel will air an accompanying ASL live stream hosted by Deaf interpreters.
How to watch the Oscars' pre-show coverage
ABC will be providing pre-show red carpet coverage, which will air live starting at 1:00 p.m. EST/10:00 a.m. PST and stream on ABC News Live starting at 1:30 p.m. EST/10:30 a.m. PST. Hosted by anchors Linsey Davis and Whit Johnson, the pre-show coverage will feature interviews with nominees as they arrive for the ceremony.
Directly leading into the ceremony, ABC will also air Countdown to the Oscars starting at 6:30 p.m. ET/3:30 p.m. PT, a pre-show that will spotlight nominees and provide an insiders view of the big night. Ashley Graham, Vanessa Hudgens and Lilly Singh will co-host the special, with TikTok-er Reece Feldman serving as a backstage correspondent.
Other ways to keep up with the action
Live television always comes with the peril of a badly-timed bathroom or snack break; luckily, The Academy Awards will be live-tweeting the ceremony from their official handle, @TheAcademy.
The 2023 Academy Awards will air live from Los Angeles' Dolby Theater on Sunday, March 12, at 5 P.M. PT/8 P.M. ET. For a full list of nominations, see here.