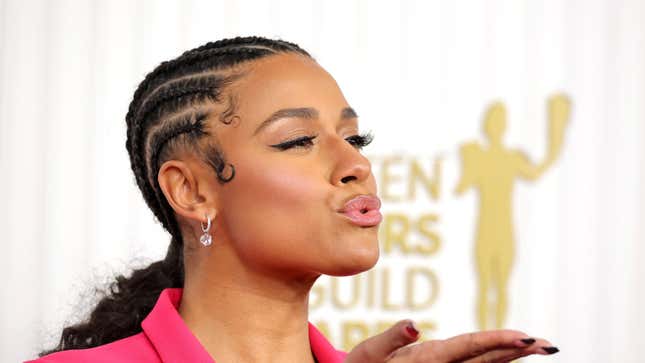 Much—possibly too much—has been made of Ariana DeBose's recent performance at the BAFTAs, in which the West Side Story star performed a musical tribute to many of the nominees, including, yes, a bit where she rapped that "An-ge-la Bassett did the thing" in a, let's say, perplexing cadence. Although DeBose initially responded to the sudden attention of something like fully half the internet the way any rational human might—she got the hell off Twitter for a while—she ultimately seems to have embraced it, including reposting a Jimmy Fallon bit poking fun at it, and referencing the moment during her recent appearance at the SAG Awards.
Judy Garland's previously missing Wizard of Oz dress to be auctioned off
Now, DeBose will get one more chance to put this all behind her/embrace it/bust out a second verse, as she was announced today as one of several presenters who will be handling duties at the 2023 Oscars. In addition to DeBose, there are a number of other big names on the list, including Riz Ahmed, Troy Kotsur, Emily Blunt, Jonathan Majors, Glenn Close, Melissa McCarthy, Jennifer Connelly, Janelle Monae, Deepika Padukone, Samuel L. Jackson, Questlove, Zoe Saldaña, Michael B. Jordan, Donnie Yen, and Dwayne Johnson—the latter of whom, we can only assume, will somehow try to make the whole thing about Black Adam somehow. (Or possibly his Teremana tequila brand.)
All told, a pretty solid list, including, with DeBose and Kotsur, both of last year's Best Supporting performance winners. (The leads, not so much; we don't know what Jessica Chastain is up to on the evening of Sunday, March 12, but the resigned-from-the-Academy Will Smith will presumably be otherwise occupied.)
The 95th Academy Awards will kick off at 5 p.m. Eastern on the evening of Sunday, March 12, on ABC. Jimmy Kimmel returns for his third stint as host.