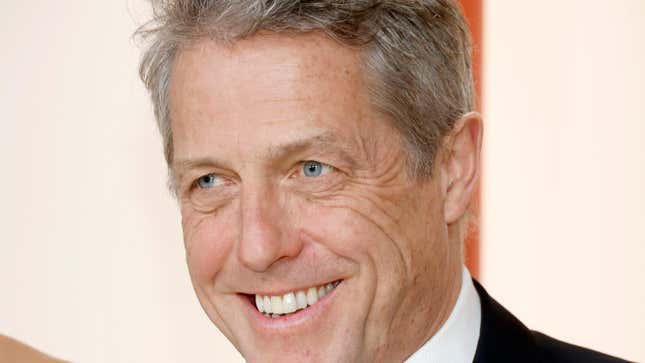 Hugh Grant has always been a trendsetter–never clearer than earlier tonight, when he made some bold strides to be Absolutely Sick Of This Shit at the 2023 Oscars well ahead of anybody else in attendance at tonight's awards.
Grant was trotting along the red carpet earlier this evening, when he got roped into an interview with pre-show presenter Ashley Graham. Who, while just trying to do her damn job, was then subjected to 80 of the most uncomfortable seconds of TV we've seen in recent memory–at least, since last year's Oscars–as it became rapidly, and abundantly, clear that Hugh Grant was not in the mood to field any questions, and honestly seemed kind of baffled that he was being asked to.
For instance: What does Hugh Grant enjoy about the Oscars? Very little, was the clear reply, as Grant paused for a long moment before expressing that it made for decent people watching. (He also made a comment about "the vanity fair," which Graham seems to have interpreted as a reference to a party thrown by the publication of the same name.)
And so it went: Hugh Grant does not care who wins tonight. Hugh Grant does not care who he's wearing. ("My suit," he calmly replied, as provided by "my tailor.") Hugh Grant does not seem to think it's especially neat that he was in Glass Onion for "about three seconds," shooting down Graham's questions about the fun of the movie with a polite but curt, "I'm barely in it." Graham, desperate, all but begs Grant to play along, but her "But you had fun?" on the Rian Johnson film was deflected masterfully with a very British "Almost."
It was all very Simpsons meme, "You can actually pinpoint the second when her heart rips in half" stuff, as Graham, on-air, visibly gives up with a defeated "Okay, alright... Okay." We'd call it cruel–because it genuinely kind of was–but it was also actually kind of impressive; some of the most brutal red-carpet-fu we've observed in some time.