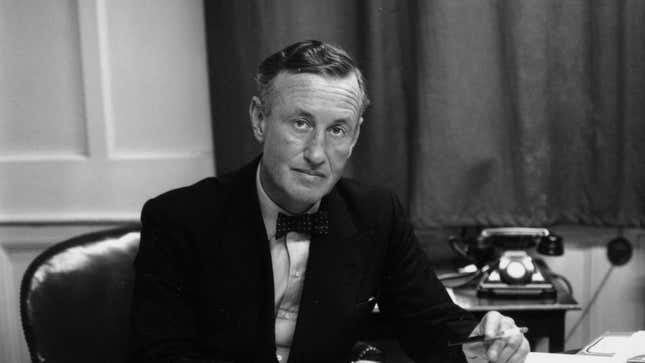 Recently, after the decision to reprint Roald Dahl's books with less problematic language was met with an immediate and predictable backlash from pretty much everyone, the company that owns Dahl's publishing rights backed down and agreed to keep both the new and classic editions of the books in print. That means that future generations will still be able to read about the times Dahl referred to a character in one of his books as "fat" or "ugly" (and then maybe they can read about some of the times Dahl said even worse things about real people), but the same can't be said for another iconic British author's works.
"Doctor Strange" stars Benedict Wong and Rachel McAdams on navigating the MCU
The Telegraph says that newly edited versions of Ian Fleming's James Bond books are going to be released in honor of the series' 70th anniversary, but there are some twists here beyond what happened with Dahl—namely that Fleming's books are being altered so their less overtly racist, and also Fleming himself sort of approved of this (despite dying nearly 60 years ago).
The changes all seem to be specifically related to Fleming's depiction of Black people, with The Telegraph saying that the N-word has been "almost entirely expunged" (wow, almost!) and replaced with "Black person," though direct references to a character's ethnicity have been totally omitted in other cases. The way The Telegraph story describes it, it sounds like that alone might trim these books down by 100 pages each:
In one example, some criminals escaping from Bond in Dr. No become simply "gangsters". In the same novel, the race of a doctor and an immigration officer now go unmentioned, as does that of a henchman shot by Bond.

The ethnicity of a barman in Thunderball is similarly omitted in new editions. In Quantum of Solace, a butler's race now also goes unmentioned.
There's also a section in Live And Let Die where Bond's impression of people in the African diamond trade has been changed from "pretty law-abiding chaps I should have thought, except when they've drunk too much" to "pretty law-abiding chaps I should have thought." Also, a scene where everybody gets horned up at a nightclub in Harlem is changed from "Bond could hear the audience panting and grunting like pigs at the trough" to "Bond could sense the electric tension in the room."
The original American release of Live And Let Die was already edited to be less racist, and Ian Fleming Publications is quick to point out that Fleming himself approved of those changes before his death—saying in a statement that they are "following Ian's approach" and making changes to the language that are "more accepted today but in keeping with the period in which the books were written." Oddly, The Telegraph says "dated references to other ethnicities remain," like racist terms for Asian people, and there's still a lot of misogyny and homophobia in the books (though editing that stuff out of the James Bond series might make them structurally unsound).
The new paperbacks will be published in April, and Ian Fleming Publications said they "encourage people to read the books for themselves when the new paperbacks are published in April."