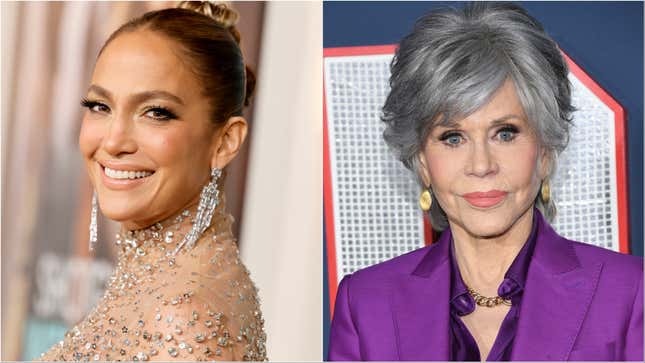 It turns out that if you break skin while slapping Jane Fonda for a movie, she will remember it 18 years later. Bad news for her Monster-In-Law co-star Jennifer Lopez, who apparently cut Fonda on the forehead while filming a fight scene, and never apologized for it.
Harry Hamlin on "Mayfair Witches" and 80 For Brady
Fonda shares the behind-the-scenes tidbit on the Drew Barrymore Show while rehashing memories from projects such as Barbarella and Grace And Frankie.
"Well, okay, the thing that comes to mind right away is, we have a slapping scene. I slap her, she slaps me, I slap her. Well, Jennifer—as per Jennifer—she had this enormous diamond ring," Fonda tells Barrymore. "And so, when she slapped me one of the times, it cut open across my eye, my eyebrow. You know, she's never apologized."
Well, Fonda's character Viola Fields did tell her to never "go and slap somebody and then apologize," so maybe she was just heeding the advice. Fonda and Lopez starred in Anya Kochoff's comedy about a merciless mother-in-law alongside Michael Vartan, Wanda Sykes, and Adam Scott. The film marked a return to the screen for Fonda, who had not appeared in a feature for 15 years.
Fonda later took things from behind-the-scenes to the bedroom, bringing Barrymore her own adult toy for some end-of-the-day unwinding.
"Jane, you relax with baths and meditations," Barrymore says. "Is it true that there also might be an adult toy involved?"
"There's my bed. There's my dresser," Fonda replies, before presenting her with a bright blue vibrator. "And in the top dresser drawer, you would freak out if you saw what's in there."