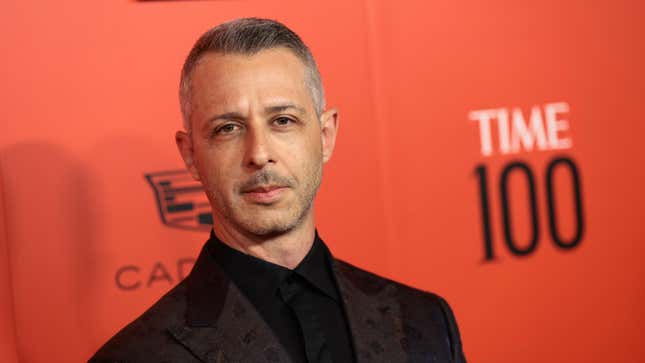 Another day, another truly incredible/slightly concerning revelation about Jeremy Strong's Succession acting method. This one comes via Nicholas Braun (cousin Greg), who chimed in on yet another wacky Jeremy Strong profile published today in GQ.
Amidst the usual Strong aphorisms about his proclivity for brown clothing (it's "monastic chic") and the human condition ("The self is a bit of a prison."), it's his co-star's brief cameo that, like last time, really paints a picture.
To get his co-stars in the mood for a season 4 scene, Braun shared that Strong "found a YouTube video of horrible crashes and destruction from, maybe, Transformers, and he had the sound department play it loud on the speakers so that we could hear it. I think that's the mentality: why not try something to see if it does change the energy in the room and in a performance?"
Are more literal car crashes coming in season 4 or was Strong just trying to soundtrack the metaphorical crashes these wayward kids enact every day? Remains to be seen, but the actor did address the trauma of filming that iconic season 1 finale scene in the profile. "One day, when the show is over, it'll be easier for me to maybe talk about that stuff, but while it's still going, that thing still feels real to me in a way," he said. Ah, the joys of method acting.
Speaking of method acting, Strong is—unsurprisingly—very hard to break. (If you, as an actor, can get through Kendall's rap with a straight face, we imagine you can get through quite literally anything.) Well, anything except for Greg the egg, of course. "I've had two or three times where he's broken, and it's been in one-on-one scenes. So I feel very proud about that," Braun said. "Usually, he is unbreakable. It's incredible."
Succession season 4 premieres March 26 on HBO.