John Hodgman: Ragnarok is available for streaming on Netflix.
Those who have followed John Hodgman's career—from his beginnings as a self-appointed expert of world knowledge and Daily Show regular through his side gig as a Mac pitchman and podcast judge—will not be surprised that his first comedy special, produced by Netflix, is unconventional. The show's conceit is that, only hours before the Mayan apocalypse, Hodgman has gathered his many followers to "a former warehouse on the shore of the Gowanus Canal" (Brooklyn rock and comedy venue The Bell House) to provide his acolytes with the skills and knowledge to prepare for the end of the world (or "Ragnarök" as it was called in the Norse mythology). He is surrounded by survival-kit items such as bottled urine, a world map, and giant bottles of mayonnaise.
Despite this complicated setup, Ragnarok boils down to Hodgman doing what he does best: acting pompous. In his "deranged millionaire" guise of an ascot, aviator glasses, and mustache ("I am growing this mustache because I am going to play the young Wilford Brimley in a prequel to Cocoon that I am writing in my mind," he says), Hodgman uses a survival-guide motif to provide a funny overview of humanity, from goat milk to hockey. Hodgman fans hoping for the obscure facts and antiquated language of his "world knowledge" books won't be disappointed, nor will comedy fans expecting familiar standup beats. (When much of the audience immediately answers a question about sperm whales, Hodgman takes a well-timed pause and blurts, "What the fuck is going on? Is this a secret whaling museum?")
Guests include 30 Rock regular Scott Adsit, who plays himself as Hodgman's manservant; accordionist/singer Cynthia Hopkins, who sings a lovely sea chanty that requires the audience to howl like wolves; and 14-year-old Joel Ronson, an audience member whom Hodgman enlists to stand watch outside the venue. These sudden shifts in tone can be occasionally jarring, but they also break up the performance in a way that proves necessary. A little Hodgman goes a long way.
The moments in Ragnarok that don't work occur when Hodgman tries observational comedy. His bit about football is too similar to George Carlin's "baseball and football" routine, and though the two comedians share a love of language, Carlin's style does not suit Hodgman. (His description of a football as "an object that would be described as a 'ball' only by a mentally ill person" is hilarious, however.)
When the world does not end (spoiler alert!), Hodgman looks a little embarrassed and humbled, then picks up a ukulele and strums while waxing philosophical on the passage of time. He sings a Hopkins song called "Resist The Tide," which prods people to spend their remaining days wisely. It's a surprisingly sweet moment, one that provides an unexpectedly appropriate end to a very funny night about endings.
G/O Media may get a commission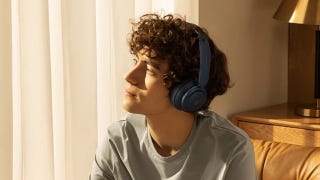 30% off
Soundcore Headphones and Earbuds
Stray observations:
Adsit absolutely nails his introduction of Hodgman, for whom he began working "in an undefined position" after 30 Rock ended its run: "Please do not look Mr. Hodgman directly in the soul patch, because that is where he believes his soul resides." Hornberger!
Hopkins' warbly voice is an acquired taste, but Hodgman's is surprisingly light and sweet. Who knew the deranged millionaire could sing?
Ragnarok was directed by Lance Bangs, best known for music videos by R.E.M., Kanye West, and The Black Keys (and for being married to Corin Tucker of Sleater-Kinney). His style here is admirably unobtrusive; his only bit of directorial flair comes during Hopkins' performance, when he cuts to Ronson standing outside in the cold, keeping an eye out for the end of days.