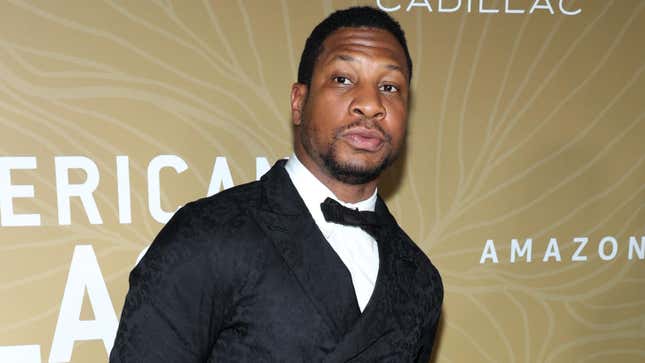 After being arrested on Saturday in an alleged "domestic dispute," Jonathan Majors was arraigned on Sunday and faces multiple charges, according to Variety. Those charges include "several counts of assault in the third degree, three counts of attempted assault in the third degree, one count of aggravated harassment in the second degree, and one count harassment in the second degree." According to the Manhattan District Attorney's office, Majors was released "on his own recognizance and granted a limited order of protection."
William Jackson Harper on "Ant-Man," "Love Life," and more
News of the alleged assault was first reported by TMZ. In a police complaint seen by The Daily Beast, the victim, reportedly Majors' girlfriend, said the actor "[struck] her about the face with an open hand, causing substantial pain and a laceration behind her ear." He also allegedly "[grabbed] her hand, causing swelling, bruising, and substantial pain to her finger" and "put his hand on her neck, causing bruising and substantial pain."
Majors has denied any wrongdoing, and criminal defense lawyer Priya Chaudhry said in a statement on Sunday that they "expect these charges to be dropped soon," per The Daily Beast. Further, Chaudhry claims Majors' accuser has already provided written statements recanting her allegations. Read the full statement below:
"Jonathan Majors is completely innocent and is provably the victim of an altercation with a woman he knows. We are quickly gathering and presenting evidence to the District Attorney with the expectation that all charges will be dropped imminently. This evidence includes video footage from the vehicle where this episode took place, witness testimony from the driver and others who both saw and heard the episode, and most importantly, two written statements from the woman recanting these allegations. All the evidence proves that Mr. Majors is entirely innocent and did not assault her whatsoever."
Since news of the altercation broke, the U.S. Army has pulled recruitment ads featuring Majors from television. Otherwise, it appears that Majors' professional partnerships (like that with Marvel, wherein he plays a critical role in the phases five and six) are waiting to see how the situation plays out before making any statements.