Kroll Show isn't like other sketch shows. To anyone who has seen even just an episode of the Nick Kroll creation, this point is obvious, but as the series comes to its three-season conclusion tonight, it bears repeating. Because as short as its run has been—and as low as its viewership has stayed—Kroll Show deserves to go down as one of the best sketch shows in television history.
And as devastated as I am that this is the end, whenever the creative folks behind a show get to pull the plug on their own terms, it yields—shockingly—better creative results. Kroll, along with executive producers John Levenstein and Jon Daly, were free to wrap up these characters' arcs the way they wanted to, and they took a surprisingly sweet route.
Kroll Show simultaneously parodies and reveres the form, style, and voice of reality television. Reality TV is the perfect home for Kroll's characters, who are often larger-than-life and far too out there for a more normal universe. Fortunately, the universe of reality television has no boundaries or rules, and long-standing Kroll characters like Bobby Bottleservice settled snugly into the souped-up world of reality dating, competition, and lifestyle series.
The series' satire remains piercing in its final season. Even as old sketches mutated into bigger, weirder concepts—like Too Much Tuna: Truck Stops, Rest Stops, & Tents, the followup to Gigolo House called Gigolo H-O-R-S-E, and the even more over-the-top Body Bouncers—the details poured into making every new show a believable and distinguishable parody of specific reality TV tropes and forms have continued to impress.
G/O Media may get a commission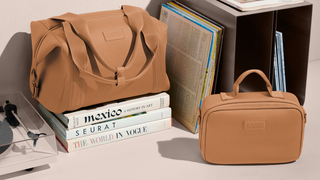 15% off
Dagne Dover Travel Kits
The series finale returns to some of the most successful fake shows of the series: PubLIZity, Rich Dicks, and the public access prank show Oh, Hello. But Kroll Show's legacy won't just be its comprehensive approach to parodying reality television. Kroll Show is as narratively complex as a traditional sitcom and even occasionally has the ingredients of an hour-long drama. Over the years, the series has tackled a vast range of tones and genres: horror, camp, romance, mystery. Sure, the show's reveals and twists come in the form of decidedly ridiculous things like new bangs and toilet babies. But they manage to hit as hard as more serious story devices. And Kroll Show also has tackled every human emotion there is, and those complexities are on full display in the series finale.
Even though the world of reality television is full of betrayal and vapid people and Kroll Show seizes every opportunity to poke fun at the heightened, fabricated drama that leads to, the series finale is oddly endearing. George St. Geegland (John Mulaney) and Gil Faizon offer Dr. Neuringer (Megan Neuringer) relationship advice, and even though it's expectedly bad relationship advice, there's still a genuineness to the moment, making George St. Geegland's tonal shift back into his nasty self ("you're as dumb as a dog") all the funnier.
But even sweeter is Liz G. and Liz B.'s conclusion. Because of a legal dispute with Jumanji, they have to pack up the PubLIZity offices—an especially sad moment for Liz G., because she hates packing. But the Lizes finally make peace with each other, and it's a truly touching moment for their friendship. Liz B. also finds romantic closure with C-Czar, who agrees to call their baby Pinnocliord as a loving compromise.
"Never forget your roots!" C-Czar shouts after saying his "signature" catchphrase ("let them eat cake"). It's a fitting line for the finale of a series that never lost sight of its characters origins. Every single character on Kroll Show—the gross, the insipid, the daft—has grown over the years as if they were characters on any other scripted series. On Kroll Show, characters don't just exist within their own sketches. The interconnected nature of the series allows every character to expand and explore new environments. But all the while, the characters stay true to their original concepts. Wendy Shawn (Daly) becomes a hundo percento Judaico in the finale, growing out of his disdain for Aspen's Jewish roots. But he's the same rich dick as he ever was, overcompensating greatly in his newfound love of Jewish women and culture.
"This Has Been Such An Amazing Experience" also includes the finale of Dead Girl Town, one of Kroll Show's less common parodies of scripted series and the best season-three addition. Perhaps because I'm working my way through Bloodline, which features a nameless dead girl in its pilot, Dead Girl Town feels particularly relevant, and its season finale does not disappoint, proving Kroll Show's ability to satirize genres outside of reality TV. Kroll's Detective Logan remains the perfect amalgamation of every booze-guzzling, wise-cracking male antihero, and even though the sketch is tonally quite different from the rest of the episode, it's just as funny as the rest.
At the risk of sounding like the overly genuine Dr. Armond, I just want to say that I already miss this dang show. Because we've gotten to know its characters in a much more intimate level than sketch shows usually allow for, I feel very attached to them and all their quirks. So farewell Farley (and everyone else who isn't Farley and therefore ranks slightly lower on my Kroll Show love list). This really has been such an amazing—ahem, ameezing—experience.
Stray observations:
Nick Kroll walked through Kroll Show with The A.V. Club, and you can now check that out to learn more about the show's creative process.
Series finales are always tough for me because of my inability to say goodbye to anyone or anything. During this one, I somehow managed to not cry through my mouth Dr. Armond-style. But I wanted to.
So the series doesn't end with Cassandra murdering everyone as I hoped it would, but hey, that's OK! Someone please write this fanfiction though.
Farley, my personal favorite non-Kroll character—if I haven't made that plainly clear—doesn't appear here, but that didn't stop me from saying "look like dis" on a loop all day. I apologize to my friends and family.
"He's rich. He's impotent. I'm interested." Never change, Liz B.
Bless this finale for getting Wendy Shawn in the same room as Liz B. and Liz G. Those three have the most ridiculous voices of all the characters on Kroll Show, and I could have watched a full episode of just Slate, Daly, and Kroll speaking unintelligibly.
I've always said Dr. Armond seems to be everywhere in this universe, and sure enough, his final series is titled Armond Is Everywhere.
Reviewing this show in its final season felt a little like someone just dropping a fully grown child on my doorstep. I missed those early years! But covering Kroll Show has been such a treat every week, even though I apparently still haven't convinced my mother to start watching.