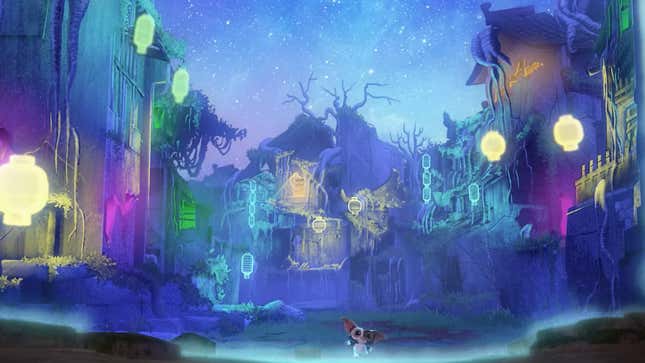 The Gremlins are older than we think. They're even older than the time between the announcement of Gremlins: Secrets Of The Mogwai and the release of this first teaser trailer. Announced in 2019, the animated prequel of the now "sequel-proof" Gremlins movies finally has a moving, talking, and cackling teaser trailer. However, anyone looking for a Gremlin in the blender or a Santa in the chimney might want to return to their DVD collection because they won't find it in this very kid-friendly show.
The lore of Gremlins and Mogwai has never been entirely concrete. Part of that is obscured in the original film's conceit: Americans are disinterested in understanding or respecting their entertainment so long as it's cute, cuddly, and doesn't bite too hard. Also, movies in general weren't always so unapologetically padded with nonsense backstories for spin-offs to fill in. But the trailer does reveal Billy's father, inventor Rand Peltzer, as a liar because it proves that he didn't name Gizmo, though he takes credit for the name in the first movie. Everyone's favorite proto-Grogu already has the moniker in the series, which takes place in the 1920s. Rand Peltzer may have invented the "Bathroom Buddy" and the "Smokeless Ashtray," but his reframing of history is a disturbing development we did not expect.
Joe Dante on Key & Peele's "Gremlins 2" sketch
As for answers to the Gremlins lore, such as what would happen if a Mogwai had some food stuck in its teeth, flossed it out after midnight, and swallowed, that's not here either. Instead, the trailer is an occasionally striking cell-shaded animated montage that could use a bit more Gremlin mischief. Here's the full synopsis:
Gremlins: Secrets Of The Mogwai takes viewers back to 1920s Shanghai where the Wing family first meets the young Mogwai called Gizmo. Sam Wing (future shop owner Mr. Wing in the 1984 "Gremlins" film) accepts the dangerous task to take Gizmo home and embarks on a journey through the Chinese countryside. Sam and Gizmo are joined by a teenage street thief named Elle, and together, they encounter—and sometimes battle—colorful monsters and spirits from Chinese folklore. Along their quest, they are pursued by a power-hungry industrialist and his growing army of evil Gremlins.
One thing Secrets Of The Mogwai does have going for it is its cast, including Ming-Na Wen, James Hong, BD Wong, Matthew Rhys, Izaac Wang, AJ LoCascio, and Gabrielle Nevaeh Green. Plus, guest star Billy Petlzer himself, Zach Galligan, will appear in the show to further muddle the lore. Other guest stars include Sandra Oh, Randall Park, George Takei, and Bowen Yang. Strangely, they could not secure the original voice of Gizmo, Howie Mandel, for the series.
Gremlins: Secrets Of The Mogwai premieres this May on Max.