Every day, Watch This offers staff recommendations inspired by a new movie coming out that week. This week: The Venice Film Festival begins, so we're recommending some of the best winners of the fest's highest honor, the Golden Lion.
Atlantic City (1980)
For a full decade, from 1969 to 1979, the Venice Film Festival chose not to hand out its top prize, The Golden Lion, reportedly because in the late 1960s there'd been too much debate over the political implications of each winner—along with a few arguments over the appropriateness of handing out a prize with its roots in fascist Italy. When the trophy came back, two movies shared the first award: John Cassavetes' Gloria (which we recommended yesterday), and Louis Malle's Atlantic City. And the latter's very existence said a lot about how world cinema had changed in 10 years. By the end of the 1970s, Malle, a stalwart of the French New Wave, had begun making movies in the United States, often with very American points of view, helping to bridge the gap between the raw independent films of Cassavetes and the more audience-friendly indies that would emerge from the U.S. in the 1980s.
Burt Lancaster stars in Atlantic City as an aging small-time crook named Lou, who entertains his friends and neighbors with boasts about his days as a major figure in organized crime. Susan Sarandon plays wide-eyed young oyster-bar waitress Sally, who's in training to become a blackjack dealer, but is sandbagged by her drug-dealing ex-husband, Dave, who still expects her to take care of him. When Dave shows up one day with a stash of stolen cocaine, Lou—smitten with Sally—agrees to help him unload it, but soon finds himself in deep trouble, in danger of revealing that he's not as connected as he's always claimed.
Playwright John Guare wrote Atlantic City, which he came up with when Malle told him that he had the funds to make a film but no script to shoot. That spontaneous quality works in favor of what's essentially a character sketch, more interested in the texture and tone of its title city than in delivering plot twists. That said, Atlantic City does tell a story, which becomes especially gripping down the stretch, when Sally and Lou are on the lam, playing for bigger stakes than any they've been involved with before (but petty in the larger scheme of things). This is a gentle, warm, well-acted movie, and easy to like. Post-Venice, Atlantic City went on to land five Oscar nominations—but didn't win anything in the year of Chariots Of Fire and On Golden Pond, two other films that straddled the line between arthouse and mainstream. Nevertheless, it remains a sensitive portrayal of two people united by their commitment to each other's vision of who they should be.
G/O Media may get a commission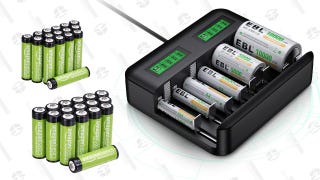 Availability: Atlantic City is available on DVD from Netflix or possibly your local video store/library. It can be also be rented or purchased from the major digital services.