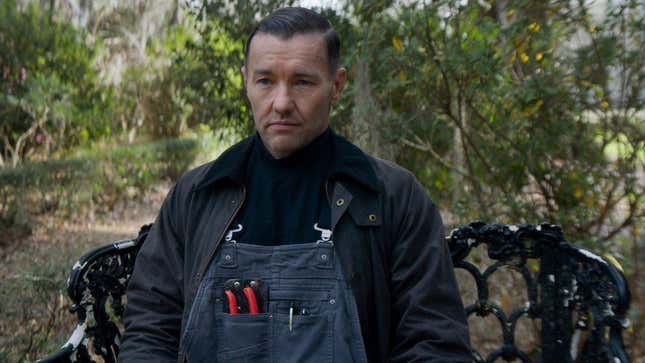 While you would be forgiven for assuming something with a title like Master Gardener was simply the latest Master Chef-style friendly competition to hit the screens, the reality is a lot more The Menu than The Great British Bake (bloom?) Off.
John Hughes says the director called his Ferris Bueller performance "boring"
Paul Scharder's latest—the final film in a loose trilogy that also includes First Reformed (2018) and The Card Counter (2021)—has all the staples: obsession, outrage, dark secrets, murder, and a man with a really, really specific profession.
The trailer's opening sets the tone. "The Nandina is a species of flowering plant native to Eastern Asia," Joel Edgerton's Narvel Roth drones as if he's narrating a nature documentary, before continuing: "The smell at certain times of the year gives you a real buzz... like the buzz you get just before pulling the trigger."
It very quickly becomes clear that this is the man who likely discovered this parallel firsthand. Read: this master gardener has fired a whole lot more than a hose. In a 2022 interview with IndieWire, Schrader described his trilogy as follows: "Here's a man who feels needs to be punished, who's waiting for that punishment to come, and then instead hopes that punishment will be some sort of redemption." Those themes abound in the story that unfolds over the rest of the very tense trailer.
Narvel is using his horticultural skills to tend to the estate of wealthy dowager Mrs. Haverhill (Sigourney Weaver) (also, dowagers with H-names are really having a moment right now, huh), when she asks him a favor. Her grand-niece, Maya (Quintessa Swindell), dropped out of school and has ended up in a "bad crowd"—can Narvel take her on as an apprentice?
Narvel and his young charge begin to form a relationship that feels immediately familiar in a post-Joel and Ellie world. The former is a gruff and damaged assassin, who has killed multiple people but mostly "bad guys" (as the trailer takes pains to establish). The latter is a wayward badass who has lived a hard life, but just needs someone to meet her at her level. In each other, they see a chance for redemption and, ahem, growth—a new lease on life that may involve a little less trigger-pulling (but definitely not none) and a little more stopping to smell the flowers.
Master Gardener premieres in theaters May 19.