Oh, the go-for-broke '90s: when major labels treated their independent counterparts like a minor-league farm system. Flush with money and an unshakeable hubris that they always would be, they promised bands fat recording budgets, better distribution, and maybe stardom with this alternative-rock thing.
The final night of Matador's "Lost Weekend" offered a fitting epilogue to that story, with a celebration of the identity the label fostered in its artists, even the ones who left, like Sunday night performers Liz Phair and Guided By Voices. "We left them for a while because we thought we were hot shit," said GBV frontman Robert Pollard during his band's set, effectively summing up the mindset of every band who made the same move. "But we came crawling back for another three records." Phair, whose departure from the label was more contentious (and whose subsequent albums alienated old fans), was all smiles too. "I'm totally glad to be back at the college reunion we're having this weekend," she said during her short five-song set.
Sunday night offered the same balance of nostalgia and thinking ahead that characterized the other days of Matador At 21. Granted, the nostalgia was at peak potency: Robert Pollard had reunited the "classic" lineup of his revolving-door band, which produced indie-rock landmarks Alien Lanes, Bee Thousand, and Under The Bushes, Under The Stars. Guided By Voices played its ostensible final shows in Chicago six years and roughly three dozen Pollard solo albums ago, but it made sense to get the band back together for a weekend celebrating Matador. Along with Pavement, it was the label's biggest ambassador.
The day began with a three-band matinee show in the Pearl Ballroom featuring Kurt Vile, Times New Viking, and The Clean. The last drew a particularly large and enthusiastic crowd—The Clean enjoyed a "don't miss them" buzz Sunday—which greeted the trio like it belonged on the main stage in the ballroom. Ira Kaplan and Georgia Hubley of Yo La Tengo joined on guitar and percussion, respectively, for one song. The ballroom presented the only real logistical problem of the weekend: Two small elevators offered the only entrance and exit. A security guard blocked the one set of stairs that offered egress, and instead directed the crowd out another set of stairs that led nowhere. For a good 10 minutes after The Clean's set, packs of confused people wandered dead-end hallways trying to find a way out.
In the main room a couple hours later, Shearwater kicked off the night after an introduction from Scharpling & Wurster, the hilarious comedy duo of radio host Tom Scharpling and Superchunk drummer Jon Wurster. Scharpling plays the straight man to Wurster's colorful palette of miscreants and blowhards, which Sunday night included a condescending blogger, Gene Simmons, and recurring character Philly Boy Roy. In short, Scharpling & Wurster should host every festival, everywhere.
One of the newer additions to the Matador roster, Ted Leo And The Pharmacists, took the second spot on the bill and threw down a formidable gauntlet for the bands that followed. Leo's dependably great albums and frequent touring make it easy to take him for granted, but his blistering set provided a powerful warning against such complacence—Leo's just too damn good to overlook. Every song, from opener "Where Have All The Rude Boys Gone" to closer "The Ballad Of The Sin Eater" sounded a little fast and reckless, but Leo and his three bandmates kept each song wound tightly. When he ditched his guitar for the "The Ballad Of The Sin Eater," a completely blown-out rendition propelled by a heavily distorted bass, he gripped the mic hard and skulked the stage like he was the singer of a hardcore band. To close the set, Leo and company played a cover of Nick Lowe's ironic "I Love My Label" (with an assist from Carl Newman of The New Pornographers), but made it completely heartfelt. As the band broke the song down at the end, Leo told a story of going to see his high-school classmate Matt Sweeney's pre-Chavez band in 1989, and having Sweeney tell him he had to check out the opener, H.P. Zinker. Leo would closely follow Matador in the years that followed, and seemed genuinely honored to be part of it now. "I've been on a lot of labels, and the thing they all have in common with this particular label is that they fucking love music," he said.
G/O Media may get a commission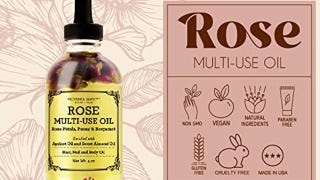 Provence Beauty Rose Multi-Use Oil
Up next were The New Pornographers, the only other band besides Belle & Sebastian that actually used up most of the Pearl Theater's giant stage. The band was eight strong for this show, including Neko Case, frequent holdout Dan Bejar, and an extra multi-instrumentalist who alternated between cello and saxophone. With the show running behind again and only a 45 minute set, the band blew through a string of hits, opening with "My Slow Descent" and including "Sing Me Spanish Techno," "Use It," "Letter From An Occupant," and closer "The Bleeding Heart Show." Sprinkled in were a few Bejar songs and, as always, the ace stage banter between Newman and Case. As a band, the New Pornos have an even closer relationship to the Matador than their peers: Newman met his future wife because she worked at the label. "People always think my lyrics are bullshit, but this song is about me meeting my wife," Newman said before "Challengers." "Carl, we don't think you're bullshit," responded drummer Kurt Dahle. The crowd laughed, and Newman replied, "I wish I could hear you, Kurt," referencing the monitor issues that plagued bands all weekend.
On the weekend's schedule, Liz Phair's 20-minute set stuck out. No one else was playing such an abbreviated show, and considering Phair has performed Exile In Guyville in its entirety on tour, it was odd to see her play such a diminished role in the weekend's festivities. Maybe bad blood still lingers all these years (and subpar albums) later. But when she took the stage along with a guitarist Sunday night, she was greeted like a conquering hero. And with such a short set, she could easily focus on the hits: "Supernova," "Divorce Song," "Stratford-On-Guy," "Nashville," and "Fuck And Run" (featuring Ted Leo on backups). Of all the Matador alumni, Phair has had the toughest time recreating the magic of those early records. Though she arguably wasn't trying to do that; her output over the past decade has focused on mainstream adult pop, like Sheryl Crow with an edge, a style that would fall on deaf ears in the Pearl Theater. But Sunday night, it was all about the Liz Phair, the hot-shit smartass singer from Wicker Park. It would've been nice to have heard more from her.
Where the other bands at Matador At 21 filled their sets with crowd-pleasers, Yo La Tengo seemed intent on cutting through the nostalgia with its set. The band opened with the whispery "Our Way To Fall," then moved into the extended jamming of "The Story Of Yo La Tengo," which ate up at least eight minutes. And even when it did deliver the fan favorite "Blue Line Swinger" to close out the set, it nearly doubled the song's running time, pushing the introduction's length to patience-testing extremes. The message underneath it all: Yo La Tengo may be nearing its third decade, but it's not settling into a comfortable complacency. That said, the band played "Autumn Sweater" and "Sugarcube" to help the medicine go down. And the goofy rewrite of "Nuclear War" to give shout-outs to the people behind Matador was a nice touch.
By the time Guided By Voices took the stage, the show was running 75 minutes behind schedule, and the crowd's patience had worn thin—even for Philly Boy Roy. When the crowd grew impatient with Scharpling & Wurster's bit before GBV, the duo wisely cut it short and scurried off stage. (Take note, Jeff Jensen.) Fans packed the floor in front of the stage, chanting "G-B-V! G-B-V!" until the neon sign onstage that said "THE CLUB IS OPEN" flickered on and the band sauntered out.
Cheers roared, undoubtedly followed by thoughts of "Holy shit they look old." This version of Guided By Voices in 2010 resembles a group of spry grandpas playing a closing concert at the end of rock 'n' roll fantasy camp. Bassist Greg Demos looked like a lost member of The Osmonds (see Donny & Marie at the Flamingo!), with white-wide leg pants with thick black pinstripes and large red and black stripes on the sides, a frilly white cravate, and a black leather vest. His comical stage moves only enhanced the rock 'n' roll fantasy camp vibe.
In typical fashion, Guided By Voices hit the gas right away with "A Salty Salute" and didn't slow down over the course of its 33-song, two-encore set, aside from the occasional break for Pollard's commentary: "I especially enjoyed Liz Phair tonight, babies"; "Cabo Wabo? That's Sammy Hagar! Fuck Sammy Hagar!"; "Where I come from, this [Miller Lite bottle] is water. Fucking Miller Lite is mostly water." Here's how it proceeded: Pollard would announce song title, count off two-three-four, then launch into the song. Repeat. And despite the band's notorious boozing (and the big plastic bin of beer onstage), Guided By Voices looked relatively sober. Pollard slurred a little, but any GBV fan has likely seen worse, and he only opened a couple of beers during the set. The other guys followed suit. In fact, the only comical excess came from a crew member who resembled Kevin Smith, whose job mostly entailed lighting cigarettes for guitarist Mitch Mitchell.
With such shocking semi-sobriety, people may have expected the band to nail the songs—but fans know that booze was only an easy scapegoat for GBV's famous sloppiness. (In some cases, it may have helped. Sean O'Neal reported from an Austin warm-up show for Matador At 21 that the band only sounded good after the booze had a chance to take effect, about 10 songs in.) Some stuck the landing perfectly: "A Good Flying Bird" (punctuated by enthusiastic "yeah yeah yeahs" from the crowd), "Gold Star For Robot Boy," and "Game Of Pricks." Others didn't fare so well, such as "Motor Away," "Johnny Appleseed," and "Don't Stop Now" ("the ballad of Guided By Voices," said Pollard), when Mitchell flubbed the end solo. "He's still got it," said a guy sitting in front of The A.V. Club.
But if any band owns its sloppiness, it's Guided By Voices. No one listened to its albums for high-fidelity studio sheen, and no one went to its shows for masterful displays of technical prowess. Such a display would be more bewildering than impressive. So in that case, GBV delivered exactly what fans expected. Being a fan of Pollard means sifting through dozens of songs to find the good ones, but GBV's set played like a 33-song greatest-hits collection. As the set ended, Pollard offered a typical benediction, saying it was time to "go back to our miserable goddamn lives."
Yes, back to reality. In an era where record labels are increasingly marginalized, the camaraderie that comes from having a particular logo on the back sleeve of an album has understandably disappeared. Matador At 21 was a celebration but also a sort of Irish wake for an era that's ending. Record labels may always exist in some form, but the tastemakers that fostered a community among its artists and fans will only decrease in number. But it doesn't make this moment in time, and the good feelings in abundance in Las Vegas this weekend, any less special.
Other stuff:
• As Yo La Tengo was wrapped up in its own squall, a man Mitch Mitchell from GBV hopped on stage right and may a jaunty trot to the other end, arms raised in celebration. One of the stage hands quickly knocked him down and nearly into the crowd, then grabbed the guy with his arm cocked and about to punch. It was a shockingly aggressive move that sent a gasp through the audience, though it apparently didn't register with the band. Another staffer ran over to separate the stagehand and Mitchell, but it put a weird pall on the night that was otherwise celebratory. (And seriously, tackling one of the artists? That guy should be fired.)
• The name of Wurster's blog character's band: I Love You Betty White But I've Chosen To Kill You. It sounds like "a cross between Das Racist and that 3-D owl movie."
• Question Wurster asked Ted Leo before Liz Phair as part of Down & Dirty With Tom And Jon: "When you're turned on and about to crank it out in the van, what do you use to cover up?"
• Wurster as Gene Simmons introducing Ira Kaplan and company: "Yo L.A. Tengo!"