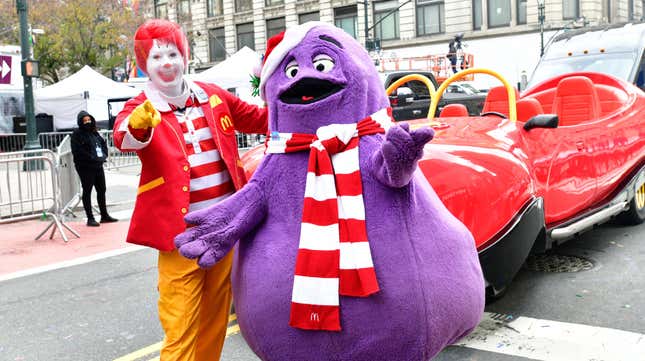 Scrolling through your TikTok or Instagram feed, you've probably come across the now-familiar sight of a young person face down in the dirt with a purple, viscous liquid oozing from a McDonald's cup next to them. While we all live with the knowledge that, one day, social media might serve us gruesome footage of animal torture or a mass shooting, there's no need to worry here. It's just some kids having fun at the Grimace's expense.
"The Amazing Race" host Phil Keoghan on auditions, and being prepared
For the uninitiated, McDonald's, in their increasingly desperate bid to win over young people who may not have been indoctrinated with chicken McNuggets their entire childhood, have decided to get ironic with Grimace, the lovable purple whatsit in the McDonaldland council of elders. Though some have theorized that the Grimace Shake is nothing more than our buttplug-shaped friend's jism, the drink is in fact a berry-flavored milkshake dyed purple, which can only be ordered through one of McDonald's increasingly-desperate value meals. Perhaps, the days of Travis Scott's signature meal (a cheeseburger, fries, and a Sprite with, get this, extra ice) are over.
Rather than turn this into another version of the Starbucks unicorn shake or the Charli D'Amelio-branded Dunkin toilet water, the kids have perverted McDonald's latest limited-time offer into a grotesque and macabre game that warms this writer's heart. Per Know Your Meme, TikToker @thefrazmaz started the trend as a parody of the type of spon-con that some social media users regularly perform, where they express hype for a fast food item despite receiving no monetary gain for it and pretending there's something special about eating a fast-food item. (That's one method of getting recognized by an algorithm on the hunt for people doing free ads for McDonald's.) In this case, @thefrazmax sets up the video as someone congratulating McDonald's on such a great product by wishing Grimace a happy birthday. The video then cuts to the TikToker face down on the ground with a spilled purple milkshake at his side.

While Mcdonald's likely doesn't care how people go about consuming their food—and it should be noted that this is a waste of food—it's an example of how memes can be used to combat the corporate mandates that have encroached on our lives. A few short years ago, social media went wild with fast food accounts. Whether it be snarky Wendy's, hot Colonel Sanders, or hot Hamburgler, getting a fast food's social media accounts acknowledgment was seen as a win. Who could forget Carter Wilkerson, who currently has the third most retweeted post in Twitter history, for asking, "Yo @Wendys how many retweets for a year of free chicken nuggets?" Wendys used it as a branding opportunity, and Carter nabbed a plot in what was once the most-populated meme graveyard in America, The Ellen DeGeneres Show. Or, how about when Rick And Morty fans were screaming at cashiers about the Szechuan sauce they saw in a cartoon? McDonald's launched a podcast about the viral success of the condiment called The Sauce that couldn't feature the words "Rick" or "Morty." [Full disclosure: the podcast was a collaboration with fellow G/O brands Studio@Gizmodo and Onion Labs]. It won a Webby.
The Grimace Shake may be unusable for McDonald's purposes—oh, wait, no, it isn't! Alas, McDonald's will probably lean into their Tim And Eric rebrand of the Grimace until well past its sell-buy date. Even so, the challenge turns the shake into TidePods, an inedible poison that leaves nothing but colorful residue next to a lifeless corpse. This is anti-corporate meme-ing at its finest. The kids are alright.