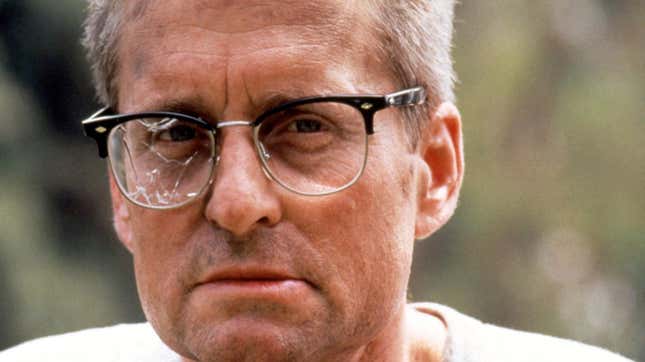 Thirty years ago this week, Falling Down opened in theaters, inciting a polarized reaction and launching a vigorous social debate. The film, which knocked Groundhog Day out of the top spot at the box office, was directed by Joel Schumacher and featured Michael Douglas as middle-aged defense engineer William Foster (aka D-FENS from his license plate), a Los Angeles man on the verge of a mental breakdown. Abandoning his car in a stalled traffic jam on a sweltering day, D-FENS decides to walk across the city to visit his young daughter for her birthday, even though his ex-wife (Barbara Hershey) has a restraining order against him. Along the way, criminals and ordinary citizens become the target of his increasingly violent behavior.

Sharon Stone made a fraction of what Michael Douglas did for "Basic Instinct"
Ebbe Roe Smith's gritty and nuanced screenplay takes the viewer on two parallel journeys that collide in the end—the stories of D-FENS and Sgt. Martin Prendergast (Robert Duvall), an LAPD officer on his final day of duty who wants to bring D-FENS in. Both men feel obsolete. Both feel emasculated in their worlds. Both have lost a child—one metaphorically, the other literally. And both struggle with a failed system. But they react to these circumstances in very different ways—where D-FENS feels despair, Prendergast sees hope.
For many, Falling Down became a cinematic litmus test, with viewers seeing D-FENS as a villain, a hero, or sometimes both. His extreme responses to everyday aggravations, marital failures, and various confrontations were derided by some critics, and hailed by others. While some characterizations in the film have not aged well (like the stereotypical Latino gangbangers), the story did manage to capture, as Newsweek declared in a 1993 cover story, "White Male Paranoia."
Today, in our increasingly fragmented and uncivil society, Falling Down still feels relevant. Scenarios that seemed outrageous then—D-FENS making his fast food complaints while wielding a gun; a young kid showing him how to use a bazooka; the rants of the cartoonish white supremacist store owner—are now reflected in our strange modern reality. Smith's screenplay was not just of its time; it showed us where we were headed.
G/O Media may get a commission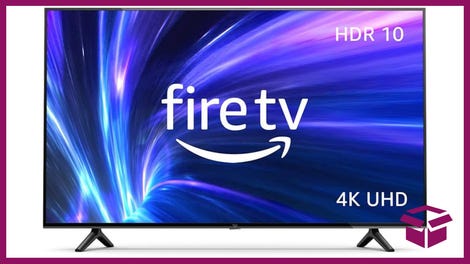 42% Off
Amazon Fire TV 50" 4K Smart TV
After returning from a U.K. press blitz for the latest Ant-Man installment, Douglas spent nearly half an hour revisiting one of his favorite roles in an exclusive conversation with The A.V. Club. There was plenty to look back on and break down.
---
The A.V. Club: You've spoken in the past about how the film's hairdresser [Lynda Gurasich] came up with that '50s flattop haircut, which helped unlock the character for you. What else connected you with the film or the character of William "D-FENS" Foster?

Michael Douglas: It was just a great script [that] came at me totally out of the blue. Ebbe Roe Smith had a wonderful script. Originally it was going to be a movie for television. Everybody always thinks of Southern California as the home of Hollywood, but it was really the defense industry center for many, many years. Many of the major defense corporations were in Southern California. [The story had] that character of a guy who was a patriot, worked his ass off, and basically they succeeded in that we got out of the Vietnam War and then he got his pink slip. This whole sort of disenchantment of what happened to his city. It'd be tough to do it now, in terms of some of the issues like weaponry, racism, and all of that. I just found it had a real core that was very truthful. And D-FENS came together between having a little white business shirt, slightly too tight for me, kind of busting at the seams, a little plastic calculator, pens in the pocket, and the hair. [It] just structured that guy. And then just a brilliant concept that the guy tried to get his way across Los Angeles with all the traffic. It's one of my favorites. I liked it a lot.

AVC: Your father Kirk wrote an op-ed in the Los Angeles Times at the time defending the movie, stating that D-FENS was not the hero but the villain and victim. And that Robert Duvall's cop is the hero. Did you agree with your father's assessment back then? And how do you view the character now?
MD: Yeah, I think that's true. I mean, he [D-FENS] was the antagonist. I don't know if he's a villain, but he's definitely the antagonist. Although I think a lot of people had sympathy and understood, his means and his ends were as an antagonist, and Duvall in his own world is doing his job. Yeah, I buy that. One of the little side stories I do remember is after the film came out, Warner Brothers called and asked me to come down to the studio the next day for a meeting. I went down that next day and the meeting was with the Korean Grocers Association. I came down and the studio said, "Listen, Michael, this is the chairman of the Korean Grocers Association who is very upset with your interpretation of how you're treating Korean grocers and your behavior." I said, "Well, I didn't write it. But there was a reason, I guess, that the writer wrote it. And there was a reason that the character resonated and it was one of the popular scenes in the picture." He listened to me, and we left the meeting. Soon after that, the Korean Grocers Association started using "smile" buttons [that] they passed out to their stores all around the country. Little buttons with smiles, in terms of changing their attitude. I always thought that was funny. So it hit a note—and the whole use of the weaponry even back then. I have been a big gun control advocate for many, many years. That still holds true.
AVC: Reading fan reactions online, I suspect some people sympathize a little too much with D-FENS in the sense that they only see the surface of the story. But there's a lot of nuance in this screenplay. What reactions have you gotten over the years from people about this movie?
MD: Positive. That's one that pops up a lot. I'm always happy about it. That's one that people mention a lot. It triggered a lot of reaction. I understand how right-wingers could probably be a little too zealous in support of D-FENS. Listen, those are the kind of roles that I love. I love that gray area—I believe we're all trying to do the right thing, but we get caught up sometimes. And I like those areas that fall right in the middle between the white knight and the black villain, that gray area where you always try to do the right thing. I think D-FENS falls in that area. Ultimately, he's a tragic figure. He does get killed in the end. And there's an element of his mental health which is a good panacea for all that he does.
AVC: One of the most poignant moments in the movie comes when he sees the African-American man protesting outside of a bank that denied him a loan, and he's holding a sign that says "Not Economically Viable," a phrase D-FENS later repeats with regard to himself. When the protestor gets hauled off by the cops the man locks eyes with him and says, "Don't forget me." I think some critics didn't appreciate the fact that you could show human sides to this guy, despite the fact that he was going out of his mind. 
MD: Exactly, exactly. It was just a stunning script. It was really good. Joel [Schumacher] and I did Flatliners. I produced Flatliners with him about two to three years before that. A lot of people thought he was an odd choice for the piece. It was a wonderful, loose environment. It was such a good script. It just always goes to show … I mean, one of the pictures that I love most [from] my father was a movie called Lonely Are The Brave which was written by Dalton Trumbo. And may he rest in peace, David Miller, the director who's never really [been] of any great repute—but when you have a really good script it's hard to screw it up. And I must admit, Joel did much more than that. He certainly added [to it] and was just very comfortable with it. He certainly had the right style for it too, but he let the story unfold and tell itself.
AVC: Director Joel Schumacher was often on the receiving end of a lot of critical barbs. What was he like as a director?
MD: Well, he was great. [chuckles] He was easy, just wonderful. Just everything is "You're perfect," "Great," "Fabulous!" Everything was great. He was very fit on his coverage, he just liked to move on and was relatively happy. Every once in a while you had to encourage him about some coverage. "Got it. Let's move on." "Joel, maybe we should just get another angle. We don't really have another angle for this." But he was comfortable. He was a joy to work with. He liked actors—you can't say that about all directors—and he had a good sense of humor. And he was very helpful with finding that kind of dark humor, especially with all the weaponry and bazookas.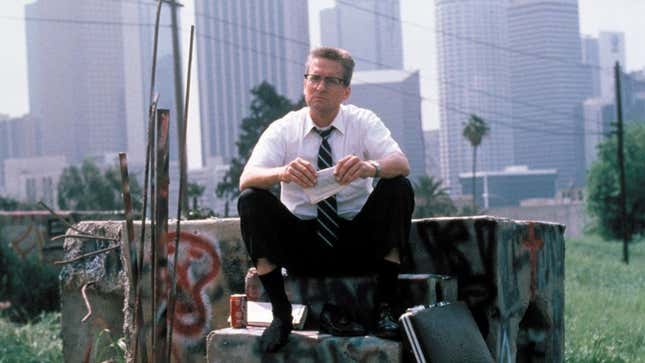 AVC: For you as an actor, emotionally, what was the hardest scene to shoot?

MD: Probably the hardest one was the ending with "I'm the bad guy?" I remember I was struggling with that. Most of it was straightforward, but also I was somewhat intimidated. I was a great fan of Robert Duvall, and to be able to do something with him and to see what a good actor he was ... I remember he held a gun on me and told me to drop my water pistol. He was so effective. I think that I was trying to find the right tone and feeling comfortable with "Am I the bad guy?" And also the relationship with Barbara Hershey, who played my ex-wife, just finding that balance. That was more the pathos of a piece rather than some of the more humorous journey across L.A. And I remember being worried about finding the right tone with that.
AVC: The shooting of the film was interrupted by the Rodney King riots in the spring of 1992.
MD: That was how I ended the picture. Literally, we ended the last shot, and I got my bag packed and went right to the airport and got a plane out of the country. I don't remember where I was going, but I remember that was the most amazing thing. We were up in the Valley and riding over Coldwater [Canyon], going up and going down the other side. We were tied up at Mulholland and we could see across the city. It looked like a war zone. You could see the smoke coming up in different places and the riots were moving west. That was when they were trying to control the riots moving towards Santa Monica, and we were rushing to get to the airport. There was a question of whether the airport was going to be locked down. It was a pretty crazy time. I don't know if it's part of my legacy, but just being involved with films that are involved with the current events of the time, The China Syndrome and a couple of others—that one was right on the nose. There was such a response to what the film is all about.
AVC: What would you want people to get out of the film today, especially younger people?
MD: That's a really good question. Hopefully, they just enjoy the fact of a well-made picture, just enjoy what a really good script looks like. As far as a social message, I think it's just about getting along. Sort of an answer to the polarization that's going on now. And I would say that William represents more of the far right side, and a lack of an ability to accept or understand minorities' positions. And just accept the fact that America is going to be brown in our future. The shade is going to be closer to brown than white.
AVC: Is there any one big memory that sticks out for you from making Falling Down?

MD: What's the name [of the guy] who played the [white] supremacist in the store?
AVC: Frederic Forrest.
MD: Frederic Forrest. I remember he scared me because he was so good. The reality, that tone, just scared me. I thought about how good the writing was. The picture was very well cast. I remember that whole sequence with Fred [and] being like, "Wow, look at this guy. He's really, really good." I like that. I love the episodic quality of it. Each scene was like a little vignette crossing over, and the mix of pathos and humor. That to me is my favorite area, that kind of dramedy. I love dramedies so that tone I really liked. I remember the finale on the pier was disturbing.