Good Behavior mainly revolves around a single star turn—Michelle Dockery getting as far away from Downton Abbey's posh Lady Mary as humanly possible. Unlike the already canceled Conviction, Good Behavior surrounds its star with so much deep and heady dramatics; dark, foreboding settings; and an ample and able supporting cast that it might actually last a while.
It helps that there's little else like this noir on TV right now. Helmed by Wayward Pines creators Chad Hodge and Blake Crouch and based on Crouch's series of books, Good Behavior is the story of Lettie, a recently released prisoner and drug addict who wants to get back the kid she's lost custody of. In the meantime, thieving and conning is all she knows how to do, and it's pretty fun watching Dockery don a variety of wigs and accents, pick any number of pockets, and con her way through lofty social circles that would be off-limits to her if not for her duplicity. Lettie crafts whole backstories for her various personas with so much relish and aplomb that it's sometimes impossible to sift through and prioritize fact over fiction. It's hard to think of another actress who could pull this off, making us root for a heroine who is able to create a meth mechanism out of a lightbulb. For all the flickers of frivolity offered by Lettie's dalliances with the upper crust, Good Behavior doesn't shy away from the fact that her actual life is extremely bleak. Highlighting Lettie's awful reality is her self-help app, which fills her with platitudes like "Today I am the best me I can be." But what if your best you is a pretty bad person?
Lettie appears to have no way out, when she's saved by an unlikely hero, a hit man with a heart of gold (in the vein of Grosse Point Blank's John Cusack) played by the charming and seductive Juan Diego Botto. Through a rare act of altruism, Lettie finds herself irrevocably entangled with Javier, and by the end of episode three, at least, it appears that the two will stick together, if only because they have no one else.
This points to Good Behavior's shortcomings: Lettie's story is so dark that it's hard to catch of glimpse of light anywhere. By the end of the pilot, she's committed enough additional crimes to keep her in jail for the rest of her life, her dream of getting her son back further away than ever. There can be no redemption for Javier and Lettie, not really, so we are at a loss as to decipher whatever kind of moral value or life lesson Good Behavior may offer. Even the supporting players are just as conflicted: Lettie's mother, Estelle (Lusia Strus), is extensively cruel to her, yet can be cozy and domestic, playing Monopoly with her grandson, Jacob (Nyles Steele). Always welcome series vet Terry Kinney is Lettie's sympathetic parole officer, who has a troubled past and an uncomfortable present of his own to deal with. Tellingly, he's about the only person who realizes that Lettie is on the lam, as she keeps failing to come in for her all-important check-ins.
G/O Media may get a commission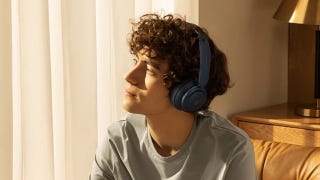 30% off
Soundcore Headphones and Earbuds
Lacking a message or overall agenda, Good Behavior digs down into the granular tasks that a thief and killer would have to perform. For example, almost the entire third episode revolves around the following dilemma: What happens when you have two dead bodies in the trunk and your getaway car is a Tesla that's about to run out of power with no outlets in sight? It's not a plot viewers are likely to have seen on other case-of-the-week dramas. But due Dockery's and Botto's considerable charisma, it's actually quite compelling, like a bottle episode out on the road. It's not something the show could pull off every week, but for an ambitious and experimental early installment, it works. By the end of it, viewers are as much at a loss as Lettie and Javier to imagine what their next step could be; but of course, that might be exactly why people will keep tuning in, to see how low Good Behavior can go, and to see how Lettie could come back from all this. If there's anyone who could make that happen, and make it intriguing to watch, it's Dockery.