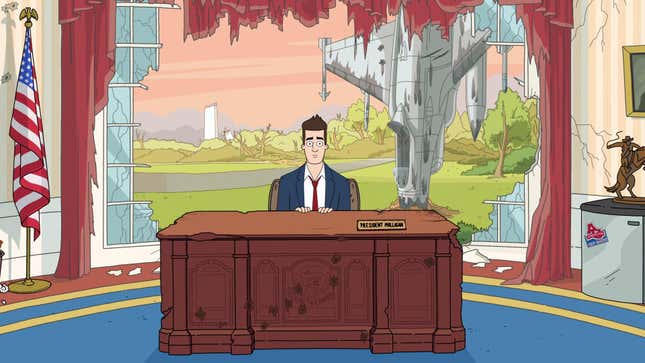 Let's put it this way: Artificial intelligence may not have written Mulligan, but for a project that counts Tina Fey, Robert Carlock, and Sam Means among its executive producers, Netflix's latest animated series may be an unwitting example of what could happen when programming executives assemble an all-star cast and then give them a handful of scripts that feel like they were fed through ChatGPT. Over the course of 10 half-hour episodes, which drop on May 12, the satirical show turns a potentially intriguing, post-apocalyptic premise into a mildly entertaining story about a gaggle of forgettable denizens attempting to rebuild America after surviving a failed alien invasion.
Created by Carlock and Means, the series, beginning just moments before said alien invasion, introduces its key survivors—both human and otherwise—in quick succession. There's juvenile everyman Matty Mulligan (Nat Faxon) whose only qualification for the presidency is shooting down the spacecraft that takes down all the aliens; former beauty queen Lucy Suwan (Chrissy Teigen), who becomes Matty's de facto First Lady; ultra-conservative pompous politician Cartwright LaMarr (a scene-stealing Dana Carvey), who finagles his way into the vice presidency; military super-scientist and single mother Dr. Farrah Braun (Fey), who keeps demanding to be taken seriously; awkward historian Simon Prioleau (Sam Richardson); and lone alien survivor Axatrax (Phil LaMarr), who comes from a planet called Cardi-B. Recurring guest stars include Daniel Radcliffe as a self-anointed British king, Kevin Michael Richardson as a military robot created by Dr. Braun, and Ayo Edebiri as an aimless teenager pretending to be a Marine general. (Got all of that? Great.)
After establishing this high-concept premise and ragtag band of misfits, the writers take their time to build the Mulligan world—or at least to reveal the uncomfortable truths of our current world that they would like to spoof. A census storyline reveals that while women may outnumber men two-to-one after the invasion, women are still frequently pitted against each other in any society. Another storyline imagines a world in which money has lost all value and kisses are the main currency, but one of the main characters still decides to host a pointless celebrity benefit concert to make themselves feel better about an unavoidable and growing stench, which is no doubt an allusion to the current climate crisis.
The show is most interesting when it leans into the absurdity of having a group of people trying to run a country with little-to-no experience, but the leisurely pace at which it attempts to expand its world without revealing anything particularly surprising about its core ensemble in the first six episodes may be enough for viewers to turn off the show altogether. It isn't until some of the characters go on an adventure, à la National Treasure, that the series develops some much-needed intrigue that could launch into a better second season (20 episodes were originally ordered at Netflix in 2020), but it may be a case of too little, too late this time around.
And then there's the curious case of the show's humor (or lack thereof): Despite having comedy veterans at the helm, the jokes, for some reason, don't land as well as they should. Instead, their repetitive nature quickly gets old—and even grating—after the first few episodes, especially since most of the interpersonal dynamics between the characters don't change very much once they've been introduced. It almost feels like the "How do you do, fellow kids?" meme, in the sense that a bunch of older people are trying to appeal to younger audiences with pop-culture references that are already outdated or don't fit in the right context. (Considering that Fey and the creators are 30 Rock alums, that may or may not be an unfortunate coincidence.)
Although the current state of television may have reached an inflection point, there is no denying that audiences will only continue to get smarter, and Mulligan is simply the latest glaring reminder of how difficult it is to create a fresh comedy series—either animated or live-action—that is both sophisticated and genuinely funny in its delivery. Instead, the show takes a novel take on the post-apocalyptic genre and frustratingly turns it into a derivative story that feels DOA. But who knows? Maybe if the show gets a second season, it will have, as the synopsis says, "an opportunity to learn from [their] past mistakes and get things right this time."
---
Mulligan premieres May 12 on Netflix