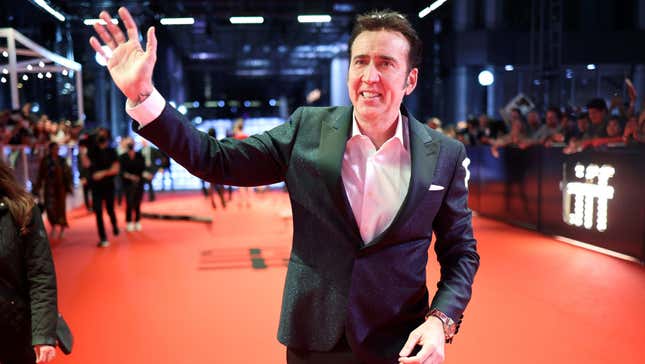 Everyone knows that Nicolas Cage loves superheroes. In addition to his stage name being a reference to a famous Marvel superhero (Power Man) and portraying Ghost Rider in two movies, he also named his son Kal-El as only Nicolas Cage would. Receiving the Variety Legend & Groundbreaker Award at the Miami Film Festival on Sunday, Cage used the moment to discuss, what else, superhero movies.
"Hellraiser" director David Bruckner reveals key ingredients of the franchise
When asked about the genre, Cage conceded that he's "gotta be nice about Marvel movies because I named myself after a Stan Lee character named Luke Cage." As a result, Cage considers the late Lee his "surrealistic father," who "named me." Cage is one of a kind.
Nevertheless, he understands that the complaints surrounding Marvel movies have less to do with the actual characters and more with the abundance of superhero films. He's seen Tár, so it's not like he's ignorant of the state of cinema.
"I understand what the frustration is," he said. "I get it. But I think there's plenty of room for everybody. I'm seeing movies like Tár. I'm seeing all kinds of artistic and independently driven movies. I think there's plenty of room for everybody."
Ultimately, despite having played Ghost Rider and a Spider-man, Cage has no interest in joining the MCU because: "I don't need to be in the MCU, I'm Nic Cage." He'll find no arguments here.

As it usually does these days, the conversation returned to superhero movies and not follow-up questions about whether Lydia Tár is real and if Cage knows her. Instead, Cage talked about the perennial topic of conversation in geekdom: Tim Burton's unmade Superman Lives.
"They wanted Renny Harlin to do the movie," he said. "I sat down with Renny. I was doing another picture, he came to the trailer, and we talked. I liked Renny, but I thought if I'm going to do this, it's such a bullseye to hit. I said this has to be Tim Burton. I called Tim and said, 'Would you do this?' Tim didn't cast me, I cast Tim, and Tim said yes. I loved what he did with Michael [Keaton] and Batman, and I was a big fan."
Cage offered some hints as to what that Superman movie would've been like, and, man, this should have been made. "It was more of a 1980s Superman with, like, the samurai black long hair," he said. "I thought it was gonna be a really different, sort of emo Superman, but we never got there."
So, why couldn't Cage and Burton get emo Superman off the ground? Cage theorizes it has to do with the great Tim Burton movie Mars Attacks!
"I love Mars Attacks. I thought Mars Attacks was just a fantastic, groundbreaking movie. He's a groundbreaker! But they were scared at the studio because of Mars Attacks. Warner Brothers had lost a lot of money on the movie. These movies that are really weird, that challenge and break ground, they piss a lot of people off. I think they got cold feet. They'd spent a lot of money already building the sets and the costume and what have you. But you never know. I don't mean to be cryptic Cage, but you never know!"
As much as we don't like him being "cryptic Cage," we love the nickname and welcome more alliteration into Cage's life.