This year at The A.V. Club, we wrote about feminism and Ewoks, subjected staff writer Alex McCown to multiple tests of endurance journalism, conducted oral histories of Airplane! and UHF, and got sworn at by Tommy Wiseau. A pretty satisfying year, truth be told. So if you need a reason to avoid your family this holiday season, revisit some of our favorite pieces from this year—and you might discover some that you missed. We had lots of fun this year, so we'll be back tomorrow with even more. Click away.
G/O Media may get a commission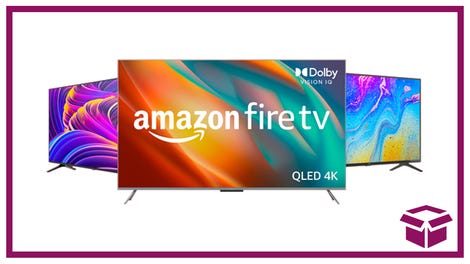 Ooh. stunning.
New Amazon Fire TVs
I thought I might want to be a priest because I loved talking to people about what matters in the world and what makes us human (women can't be Catholic priests, but I figured maybe the Pope would make an exception).

When female characters are one-dimensional tropes, the film suffers for it—in much the same way a film suffers when any of its main characters are one-dimensional tropes (and/or tiny, fuzzy bears).

We started out first by asking, "Okay, how big or small do you want them?" And then they'd say, "One is 3 inches, and the other one is 7 inches." So we would do a sculpt, and we'd get it approved from them—the penis and the testicles—and then we mold it, and then make it out of silicone.
It's my style, you know? I want to present something. I want to impact everybody, you know? All of America, you know what I'm saying? I don't know if we accomplish that, it seems to me people enjoy it. And the reason I use basketball is because I like basketball. Actually I put the hoops in my house. I wanted some little sports, you know what I'm saying?

Yes, we're serious. And don't call us Shirley.
It was amazing to think there was a moment when you could be covetous of CDs. It's such a strange feeling now to think, "Oh man, I think Chris has an extra copy of that Definitely Maybe. Maybe he'll lend that to me?"
Once we're all seated, the theater hands us a red card with our reserved seat number on it. This is to ensure that nobody can take your seat if, say, you decide to run home for a quick nap; but it also means that the theater has now created a horrifying fiefdom of Marvel nerds, all with deeds to their temporary property,
Here you were, burdened with the impossible task of getting people to buy or rent a movie that basically no one liked. And by "basically no one," I don't just mean fellow critics like myself, who were unkind in their reviews, or audiences, who mostly just stayed away. I'm also talking about the movie's own director, who took his name off the thing before it was even finished.
Some of the most memorable WWE storylines of the past few years have grown out of real life situations.
As a kid, it's possible to see Malcolm In The Middle as a show about some rambunctious children trying to escape the grasp of overbearing parents. As an adult, it looks like the story of two parents trying desperately to control a brood of monsters.
The problem with trying to approach the Star Wars series in any kind of fresh, forgiving way is that Lucas has done so much to flummox even his biggest supporters.
For someone who says he's not a journalist, Jon Stewart has been practicing a hell of a lot of journalism for the past 16 years—assuming we accept that the mission of journalism is to inform on important issues, be critical of those in power, and challenge the status quo.
There are entertaining kids' movies, but rarely are there revelatory kids' movies, which is what Inside Out wound up being for me.
The A.V. Club presents a range of characters from previous Star Wars films—from the beloved to the "who?"—along with the type of movie we'd like to see them in, title and all.
In anticipation of UHF's 25th anniversary, we assembled nearly everyone we could find from the production to reflect on the film, including producers Gene Kirkwood and Gray Frederickson; cast members Michael Richards, David Bowe, Tony Geary, Emo Philips, Gedde Watanabe, Roger Callard, and Bob Hungerford; and, of course, "Weird Al" Yankovic and Jay Levey themselves.
The prevalence of streaming video encourages television fans to re-watch their favorite episodes, poring over them for subtleties and Easter eggs they missed the first time through. But that isn't always an option with episodes too emotionally bruising, too gory, or too awkward to watch a second time.
"Nathan had a different idea for the interview we wanted to run by you," the publicist said. Fielder had heard a Nathan For You review last year on an episode of Mom On Pop, a podcast where I talk about pop culture with my mom, Bonney Teti. Mom did not care for Fielder's show, nor for Fielder himself, which she made abundantly clear. So rather than a typical interview, Fielder wanted me to moderate a conversation between him and my mom. His goal: convince Mom to like him.
Going in, we knew that this list—totaled up from ballots submitted by 11 A.V. Club staff members and contributors—would be eclectic, with plenty of dark horses sneaking up toward the front. Still, we were genuinely surprised at what ended up at the top of the list.
It's a little unsettling to realize just how many of pop culture's seemingly beautiful expressions of love are downright disturbing when you take a step back and consider them with an objective eye.
What makes this season of Parks And Recreation so special is that it's finally, brilliantly, paying off relationships and characters that have been in flux for several years.
It's your game, dipshit.
Mr. Robot and Hannibal are the two loudest examples of a modernist trend in TV that includes Adult Swim comedies and Arrested Development's fourth season. One's a little cubist, one's a little surrealist, but what these shows have in common is destruction. Not deconstruction—the building doesn't matter nearly as much as the breakdown. Mr. Robot and Hannibal disintegrate before our eyes. It's hard to know what's real. They're dark shows where the storytelling breaks down as much as the stories, TV about misanthropes by misanthropes. This is self-destructive TV.
I see too many independent films every year that are like Wish I Was Here: phony and faux-profound, and filled with recognizable actors who make the project seem even more like a fiction, divorced from real-world relevance.
Pilfering another artist's work is how anyone making art begins. You start by shamelessly aping a style you admire, and then, after doing that for a long time, it might start to look or sound like yours.
There is an age-old saying about finding a relationship when you're not looking for one that will drive nearly any single person up a wall, but there is (and I am sorry to admit it) a kernel of truth to it. It's a truth that's put to good use on You're The Worst.
Tales From The Crypt helped collapse the historically rigid walls separating film and television, de-stigmatizing the fluid movement from one to the other and back again.
Contributor Mike D'Angelo explains why the final scene of Captain Phillips, in which the title character abruptly goes into shock, ranks among the most remarkable, unprecedented moments in cinema history.
Contributor Sam Fragoso finds himself ambling around a park with Ben Mendelsohn in the middle of spring, discussing everything from marriage to fame to depression.
The A.V. Club sent staff writer Alex McCown to Target at midnight. "We're all here united in happy common purpose, which is to plunder this store of its new Force Friday goods until only a smoking crater remains where once there stood a plush Chewbacca doll."
"Prestige" has become a term of art when talking about television, and not necessarily a term that means "good." Plenty of shows have the hallmarks of a prestige drama—heavy themes, high production values, accomplished actors—but little of the critical support. To a large extent, prestige is a state of mind.
Contributor Noel Murray went to Sundance Festival and was ready to declare the movie of the year in January: "At Sundance, where I had a link to an online screener, I watched "World Of Tomorrow" nearly every night before I went to sleep, as a pre-bedtime devotional."
For every Harry Potter, Katniss Everdeen, or Bella Swan, there are five Alex Riders; not every kid- or teen-lit character makes a profitable leap from page to screen.
Trends may shift, box-office prospects may vary, and crazes may come and go, but there's always a market for films designed to scare the bejeezus out of people. We've singled out nine highlights of the last three years, identifying the lessons that could be taken from each.
To mark the 25th anniversary of "Bart The Genius"—The Simpsons' debut as a weekly series—The A.V. Club has put together this list of the 25 best sitcom episodes to follow that momentous occasion.
Perhaps more than any other genre, horror operates as a mirror of our anxieties—a warped reflection of everything that's eating away at us as a culture or keeping us all up at night. This list could easily double as a guide to the fears and phobias of modern life.
The A.V. Club put on our Imagineering hats and dreamed up 14 totally plausible Nintendo-themed rides and attractions of our own. You're welcome, Universal.

The A.V. Club talked to Mulaney about his special, his sitcom, and his internet famous dog.
The A.V. Club asked comedian Mike O'Brien to talk about some of his favorite off-kilter bits. He runs us through a pretty comprehensive list, touching on everything from Chris Farley to Bob Newhart. Even the most seasoned comedy nerds should find something new to dive into headfirst.
The A.V. Club asked Eugene Mirman to come up with a list of the Halloween costumes he thinks are sexiest. There are no hot cops here or even sexy nurses; Mirman's gone above and beyond, just like your lover will should you choose to go with any of his hotter-than-hot recommendations.
The A.V. Club decided to tackle some more beloved YA series, figuring out how we'd bring them into the 21st century, whether as a newly revamped series of books, a film, a video game, or even a mobile app.
For everything that "the place for kids" could ruin by adding digital animation or wacky laugh tracks, there are just as many Nick properties that could shine with a fresh coat of paint. The A.V. Club's picks for everything Nickelodeon that could stand a re-make are here, complete with our elevator pitches.
Toby Huss has had a bit of a strange run in Hollywood, and that seems to be how he likes it. Going from playing Lower East Side bars in the early '90s to starring as one kid's personal superhero on a Nickelodeon show will do that to you, maybe.
A longtime "Todd" fanatic, Eric Eakin—father of associate editor Marah—conducted this chat, with Marah on the line, mortified.
The envy of all their peers to this day, Douglas Berry and Andrew Moose were two Super Toy Run winners. Berry ran all over a Hawaiian Kay Bee Toys in 1993, while Moose destroyed a Sacramento area Toys "R" Us in 1995. The A.V. Club talked to them about the process, their sweet winnings, and whether or not they hooked up their friends.
The A.V. Club asked Kroll to walk us through some of the show's longest-running storylines, from Wheels, Ontario's quest for Canadian glory to the constantly confusing genesis of the European Guy.
I always like to go by the motto "freedom of speech does not come with a dental plan."