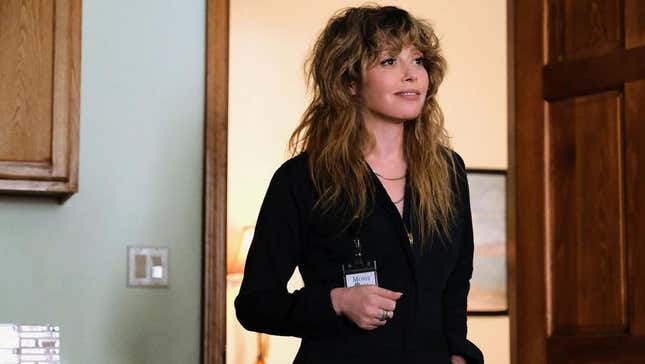 Poker Face is halfway through its run, which feels weird because it premiered just last week. In its initial four installments, Rian Johnson's impressive drama establishes a modus operandi that it slightly subverts each time. Charlie Cale (Natasha Lyonne), on the run from her wealthy casino employer, meets or befriends a stranger in a random American town who ends up dead—Brandon Michael Hall's Damian, Larry Brown's George, and Nicholas Cirillo's Gavin. Episodes three and four especially bring her in after almost 20 minutes, using the first half to develop the supporting characters to get us invested in their story. And then bam! Charlie uses her human lie detector superpower ability to solve the case before moving on to her next adventure.
This Columbo routine has worked so far because Lyonne efficiently wields Charlie's affability, curiosity, and deducing powers. It lends PF a certain believability despite some eyebrow-raising or far-fetched storylines. While the four-part premiere demands audiences to buy into the coincidental premises, the murders and mystery are quite sharp. That's not the case for Poker Face's newest outing. Don't get me wrong: I still love seeing Lyonne get into a physical fight with guest stars Judith Light and S. Epatha Merkerson. The trio's vibrancy boosts "Time Of The Monkey" when it dawdles in pace and narrative.
A big gripe with episode five's central case is that it aims to get away with some incredulous logic, which takes me out of PF's wisely curated pastiche. (And feels surprising considering Johnson's knack for the genre). All the previous cases, from Natalie's murder in the pilot to Taffy plotting his brother's death in episode three, are well-executed. It's what the whole show hinges on. But not in "Time Of The Monkey."
G/O Media may get a commission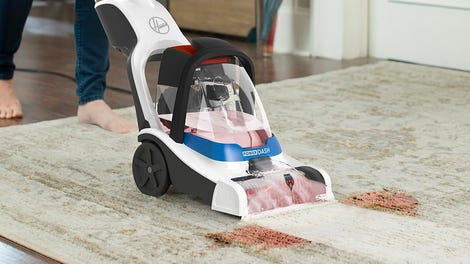 26% Off
Hoover PowerDash Pet Compact Carpet Cleaner
Light and Merkerson play longtime partners Irene and Joyce, respectively. They reside in a retirement home where Charlie starts working as a janitor. No idea how she found the job, but she's probably still taking work that pays quickly and quietly to avoid detection. Charlie, Joyce, and Irene form an instant connection and smoke pot together. It's all fun and games, except the two older women are actually former domestic terrorists who spent 30 years in prison. That's the switch here: Charlie doesn't become pally with the victim this time; it's with the culprits.
When Joyce and Irene's old boyfriend, Gabriel (Reed Birney), shows up at the same retirement home, they seek revenge because he ratted them out to the cops decades ago. Light is a great performer, and Merkerson's subtle comedic charm works perfectly. But Poker Face wants me to believe that Irene, paralyzed from the waist down and using a wheelchair, climbed up the trellis to Gabriel's floor. And then climbed back down after poisoning him with sodium nitrate she "borrowed" from the gardener (although we don't get the visual on her trek down). It's a stretch even for PF, Granted, the rest of Joyce and Irene's plan to fool the authorities while they're on a day trip to the zoo isn't too bad. Their history shows these ladies aren't risk-averse and are actually kind of scary. They were willing to blow up a high school model UN (a.k.a. kill kids from an elite school) to protest against their rich parents back in the day.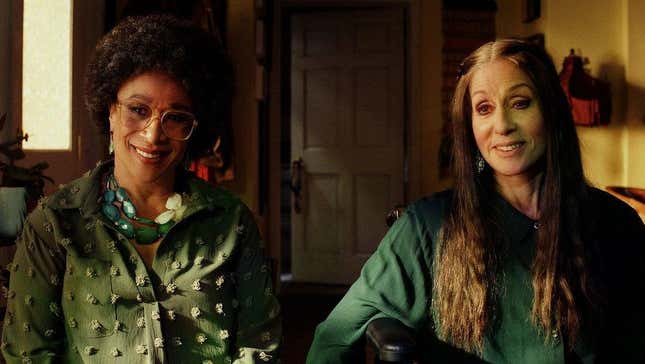 Charlie finds it hard to believe her inspiring, cool new buddies are this unhinged when she learns the truth from FBI agent Luca (Simon Helberg), who was assigned to Gabriel's case. Charlie is so disappointed, she not only teams up with Luca but gives him her real name. Did she forget she was on the run? Or that he could look her up and find out she's suspected of killing Sterling Frost Jr.? These are some major loopholes that hopefully Poker Face jumps through.
At least our favorite bullshit detector gets Joyce and Irene to confess to killing Gabriel and fellow retirement home resident, Betty. And then, the trio gets into it physically. I mean, really into it—fistfights, slaps, pushing, grabbing, stabbing, throwing each other across the room. It's ridiculous but incredibly fun to watch them go at each others' throats. Despite the suspension of logic and narrative pitfalls, Lyonne, Light, and Merkerson transformed "Time Of The Monkey" into an enjoyable episode. The tip of the hat is when Charlie uses their heart monitor trick to get them caught.
PF also sets up Luca's arc because I'm guessing he'll return to aid Charlie when she needs it. (He passed her his card, and did I sense some chemistry?). After all, the only connecting thread between "Time Of The Monkey" and the other episodes is when Charlie asks him about Kazimir Caine, the affluent casino whale she was supposed to con in episode one with Adrien Brody's Sterling. Luca doesn't know who that is—or if fbi@fbi.gov is a legit email—but he's sure to look into it now, right?
Stray observations
Judith Light's delivery of "I hate your cunt heart" is instantly iconic.
What's not to love about this exchange:
Joyce: "You want to continue Euphorica?" (er, Euphoria)
Irene: "Kids who think they invented fucking? No thank you."
Droopy Hues is a pretty awful band name.
Who else caught the little Orange Is The New Black nod when Charlie latches on to how Joyce and Irene's prison was in Upstate New York?
There's no one named Wolfen in the Skarsgård family, and that's a shame.
Five episodes in, which is your favorite Poker Face installment so far? And how long can the show justify Charlie finding herself in these precarious situations?