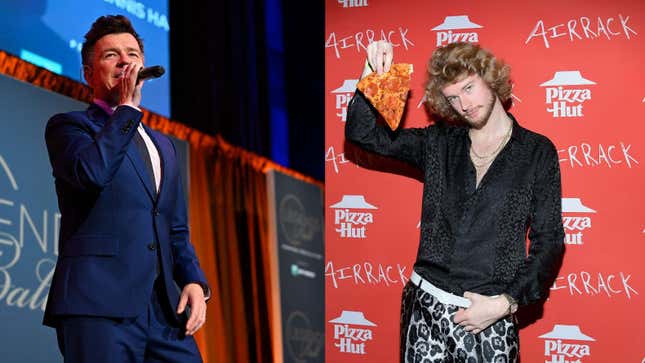 We can now add "legal proceedings against ascendant SoundCloud rapper Yung Gravy" to the list of things Rick Astley isn't going to give up any time soon, right there next to "you," and also (according to a few minutes of research on Wikipedia) presumably his…extensive collection of guitars?
Anyway: Per Deadline, Astley launched a new lawsuit against Yung Gravy earlier today, accusing the Republic Records rapper of infringing on his copyright by hiring an impersonator to sing lines from Astley's biggest hit, "Never Gonna Give You Up," on Yung Gravy's biggest hit, last year's "Betty (Get Money)". (The first song by the rapper to break into the Billboard Top 100.)
Now, as anyone who's ever listened to "Betty" for exactly a second knows, the song is built around an extremely prominent sample of "Never Gonna Give You Up." Which is all well and good: YG cleared the sample, everything's legal, etc. The issue comes from the fact that, per Astley's filings, the rapper and his producers only cleared the music from the track, and didn't bother to similarly clear Astley's vocals. Instead, they apparently paid a music producer named Nick "Popnick" Seeley (who also, by his own account—and in a weird confluence of recent news stories—wrote the beat that Rick & Morty used for "Get Schwifty") to sing in what certainly sounds like a clear imitation of Astley's style, including doing what seems to be an Astley imitation on the song's "Get Money" chorus.
So, yeah: Astley is suing Yung Gravy, and his producers, and Seeley. According to Deadline, Astley—who last released a new album in 2018, and who generally seems to have a good sense of humor about "Never Gonna Give You Up"'s status as the planet's longest-running meme song—"was looking for a way to incorporate his voice in a future project in collaboration with another artist, a project that now is ruined." Hence: Lawsuit.