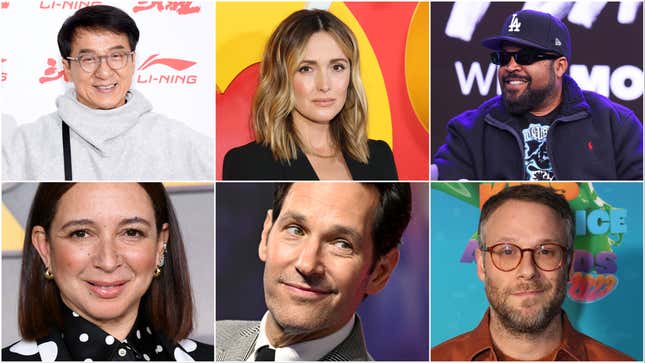 The Teenage Mutant Ninja Turtles have been pop culture icons for decades, with Kevin Eastman and Peter Laird's original comic already getting adapted into a bunch of cartoons, a few movies with live-action people in turtle costumes, and a few movies with live-action people next to CG turtles, so you may be wondering what else can be done to keep the turtles feeling new and fresh. Well, how about… a ridiculous collection of celebrities playing a ridiculous array of fan-service characters! Spoiler: If you don't need to Google the name "Mondo Gecko," you may be very excited.
But first, the turtles. No offense to these actors, but they're being played by actual teenagers, which means you may not be as familiar with their work as you are with, say, Mondo Gecko. Micah Abbey is playing Donatello (he does machines), Shamon Brown Jr. is playing Michelangelo (he's a party dude), Nicolas Cantu is playing Leonardo (he leads), and Brady Noon is playing Raphael (cool but rude). Now, are you ready for famous people? Sing this to the tune of the old theme song: Grown-up people who are famous, grown-up people who are famous!
Jackie Chan is playing Master Splinter. Seth Rogen (who is producing this movie) is playing Bebop. John Cena is playing Rocksteady. Hannibal Buress is playing Genghis Frog. Rose Byrne is playing Leatherhead. Ice Cube is Superfly. Natasia Demetriou is Wingnut. Ayo Edebiri is April O'Neil. Giancarlo Esposito is Baxter Stockman. Post Malone is Ray Fillet. Paul Rudd is Mondo Gecko (yessss the crowd cheers). And, finally, Maya Rudolph is Cynthia Utrom. We're not sure if that last one is an established character, but the Mondo Gecko fans will tell you that "Utrom" is the race of alien that Krang is. You love Krang!
The film is called Teenage Mutant Ninja Turtles: Mutant Mayhem (the word "mutant" is in it two times!), and The Hollywood Reporter says it's about the teenage turtles trying to "win the hearts of New Yorker by performing heroic acts" until they mistakenly get wrapped up in a "mysterious crime syndicate" and a "mutant army." It's coming out on August 4, and The Mitchells Vs. The Machines director Jeff Rowe is directing.