First off, I'd like to perform a little number I call "Genevieve Koski Is Right (Mostly)."  Sure, I could just say ditto to her post from last night.  But that's not what for they pay me the big bucks.  So here are some comments on and hearty amens to the points Genevieve made yesterday.
Should the audition shows shuffle off to Buffalo?  Well … of course.  Genevieve is correct that the SYTYCD audition shows seems to exist mostly because of Idol's.  They don't help us determine who America's Favorite Dancer is.  The editors don't even seem to be aware of who might make it through Vegas week; as with Idol, every year the finalist pool is stuffed with people we barely saw during auditions.  They're perfunctory nods to the competition reality show playbook.  But … one must acknowledge that there are far, far fewer of them than in the soul-crushing month-long Idol run-up.  And every season I appreciate the relative professionalism of the judges and (most of) the contestants.  They point up an important fact: These are people who know what an audition is.  They have been in auditions.  They know that you don't always make it.  They know that constructive criticism is the best 90% of the people who walk on stage can hope for.  They "dismiss" (in Nigel's inelegant wording) the heartwarming stories so beloved of the televised format, after giving them their due, to actually comment on the dancing.  After last night's audition show, frankly, I wish the judges could just take over the Idol audition process, too, and bring some much-needed class to the joint.
Nobody wants to see the performance artists or the clueless.  Goes without saying that we all sit through the interminable — INTERMINABLE! — Kevin "Respect!" and Hella Hung stuff tapping our fingers impatiently.  But again, that's instructive of the difference between this show and Idol, which even Nigel seems to forget (or is pressured by the network to ignore) during audition season.  This is not a show about talent, but about trained and developed talent.  You could walk off the street and make it to the competition phase of Idol.  No way for SYTYCD.  You have to have worked hard, really, really hard, before you get to that audition stage to have a chance of getting to America's vote, and scores of people who have worked really, really hard won't get there.  So why Fox and the show's producers think that the television audience who is interested in this trained and developed talent pool wants to see interminable — INTERMINABLE! — camera time given to the clueless and deluded, I truly have no idea.  Maybe we should all turn off our TVs en masse when they come on, relying on one sacrificial person to post on Facebook or something when they're over so we can turn them back on.  A mini rolling boycott.
Cheerleader Lauren was icky.  Boy, I'm glad Genevieve said it.  Why the judges talked about the sexiness not becoming gross is beyond me, because I was cringing.  That blinding cheerleader smile on top of those bumps and grinds screamed "I'm doing something intimate, but for an audience of faceless millions!"  Noel even made the identical comment while watching that Genevieve made in her post: On Project Runway, someone in charge would have questioned her taste level.  She just didn't get it.
We're going to have to table this discussion until next season, though, because these are the last auditions we'll have to endure.  It's Vegas time!  And here's where I disagree with Genevieve: I can't get enough of Vegas (or Hollywood, in the Idol universe).  It's the crucible factor.  These people now have to perform under pressure, and we get to see if they come through or don't.  And honestly, that's what I love about all competition reality shows.  You've got to stick the landing with the eyes of the world upon you.  Can you do it?  It's about that moment of truth — the moment of performance, where storylines and resumes cease to be relevant.
The auditions come to my home territory this week — Dallas and Nashville.  (I grew up in Chattanooga, Tennessee and have lived my whole life south of the Mason-Dixon Line.)  Tyce (oh no) and ballroom specialist Toni Redpath complete the judges' panel.  In Dallas, Ida Saki gets things going with a refreshingly strong modern exhibition; her sad backstory is that her mother was not allowed to dance in her native Iran.  Haylee Durbin performs a weirdly eclectic mix of half-assed hip-hop and balletic moves; her sad backstory is that her father died of colon cancer. Then the performance artists are on: Scooter Rocket ("it's a way of seeing the world") meets Oreo ("you've gotta make 'em say I wanna choreograph on THAT!"), and the collision is a trainwreck. Nicole Knudsen does creepy anorexic flailing in seeming defiance of her audience, and the judges go crazy for it.  (Happily she seemed sort of normal during the critique, but this was one solo where I couldn't see what the judges did.)  Deroccius Harris brings back Studio 54, and Tyce tells him he's not masculine enough — gotta be demoralizing, don't you think?  Mob daughter Marcella Raneri (who now lives a totally non-creepy life helping her mom design lingerie) shows off the makeup and hair of a much older woman.  Jordan Johnson finally, finally gets some street energy into a season show that has been far too grit-free so far; his sad story is addiction and abandonment by his biological father, which may have played a role in sending him straight through to Vegas — which I regard as a mistake for almost every performer without formal training.
G/O Media may get a commission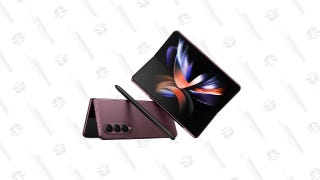 Save Up to $300
Galaxy Z Fold4
Nashville doesn't exactly get the big buildup when Cat announces in voice-over after the Dallas parade of winners, "In just a few minutes, we'll take you to Vegas!"  That's right, folks, we won't waste too much time in the Volunteer State.  Joey Dowling joins Shanks and Nigel to see creepfests like Faith Looney, the girl-on-girl flamenco dancer who manages to take every scrap of sex appeal out of that can't-miss proposition, and Shanya Vaughn, who "looks like she's doing hiphop aerobics while her kids take a nap in her house," according to Joey's mid-dance aside. Total time spent in the Athens of the South: 12 minutes, and that includes a paean to Brian Gaylor, the scoliosis sufferer who returns to redeem a horrific visit to Music City and gets a promise from Nigel to feature his crew on the the show.
Vegas time — let's make some dancers cry, folks! The opening package briefly explains the all-star concept, then Nigel warns everyone that "it's going to be intense (tense, tense, tense)."  Alex Wong and Billy Bell get reintroduced as the dancers who got to come straight back to Vegas after having to drop out of last season because of work and illness, and neither appears to have lost a step.  26 dancers get cut after their first solo, then it's hip-hop choreography time, which defeats rhythmic gymnast Rachel, Teddy Tedbow, and Charlize Theron impersonator Sarah Brinson.  Toni Redpath choreographs the ballroom routine, brooking no cha-cha chit-chat.  Jordan Johnson — who you may recall I disagreed with sending straight to Vegas — predictably can't hack ballroom. Nicole Knudsen solidifies my ire by trying to use her Marge Simpson hair as her signature, then demanding one of her fellow competitors partner her for her hair-down do-over.  Then we find out that yesterday Adechike Torbert, a contemporary dancer from the New York auditions, inexplicably did an incompetent tap routine for his solo.  When he falls short in ballroom, too, the judges ask him to dance for his life and show the panel that weren't at the initial audition what he's all about.
Outcomes? Nicole was different with her hair down — much less stick-figuresque, although hardly brimming with confidence.  Adechike shows his strength in a contemporary solo — but if I'm making comparisons, it's not going to stand up to some of the others left in Vegas.  Still, both are given the chance to stay.  Still 40 more to cut next week.  As long as they don't spontaneously decide to move the whole shebang to Nashville, things should get a lot better from here on out.

Stray observations:
Best moment of the whole auditions?  Whiteface performance artist mimes a sad tear after being cut.
Best joke of the day: Nigel matter-of-factly sending Marcella to choreography after hearing about her dad's mob ties.
I hate the joke auditions, but I have to admit I was happy about the lengthy replay showing Shanya Vaughn's complete lack of lower body movement.  I think that needs just as much analysis as the Jim Joyce call at first base.
Noel promised me this season he would under no circumstances make up lyrics to the SYTYCD theme song, such as "Sugarbakers can dance."  That vow lasted a total of two and a half episodes.