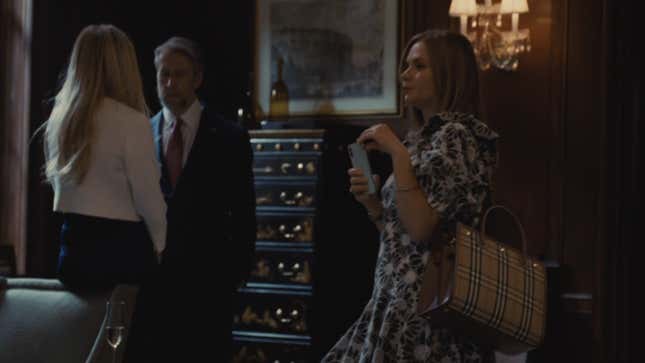 On the season premiere of Succession, Cousin Greg makes the enormous faux pas of bringing the wrong sort of date to Logan's birthday party. This woman commits the grave sins of not only drying her hands on display towels, "wolfing all the canapes like a famished warthog," and asking Logan for a selfie, but, worst of all, she mingles with the guests while carrying what Tom describes as a "ludicrously capacious bag."

Adidas is rethinking this whole "working with Kanye West" thing
While the bag may earn the scorn of polite society, the world of plebs who watched the episode and might actually want a bag good for "[sliding] across the floor after a bank job" or carrying flat shoes for the subway seem to be very interested in the item.
As Yahoo!'s Andrea Bossi writes, searches for "Burberry tote bag" have increased by 310%, "Burberry handbag" by 180%, and "Burberry tote" by 25% since the episode aired last Sunday. (The data was pulled from Google Trends by a company called 3DLOOK.) Those searches hopefully led interested buyers to the "monstrous," "gargantuan" Burberry Medium Title Vintage Check Two-Handle Bag (which currently goes for $2,890 at Nordstrom). According to its listing, the bag weighs 3.4 pounds and its "interior capacity" is "large," which is perfect for packing your lunch pail.

Author Bolu Babalola offered extra context for the bag's inclusion in the episode, tweeting that Succession creator Jesse Armstrong told a live premiere audience that the show's crew "interviewed a New York wealthy woman" in order to find "the most offensive bag a woman could bring" to an event like Logan's birthday.

Even with this association, the Burberry bag remains compelling enough to inspire "a bit of a rummage" through Google to identify. Whether people are actually buying the thing isn't known. After all, it's one thing to look up the bag but it's another to take it out in public and know that doing so means you'll never get to go to the opera again.

Send Great Job, Internet tips to gji@theonion.com