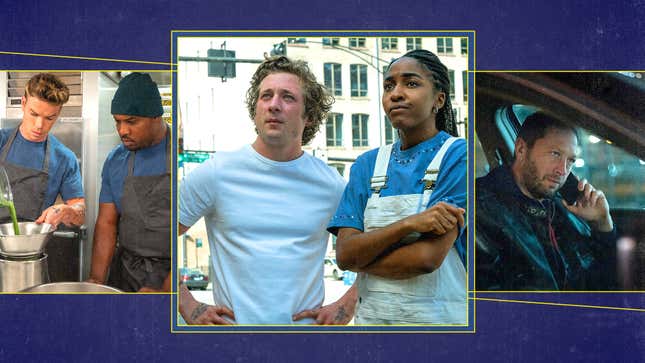 A major flaw of The Bear's second season, through no fault of its own, is that every episode dropped at once. FX served it up like microwavable mac and cheese when it should've been gradually simmering on our TV for several weeks. The 10 new episodes of the show that was last year's breakout comedy (and The A.V. Club's top series of 2022) are sensational. Each one deserved the kind of breathing room and chatter that episodes from shows like Succession, Barry, Yellowjackets, Poker Face, Ted Lasso, and The Last Of Us have enjoyed this year. Oh, and none of those shows are airing right now, which means The Bear could've worn the viewership crown all summer.

"Mythic Quest" star Charlotte Nicdao talks "Dinner Party" and her "Always Sunny" dream
It's not like dropping the episodes all together stops anyone from savoring the show over time (for the sake of your mental health, dear reader, let's hope that's the path you chose). But because our binge brain is broken, and because everyone is rightfully talking about the show, chances are that many viewers will be cramming in as many episodes as they can right away. Also, FX's decision not to stretch out the show's success is confounding. Releasing all episodes in one go for The Bear's debut season was understandable. Since then, however, Christopher Storer's comedy has picked up steam and multiple awards as it evolved into one of this year's most anticipated returns. And does the new season ever deliver.
The Bear is visually scrumptious, emotionally catastrophic, and darkly riotous. It's more meditative in season two, focusing on the supporting characters, kicking off a new Carmy (Jeremy Allen White) romance, traipsing around Copenhagen, and offering an enthralling arc for Richie (Ebon-Moss Bachrach, who just walked AVC through episode seven,"Forks"). But the stressful situations persist. Look at episode six, which feels like watching a volcano erupt in slow motion. Okay, let's stick to cooking references. It feels like a pressure cooker that takes 45 minutes to blow up. Each line of dialogue, furtive glance, and performance is worth dissecting like we did "Connor's Wedding" on Succession. Who couldn't have used a week to process The Bear's triggering "Fishes" episode and its multiple cameos? Instead, the appearances were spoiled online immediately, no matter when you pressed play.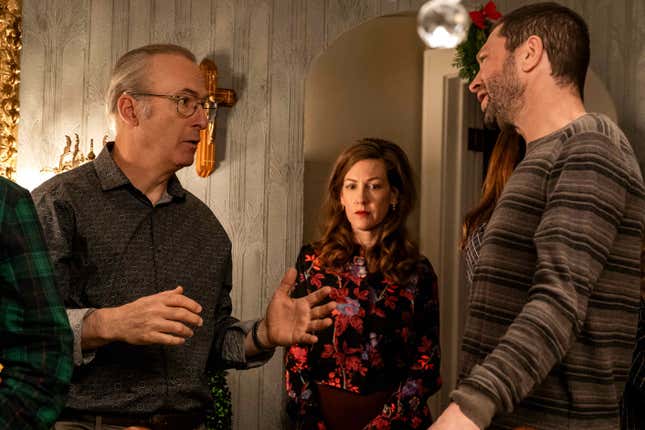 Other FX (and FX on Hulu) originals benefit from weekly releases, allowing the shows to spark conversations, like What We Do In The Shadows, Reservation Dogs, Fleishman Is In Trouble, Under The Banner Of Heaven, and The Patient. So it's bizarre to see The Bear, which is likely to score a pile of Emmy nominations this year, fail to capitalize on that rollout. It's not like fans weren't hungry for show. According to FX and Hulu, season two saw a 70 percent increase in total hours streamed in four days post-release compared to season one. FX didn't reveal the exact numbers—you really can't trust streaming services much these days, huh?—but it did claim that The Bear was the most-watched single season of a comedy series in the network's history. This surge couldn't have been a surprise, right?
The Bear's second season would've undoubtedly received nonstop coverage and social conversations if the episodes had been rolled out one by one. Richie crooning to "Love Story," Will Poulter's tattooed arms, and Tina's (Lisa Cólon-Zayas) beautiful karaoke scene are already emerging as favorite moments. Sydney's (Ayo Edebiri) evocative food journey in episode three and Joanna Calo's perceptive direction of her mindset deserve their spotlight. Episode five, which follows Carmy opening himself up to Claire (Molly Gordon), is equally captivating—even if it kickstarts the Carmy/Claire vs. Carmy/Syd shipping debate. (Why bother with this when Syd and Marcus exist?) Episode seven, "Forks," is another instant-classic installment, one that finally shows Richie growing and features an MVP turn from Bachrach.
The point is, there's an incredible amount to unpack in this round of The Bear. There's the acting, writing, metaphors, cinematography, camerawork, musical choices, casting, and, yes, even the food presentation. (Syd's hella tempting omelet alone has received quite a bit of coverage, and that moment doesn't even happen until the very end of the season.) The appetite for FX's comedy is high, and the show really deserves to be in the conversation well past our next binge.