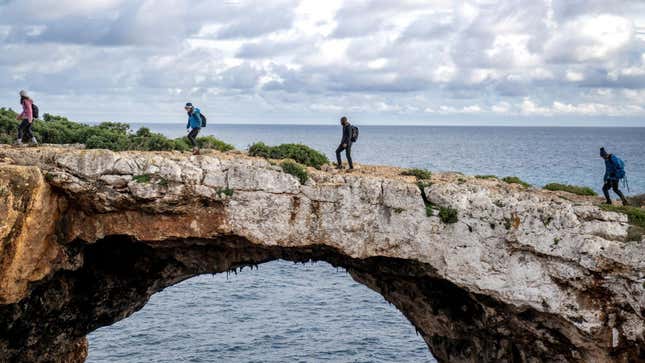 There's an almost-spiritual slant to the way rock climbers talk about their sport. You hear narratives of resilience, of finding oneself, of tapping into nature—the sort of stories that made works like Free Solo and 127 Hours so engaging. Climbing, to them, isn't just one hell of a physical achievement: It's an exercise in humility and camaraderie.
HBO Max's The Climb, a new competition show executive produced by Game Of Thrones' Jason Momoa (who pops in at the beginning of each episode to learn a bit about climbing), spends a good chunk of its time centering precisely that dynamic. (The reality series premiered earlier this month, with the next batches of episodes dropping on January 19 and 26.) "Most people that go climbing, it fundamentally changes them on a deep level," cohost and professional climber Chris Sharma tells us in the show's opening minutes. "It changes how they view the world." From the jump, the show's contestants, too, offer their own stories of how the activity altered their lives, made them part of a community, and opened up new corners of the world they wouldn't get to experience otherwise.
Coupled with some truly awe-inspiring landscape footage, this storytelling imbues The Climb with the grandiosity that's defined countless nature-inclined works before it—and to great effect. When the climbers—and especially Sharma, whose charisma anchors the show—wax poetic about the sport, the show's utterly stunning cinematography implores us to believe them.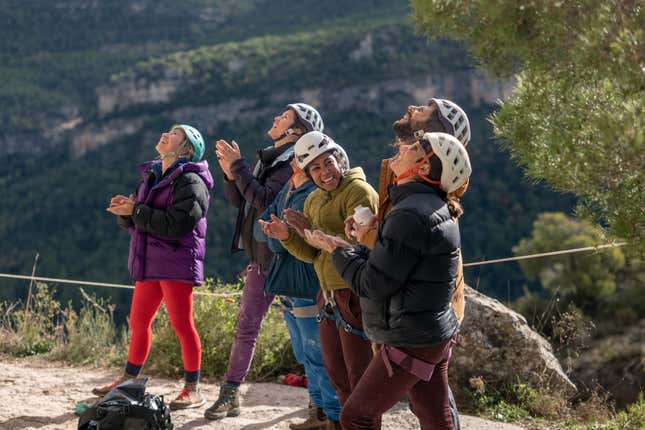 Unfortunately, it's only a matter of time before that stunning footage gets benched to make way for a wholly perfunctory competition with stakes the contestants treat with only sporadic concern. The Climb's structure is standard fare: The contestants face off in one main climb challenge per episode, after which the lowest-performing two climbers compete in an elimination climb, which sends the weaker one packing. At the end of the season, one of the 10 contestants walks away with $100,000 and an endorsement deal with prAna. It's familiar stuff, sure, but it's a tried-and-true structure for a reason.
It's unclear, though, just how compatible climbing is with this sort of reality competition structure, both on a formal level—watching people individually climb the same rock formations gets old fast—and a spiritual one, considering the aforementioned disposition for community. The show's contestants do a great job at convincing us just how important that sort of self-discovery and resilience is to climbing, and it's too bad how much that optimism undermines the entirety of the challenge.

By now, most audiences are at least casually aware of the fact that a reality TV competition differs markedly from a real-world one. These shows are heavily produced in the name of telling a compelling story, with all the beats that would make a work of fiction compelling. Reality competitions—and especially season-long ones—do not work without characters to root for or against, far-reaching story arcs, and a real connection from the audience. And athletic shows are naturally trickier in this regard.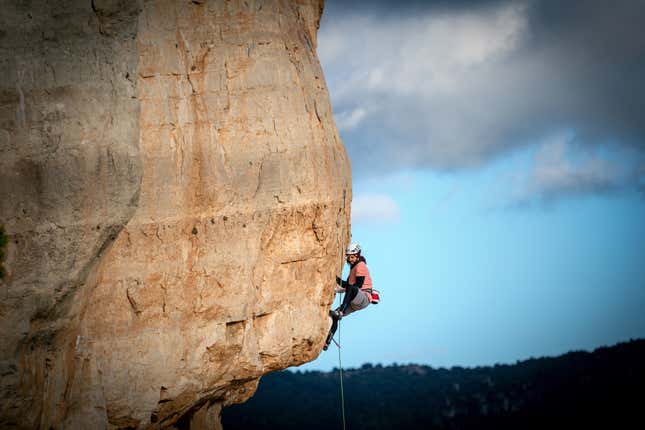 The reality of The Climb is that there simply isn't enough momentum to keep us hooked. Individual climbs are engaging the first time or two, but by round eight, they feel repetitive. Stories of resilience and self-discovery are inspirational until they all start to blend into one another. And after the third episode (the first three episodes were made available for review), it's still hard to differentiate between the contestants beyond their physical attributes. Whether this reflects reality or not, the show doesn't let any of its characters shine as characters, focusing too-nobly on their athleticism instead.

Their natural tendency toward being supportive (and, by extension, aversion to conflict) doesn't help things either. In a confessional, the first eliminated climber remarks on their benchmark in their last challenge being broken: "I realized I was going home, but everyone was going so crazy, and I was a part of that." In other words, the spirit of community was so strong that this person was part of the group cheering on the person sending them home. At another point, while the climbers review footage from the day during a "movie night" (did they run out of ideas to fill time?), some minor conflict comes about from a contestant admitting they gave up after out-climbing the bottom two. Their peers call them out for not being driven, but it's unclear what they stand to gain from exerting themselves to finish a round rather than just reaching the competition's endpoint.

Certainly, competition shows have succeeded without leaning into conflict, with The Great British Bake-Off perhaps being the industry-standard example. But where Bake-Off lacks clashes, it makes up for it with personality and a near-exaggerated sense of niceness. While there may be no villains, there are certainly heroes, and The Climb regrettably lacks both.

Sharma, Momoa, and co-host/climber Meghan Martin do their best to keep things engaging, offering some beautiful and insightful commentary on the competition, the geography, the nature of climbing, and the like. It's hard, watching them, not to be left wondering what could have been if the series hadn't been so gracelessly shoehorned into this format. Sharma especially has an innate presence that could easily support a show in the vein of, say, Bear Grylls' work, without sacrificing any of the truly remarkable below-the-line footage on par with National Geographic's very best nature documentaries. Instead, we're left with a show that, by design, stands in its own way.