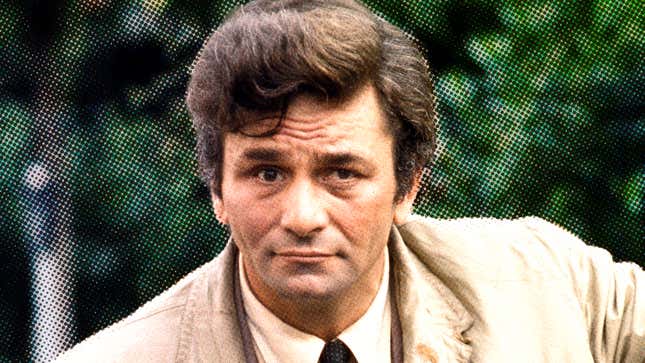 When it comes to concepts, style, and format, one man's fingerprints are all over today's entertainment landscape: Peter Falk's Lieutenant Columbo. The blue-collar homicide detective from the eponymous NBC series Columbo has enjoyed a resurgence of interest in the past year, particularly among a younger audience. It's not older viewers reminiscing about the series, which began in 1971, who are making Columbo fan art and running Columbo-centric Twitter accounts. Rather, it's a tidal wave of new fans who've found comfort in the methods of an unassuming Los Angeles police lieutenant.
Columbo's newfound fame may be a head-scratcher for some, but in many ways the detective procedural taps into the desires of a contemporary audience, who now clamor for more murder mysteries that skewer the rich in the investigation process. Just look at Rian Johnson's 2019 outing Knives Out. Like Benoit Blanc, Lieutenant Columbo is a singular, lovable yet enigmatic character centering an ensemble cast. That, along with the show's accessibility on the streaming platform Peacock, has led to a Columbo comeback.
So whether you grew up watching the show on cable or have never heard of it until now, there's no better time to dig into Richard Levinson and William Link's series. Let's get into why.
Columbo's unique approach
Spanning 69 episodes and nearly four decades, Columbo remains a hallmark of the detective genre. Though noirs and police procedurals were by no means new when Columbo initially premiered as a one-off made-for-TV movie in 1968, Levinson and Link's show offered a mix of tried and true tropes of the genre, along with intriguing twists. Primarily, every Columbo episode starts with the murder, showing the viewer exactly who's guilty and how they committed the crime. It's then Columbo's task to target any discrepancies and trace the clues back to the guilty party—and he always gets his man.
The heart of the show—Emmy-winner Falk's Columbo, of course—is remarkable in his normalcy. In every episode, he's simply a guy trying to do his job, without the heroic fanfare or inflated self-importance often seen in detective series. His primary investigation tactic does not involve intimidation (in fact, despite his role on the police force, we never see Columbo so much as fire a gun) or a myriad of forensic techniques. Mostly, Columbo relies on being an absolute nuisance to a suspect, slowly wearing them down. His lack of a tidy uniform and weapon make him appear unassuming to most, with many not even realizing he's a cop, something that helps him earn the trust and lower the defenses of those he's investigating.
Columbo's strengths are his empathy, attention to detail, and his relentlessness. He loves his dog—aptly named Dog—eating chili, and smoking cigars. We know he's afraid of heights, gets seasick easily, and digs cooking at home. All in all, he's a short king with a deep devotion to his never-seen-on-camera wife. His rugged masculinity never teeters on threatening or imposing and it's balanced in every episode with Columbo's softheartedness and sensitivity. He understands, and sometimes even respects, the perpetrators of the crimes, putting compassion in the foreground. Falk's humanistic approach to playing Columbo garnered adoration around the world, making him synonymous with the charming yet goofy investigator. And his take on Columbo kept the door open for more stories for nearly 40 years.
Falk's Columbo is surrounded by an ever-changing cast of characters, a revolving door of guest stars, including William Shatner, Faye Dunaway, John Cassavetes, Gena Rowlands, Leonard Nimoy, Janet Leigh, Jessica Walter, Vincent Price, Dick Van Dyke, Kim Cattrall, Don Ameche, Myrna Loy, and Johnny Cash. Columbo served as a vehicle for the stars of Old Hollywood, big names of the time, and Falk's personal friends, while also jump-starting the careers of many now-household names.
Why Columbo stands the test of time
Columbo has managed to stand the test of time because of, among other things, its lack of reliance on the sort of "tough cop" archetype, its overt criticism of the wealthy, and the sheer quality of its writing and direction.
The figures in Columbo are not downtrodden people who have been victimized by a brutal incarceration system, but people who by all accounts sit on the top of the world. The vast majority of the perpetrators are selfish, rich goons looking to maintain their power and status. They want more money, a better job, to keep their mistress, to get revenge on their spouse or parent, or they just don't want to answer to anyone else. Most of them commit acts of violence to maintain their picture-perfect lifestyles, without moral quandaries to debate or tragic backstories to garner sympathy.
Columbo is excellent when it's using the elite's own classism against them, as they undermine and underestimate the shabby lieutenant time and time again. With his well-worn raincoat and tendency to babble, suspects think they can outwit Columbo, but only end up telling on themselves. Often, their fatal flaw is their ego and the little voice in their head that tells them, "You're better than this working-class detective with his shitty car. He's simply too dumb to figure you out."
How Columbo avoids copaganda
In many ways, cop-driven procedurals and even workplace sitcoms (see the final season of NBC sitcom Brooklyn Nine-Nine) no longer feel appropriate at a time when the American public is acutely aware of police brutality and the prevalence of unethical practices. Watching representations of cops on the job now often feels–for lack of a better word—icky, as we know that cops are just as likely to pin a crime on an innocent person, plant evidence, or intimidate suspects into confessions. Cop shows prefer to position those in uniform as heroes, and the only ones capable of solving a crime. Columbo, despite the show's unorthodox approaches, is not absent of this quality.
But within the world of Columbo, it helps greatly that his suspicions are always correct. The conscious is freed up when we know that in the end, Columbo will always get the guilty party. While we'd like to believe that all homicide detectives act with such responsibility and accuracy, we know that Columbo is a near-fantastical figure of justice, with little bearing on our actual justice system. With this in mind, the show avoids the pitfalls of copaganda.
All the modern takes on Columbo
If you look at shows and movies now, Columbo feels as timely as ever, an overflowing source of inspiration. Its overt disdain for the upper class channeled through sly mockery fits right in among a slate of recent works (Glass Onion, The Menu, Triangle Of Sadness, The White Lotus) that seek to undermine the authority and intelligence of rich people. It's a theme that's just as refreshing—and necessary—today as it was in the '60s. (And maybe more so.)
Speaking of Rian Johnson, the writer-director cites Columbo as the primary inspiration behind his new series Poker Face, which boasts Natasha Lyonne taking on the role of a rugged, astute pseudo-detective who cannot help but dig for the truth among a barrage of lies and misdirection. It doesn't take an expert to see Columbo's direct influences on this new show, from the exact same font in the title sequences to the format (opening with the murder, then following with the investigation).
With Poker Face, Johnson calls back to an era of television gone by, one that highlights flashy special guest stars as well as directors, with one lead character centering the narrative. Johnson hit the jackpot with Lyonne as Charlie Cale, as few other actors would be able to carry the torch once held by Falk. While the establishment of Cale's lie-detecting skills made this writer cringe (sorry, there's just no way to tell for certain someone is lying), it does foster a level of trust between the viewer and Cale. She's taking no bullshit, and she's only interested in the truth. This near-supernatural ability also allows the show to circumvent giving Cale a job on the police force, copaganda be damned.
Just one more thing
A final case for checking out Columbo: Since the show doesn't feature cross-episode plotlines, you really can begin your watch anywhere in the series. However, starting with the season-one premiere ("Murder By The Book," directed by none other than a 24-year-old Steven Spielberg) is a great place to kick off.