Because The A.V. Club knows that TV shows keep going even if we're not writing at length about them, we're experimenting with discussion posts. For certain shows, one of our TV writers will publish some brief thoughts about the latest episode, and open the comments for readers to share theirs.

Merry Christmas and happy holidays! From me, not Top Chef, who, for some reason, decided to not give us a holidays-themed episode this week. Look, I know they filmed this stuff over the summer, but I've always found a stocking's worth of joy in the show's attempts to cater to the holiday despite it being 85 degrees outside their kitchen. Season five's 12 Days of Christmas challenge? A classic!
Quickfire: This one was inevitable, yeah? Take a Denver omelette—diced ham, onions, green bell peppers—and deconstruct it. "Just be sure not to get any egg on your face," Padma says—yet we do not groan, we swoon. Padma could yell "Wazzzap!" and we'd sigh contentedly. Anyways, another great challenge that allows the chefs to really flex their creativity. Brother Luck wins with a smoked duck egg with a red pepper gastrique that looks (and probably smells) heavenly. Laura, Tanya, and Rogelio end up on the bottom, dooming them to the network-mandated dirge that is the Sudden Death Quickfire.
Sudden Death Quickfire: Anyone who read my Charleston recaps knows I'm no fan of the Sudden Death Quickfire, but they bother me less in the early part of a season. There's plenty of chaff to weed out, after all, and Top Chef always finds its groove once the competition gets leaner and meaner. I liked the challenge here, too, as it was as technical as it gets: "Create the perfect French omelette." French omelettes are an exercise in elegance and restraint, as there should be no browning to the fluffy, silky exterior and the interior should ideally contain nothing but some tender, soft-scrambled eggs. All three chefs here sorta botch it, either by screwing up the cookery or by overcomplicating it. Laura goes home, though, as her eggs were undercooked to the point of being raw. "It's really raw and I'm scared to eat it," says Padma.
Let's also take a moment to highlight guest judge and Denver chef Lachlan Mackinnon-Patterson, who really looks like he could use a nap.
Elimination Challenge: Make Christmas cookies using only white chocolate, zucchini, and lamb! Just kidding! The chefs are tasked with dreaming up a food truck concept and menu that would appeal to dopey, unrefined college students. I love this because it brings out the chefs' baser sides—we're getting sloppy burgers, sloppy waffles, and sloppy...fry bread? Man v. Food meets Top Chef and Adam Richman's nowhere in sight? I'm loving it!
Chicago Joe, Carrie, and Tanya call their truck Down the Chin and Carrie has to explain that it's food dripping down your chin, sillies, not semen. The dream team of Tyler, Fatima, and Joestachio wisely call their truck Hangover Cure and end up coming out on top (though Down the Chin wins the audience vote because college kids have filthy, semen-soaked brains, apparently) due to a hearty, yet creative menu that includes a smoked tomato soup with "grilled cheese croutons," waffles, and chicken wings. Joestachio's wings end up taking the top prize, thanks in no small part to the baking soda Joestachio uses to ensure his wings remain crunchy, yet moist.
Me when I hear "grilled cheese croutons":
G/O Media may get a commission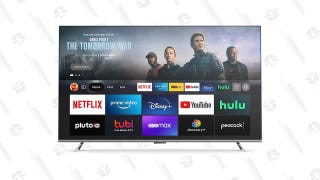 Save 46%
Fire TV 55" Omni Series 4K UHD Smart TV
Me when I'm served grilled cheese croutons:
Rogelio goes home for serving up a confused elotes salad. First off, who wants a "lighter" version of elotes? Secondly, Padma dunked on him by calling out his temperature inconsistencies—it can't be "cold" and "room temperature" at the same time, my dude. I'm sure he's a killer chef, but some people just ain't cut out for the competition.
Of course, it was very hard for me to focus on this week's competition, what with the worst Top Chef winner of all time poking his shiny, bald head in.
Hosea skated by in the middle of his season, cemented himself in the Top Chef zeitgeist by virtue of the series' one and only romantic subplot, perpetuated a feud that no one but him cared about, and lucked out in the finale 'cause Stefan made lollipops for dessert.
In classic Hosea fashion, he described his restaurants as an "empire." Hosea, that's not for you to say.
I breathed a sigh of relief, however, when I realized it was "social media influencer" Logan Paul and not his brother, Jake Paul, guesting this week. If you're interested in my thoughts on Jake Paul, make your way here. If you're interested in my dad's thoughts on Logan Paul: "This YouTube guy is an idiot." Thanks, Dad.
Tom seriously had no clue how to engage with this kid. He looked at him like an alien.
How else you gonna get that Generation Z audience, though?
First appearance of this season's two sleep apnea machines here. Bruce, we're still waiting to see yours.
Speaking of Bruce, dude was in a band called Phoenix back in the day. Here's hoping they sued this Phoenix for a cut of those "Lisztomania" profits.
Fatima is a "baby bear" because she needs "bear hugs." Adorable.
One of the photos they showed of a young Brother Luck was some girl making out with his neck. That's all.
I never, ever, ever want to hear the words "sticky licky" emerge from beneath that obnoxiously waxed strip of bristle again, Joetaschio.
Last Chance Kitchen: Watch it here.

Since there were two people eliminated in this episode, there were five competing in Last Chance Kitchen. That meant Laura and Rogelio went up against Lee Anne, Kwame, and Claudette. The challenge was to work magic from opposing ingredients, such as vanilla and pickles or bonito flakes and chocolate. There were two highlights: One was Tom freaking out over Rogelio trying to fry some sour candies, and the second was Kwame offering up some basics of Nigerian cooking, a cuisine of which I know nothing about. Claudette came out on top with a seared venison and raspberry mole dish. Laura and Rogelio landed on the bottom. Last in, first out.
Guys, I figured it out. Marcel is Theon Greyjoy.

Next week on Top Chef: Brother Luck gets clowned by a little kid and Hosea is (looks around corner) nowhere in sight.