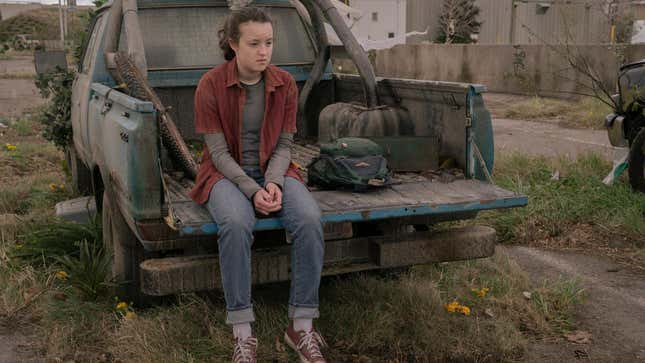 [Editor's note: This piece contains spoilers of the season-one finale of The Last Of Us.]
The A.V. Club's best shows of 2022 No.2
As the Oscars unfolded in real time, HBO's The Last Of Us put a nail in the coffin of its first season, offering up a lean, brutal 43 minutes of prestige TV. As David Cote put it in his fantastic recap of the episode: "Not a moment was wasted. In less than three-quarters of an hour we went from Ellie's (Bella Ramsey) first moments in the world to uneasy questions about her future." So now that we've had a few hours to digest how the series went from that bloody point A to that tragic point B, not to mention Joel's rampage between the two, let's take some time to pick apart the season-one finale.

---
Saloni Gajjar
The Last Of Us' season finale hinges on the trust established between Joel and Ellie. Now I know that's what season one has been entirely about—a fascinating, complex, slow buildup of an unexpected relationship during the goddamn apocalypse. TLOU is interspersed with notable guest performances (Nick Offerman! Lamar Johnson! Murray Bartlett!), clickers, bloaters, road trips to Wyoming, and the emotional deaths of Sarah and Riley. But the last episode focuses solely on Joel and Ellie's father-daughter bond without any interference (minus the giraffes, which I'll happily accept). And what a shocking treat it is.
G/O Media may get a commission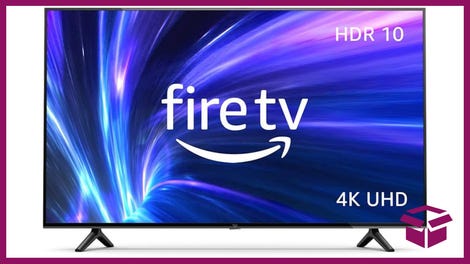 42% Off
Amazon Fire TV 50" 4K Smart TV
"Look For The Light" strips down everything else to focus on the lengths Joel goes to to protect Ellie. Yes, it means he'll go on a rampage in a hospital and probably continue putting the world in grave danger. It's the visual depiction of the Trolley Problem, and boy did they deliver. Pedro Pascal and Bella Ramsey fully tug at your heartstrings. Their work makes it believable that Joel won't hesitate to put a bullet in Marlene (or anyone who can harm Ellie, basically). This parking garage scene mirrors the opening, by the way, when Marlene pulls the gun on Ellie's mother without a second thought, even if they were friends. I haven't played the video game but I did spoil myself about what's coming next. (I do not recommend doing that). TLOU has proven over nine episodes that it can pull off brutal sentimentality, especially in a finale, so brace yourself for what's to come.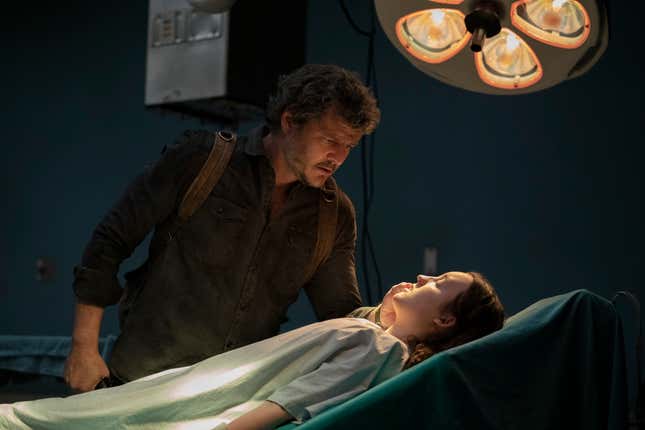 Jenna Scherer
From the word go, The Last Of Us has redefined everything we've come to expect from zombie apocalypses. Rather than focusing on how the end of the world brings out the worst in humanity, the series concerns itself with digging up the tender shoots beneath the rubble. Even in a world ravaged by mutants, fascists, cannibals, and near-universal PTSD, humans still do human things: They banter, they paint, they date, they garden, they mourn, they love.
Over the course of the first season, co-creators Craig Mazin and Neil Druckmann taught us to believe in the power of love—particularly between Joel and Ellie, two traumatized hard-asses whose devotion to each other doesn't so much blossom as knit together like a broken bone. And the season finale gave us everything we wanted, in the most upsetting way possible.

When Joel finds out what the Fireflies are planning to do to Ellie, of course we root for him to kick some ass and pull off an impossible rescue. They fed giraffes! They opened up about their dark pasts! They planned a future together! Pedro Pascal is Daddy! But as the bodies pile up in the most somber shooting spree ever filmed, Joel rapidly devolves from antihero to psychopath. And if we're still rooting for him by the time he puts a bullet through Marlene's head, then what does that make us?

The Last of Us video game earned its flowers on the strength of this ending, which forced players themselves to make Joel's impossible choice, to pull the trigger that kills the doctor who's on the verge of saving the human race. That this episode makes us feel just as complicit in Joel's actions even though we're not holding the gun ourselves is a masterstroke.

The final scene has all the trappings of a happy ending: a bright spring day at the end of a long, hard road, our heroes alive and reunited. But that new beginning is shot through with rot—not just because of what Joel did, but because he lied to Ellie about it.

On paper, "Look For The Light" is everything a season finale shouldn't be: swiftly resolved, anticlimactic, unsatisfying; and that's exactly what makes it brilliant. If Joel or Ellie had died, it would have been tragic, but emotionally rewarding. It takes a show this daring and wise to suggest that catharsis is the easy way out.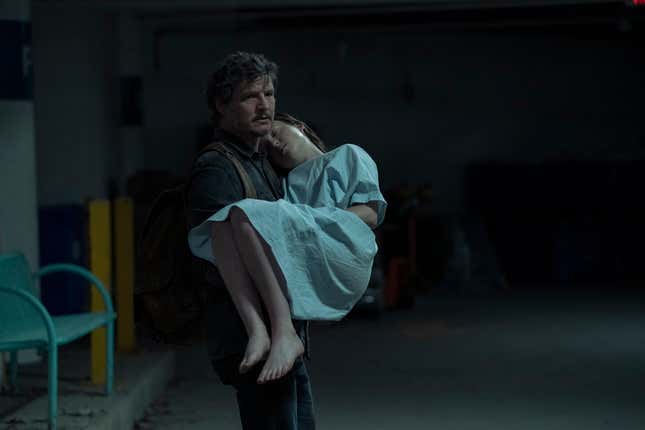 Cindy White
The ending of The Last Of Us has stuck with me since I finished playing the game, so I've been anxious to see whether the show would do it justice and how it would play out in live action. I've mostly been able to enjoy the show on its own terms, but the ending is something they had to earn and absolutely nail or none of it works. We have to believe that it makes sense for Joel to choose saving Ellie over saving the world. I did believe it, thanks to Pedro Pascal's performance and the strength of the writing this season. His shooting spree in the hospital was just as harrowing and violent as it was in the game. Fans can argue about the brutality of it—and discussions will likely bleed into the next season—or whether it was right for him to take that decision away from Ellie, but the Joel we've come to know over these past nine episodes could not have done anything else in that moment. It's love that controls his actions, just as the fungus controls its hosts. What a metaphor.

I'll admit I was a little disappointed that they once again cut out some of the action set pieces involving the infected, as they've been doing all season long. The makeup effects were so well done I wish we could have seen more clickers or at least another bloater. But they did have Joel boost Ellie up to retrieve a ladder, which almost makes up for it as far as game references go. And, best of all, we got the giraffes.
Tim Lowery
As with most episodes of this first season (for me, anyway), this finale had one or two knockout moments, instances that, whether or not I was swept up by the episode as a whole, I was unable to shake. In "Look For The Light," that moment (again, for me, although I did see plenty of folks in the comments of David Cote's recap express as much) was, simply, this exchange between our main duo:

Ellie: So time heals all wounds, I guess.  

Joel: It wasn't time that did it.

Or more specifically, how Pedro Pascal's voice broke when he uttered those last two syllables. The reason this show, this journey, works and keeps us engaged is the dynamic between Ellie and Joel. And having a moment that well calibrated and delivered—the highs here are incredibly high—is a reminder that this show is special. Did I find the constant score during Joel's rampage distracting and a bit much? I did. But has this show won me over with those human moments? It has. Lastly, will I stop asking questions like this? Yes. Yes, I will, sorry.