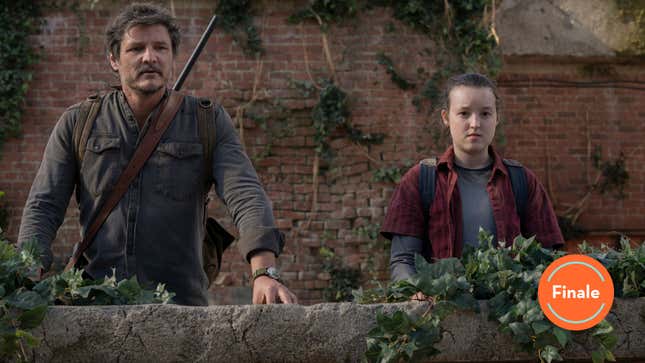 The Last Of Us is about many things: social collapse, types of tyranny, a mycotic virus ravaging the human race.... But as we come to the end of season one (this finale, "Look For The Light," takes its title from the Firefly graffiti sprayed on a wall in the premiere, "When You're Lost In The Darkness"), it's clear that TLOU is, overwhelmingly, about bonds between parents and children—and how, when those bond are broken, new ones are forged, for better or worse.
Lamar Johnson on "The Last Of Us" and post apocalyptic movies
We watched Joel lose his daughter and find another twenty years later in Ellie. Properly grieving Sarah while permitting himself feelings for Ellie has been agonizingly slow, but the process re-humanized Joel. (Until it becomes the justification for monstrous cruelty. More on that below.) Ellie was born into a fallen world, severed from her mother. Those who have been adopted or orphaned shortly after birth may not know the extent of trauma that infant Ellie survived, but they can relate to lifelong attachment issues. Ellie is, to use trope common in legend, a magic orphan. From Moses to Harry Potter, such figures are born to change the world.
It seemed almost perverse for the season finale to be only 43 minutes. Four episodes ago, I was complaining about padding and dawdling. Now Craig Mazin and Neil Druckmann are racing to the finish. Not a moment was wasted. In less than three-quarters of an hour we went from Ellie's (Bella Ramsey) first moments in the world to uneasy questions about her future.
G/O Media may get a commission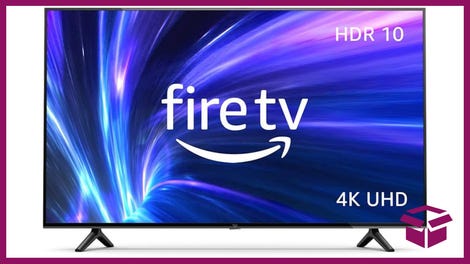 42% Off
Amazon Fire TV 50" 4K Smart TV
The cold open plays like a gothic fairytale. Heavily pregnant Anna (Ashley Johnson) runs through a forest, chased by an infected. She crosses a field to a dilapidated farmhouse, rushes up to a second-floor bedroom and wedges a chair under the door. Her water has broken; the baby is coming. So is the infected, which smashes through the door. With her switchblade, Anna stabs the ghoul in the head. During the attack two things happened: Anna is bitten on the leg, and she gives birth. Quickly slicing the umbilical cord with her blade, the new mother coos over her wailing infant. "You tell 'em, Ellie," she says.
It's hard to expect a less brutal origin story for Ellie. She is the creator and destroyer: the source of a vaccine and a fearsome warrior with ice water for blood. Her berserker killing of pedophile cannibal David (Scott Shepherd) was the most recent, graphic example of the destructive power Ellie can unleash. It pales, however, in comparison to the man who would be her father.
After credits, the rest of the flashback resolves itself with grim predictability. Marlene (Merle Dandridge), who we haven't seen since episode one, returns to the farmhouse at night with a fellow Firefly. She finds Anna in the bedroom, singing to Ellie, her switchblade poised at her own throat in case she turns. Anna tells Marlene to take the baby, swearing that she cut the cord before she got bit (a lie). Marlene is heading to Boston. Anna bequeaths the baby her switchblade (teenage Ellie's trusty companion). Then Marlene agrees to Anna's last wish: death before she turns. The baby cries at the bang of the pistol and we cut to present-day Ellie (Bella Ramsey) sitting in the back of a truck, lost in thought.
Joel and Ellie are back on the road, trekking to the Firefly hospital in Salt Lake City. Joel tries to make small talk—he found a smashed guitar, asks if she wants guitar lessons—but Ellie's barely listening. Their positions are reversed from the beginning of the journey. Back then, Ellie was the upbeat, chatty one while Joel remained stony and withholding. After all the death and loss she's been through, culminating in the near-rape by David, is Ellie simply numb with trauma?
It's nothing a petting zoo visit can't cure. After the descent into hell of "When We Are In Need," our heroes need some ordinary hiking, climbing, and navigating bombed buildings. The surprise appearance of a free-ranging giraffe adds to the healing vibe. Some good things have survived. Ellie feeds the long-necked ungulate leaves and giggles.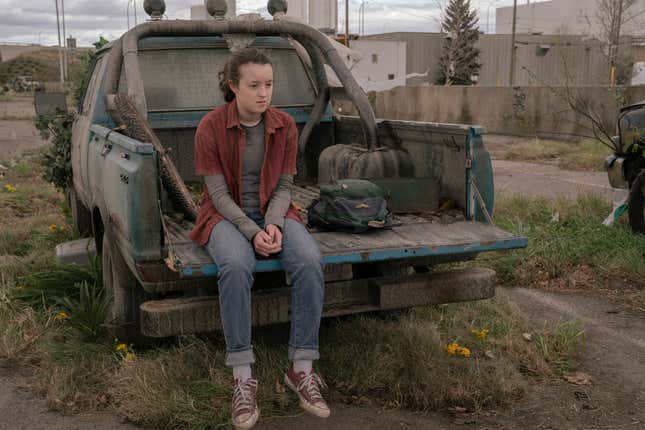 Relaxing for the moment, Joel and Ellie discuss their destination, the Firefly science hub where doctors can study why Ellie is immune to infection, possibly leading to the creation of a vaccine. Joel, feeling a presentiment of losing her, floats the option of not continuing, of going back to Tommy in Jackson.

"After all we've been through. Everything I've done. It can't be for nothing," Ellie replies evenly. "I know you mean well. I know you want to protect me; you have. And when we're done, we'll go wherever you want: Tommy's, sheep ranch, the moon. I'll follow you anywhere you go. But there's no halfway with this: We finish what we started." Ramsey's delivers this touching speech with clear-eyed dignity. Joel nods in agreement.

As they pass long-abandoned Army medical tents, Joel admits to Ellie that he spent time in a similar one in the early days of the outbreak. It was a bullet graze to his temple. That leads to the confession that after Sarah was killed, he attempted suicide. It's interesting to see the mix of sympathy and detachment Ellie greets this news with. She tells Joel she's happy he "missed" shooting himself in the head. But there's something held back. Remember, Ellie had her heart broken repeatedly, and she was born into the world with profound attachment issues.

As they keep exploring the empty city overgrown with foliage, Joel makes a special request for stupid puns—a metric of how profoundly he's changed—and Ellie obliges by hauling out the Will Livingston. In a skin-crawlingly effective bit of lensing, director Ali Abbasi shows a Firefly patrol sneak up far behind Joel and Ellie, then toss a concussion grenade, afterwards knocking Joel out with the ol' rifle butt to the head.

Joel regains consciousness in the Firefly hospital. Marlene is there. She marvels that they made it all the way across the country. She herself lost several men, bodyguards, along the way. Joel demands to see Ellie and is told she's being prepped for surgery. "Our doctor thinks the Cordyceps in Ellie has grown with her since birth," Marlene explains grimly. "It produces a kind of chemical messenger. It makes normal Cordyceps think that she's Cordyceps; that's why she's immune." They're going to remove those cells from Ellie, multiply them in a lab and thus have a vaccine that could prevent infection.
Sounds great, but Joel puts two and two together and realizes, "Cordyceps grows inside the brain." They're going to kill Ellie in order to get those cells. Marlene takes no joy from the prospect of Ellie's death. She was practically at the girl's moment of birth. But this has to be done. She orders Joel to be escorted from the hospital by two armed Fireflies and left on the road. If he shows resistance, Marlene orders, shoot him.
"Genuine tragedy is a case not of right against wrong but of right against right," the German philosopher Hegel wrote. "Two equally justified, ethical principles embodied in people of unchangeable will." In that sense, The Last Of Us becomes pure tragedy as Joel, possessed by a father's love, goes on a bloody rampage through the hospital in search of his baby girl. Joel cannot let her die, even if it's for the greater good. He'd rather the future burn. It's both an act of extraordinary humanity and damnably inhumane.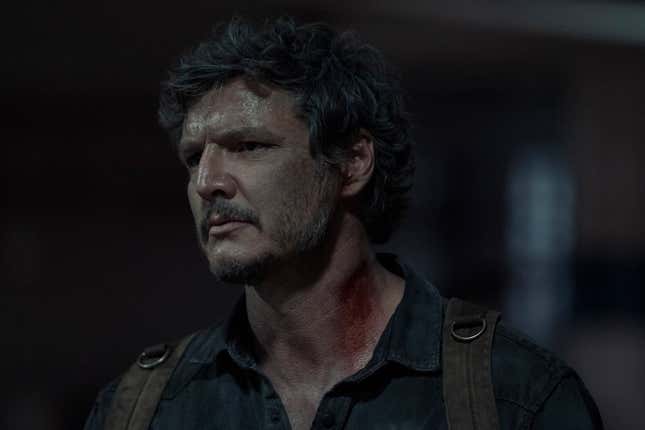 Filmed by Abbasi's roaming cameras up and down hallways and over Joel's shoulder, the massacre montage dragged the series back—with brutal inevitability—to its genre fundamentals: third-person shooter. Although the Naughty Dog game famously expanded the moral and narrative boundaries of gaming violence, like our reptile brain, mindless carnage is always there. Our hero has become an active shooter, a serial killer, a monster. Joel follows the sign for Pediatric Surgery, past a bright cartoon mural of monkeys and elephants, to the operating room. He murders the surgeon (Darren Dolynski) and carries the anesthetized Ellie out. It's a visual callback to the first episode, with Joel cradling Sarah in his arms when she was shot.
This sick inversion of the hero's journey—a father's love dooms the world—is a shocking note to end on. Did Mazin and Druckmann have any alternative? Kill Joel? Have Ellie live but the vaccine fail? Vaccine works, the world is saved? The demands of storytelling, inhuman as they may be, push the story on. Joel kills Marlene, takes a Firefly car, and drives the still-anesthetized Ellie back to Wyoming. They'll settle with Tommy in Jackson. When Ellie wakes in the backseat, Joel lies to her that the Fireflies found others who were immune and have given up looking for a cure. He grabbed Ellie to escape raiders who had attacked the hospital and killed Marlene and the Fireflies. Ellie looks dubious but says nothing.
Hiking the last five hours to Jackson, Joel allows himself to reminisce about going on nature walks with Sarah, who hated the mosquitoes. Clearly he's relaxing into the fantasy of second fatherhood. As they stand on foothills overlooking the high defensive walls of Jackson, the season resolves with an act of tremendous honesty and unforgivable deception. Ellie tells Joel about the first person she killed, Riley, her best friend, who got infected in the mall. She then asks if the story he told about the Fireflies is true. He says it is. "Okay," Ellie says quietly.
No, I haven't played The Last of Us Part II and I don't need to in order to know showrunner-writers Craig Mazin and Neil Druckmann will dramatize the fallout from Joel's lie in the already greenlit second season. If this series explores the formation of surrogate bonds after natural ones have been ripped away, then we can expect another deeply rooted theme next year: the toxic legacy of family secrets.
Stray observations
Last episode I should have noted that James was played by Troy Baker, who voiced Joel in the game. This week, Ashley Johnson played Ellie's mother, and Johnson provided voice and motion-capture for The Last Of Us (2013), The Last Of Us: Left Behind (2014), and The Last Of Us Part II (2020).
Ellie wears her backpack with the dangly purple one-eyed monster, last seen (by Joel) in the meat shed last week. Joel must have taken Ellie there (while being careful not to let her see the headless, upside-down corpses).
For those unfamiliar with Salt Lake City, the overgrown nature preserve where Ellie and Joel encounter giraffes must be Hogle Zoo.
"It wasn't time that did it," Joel glancing at Ellie, his voice catching. Pascal will make us reach for the tissues every time.
During Joel's rampage, Abbasi holds the camera on a couple of victims in close up: a soldier and the surgeon. We see the entrance wound, the blood, the vacant eyes. Deglamorizes the violence.
It's been an honor to recap Joel and Ellie's epic journey. To convey the joy and dread it inspired in me, I spent upwards of 18,000 words. If that's too much verbiage, may I recommend the cartoon version.