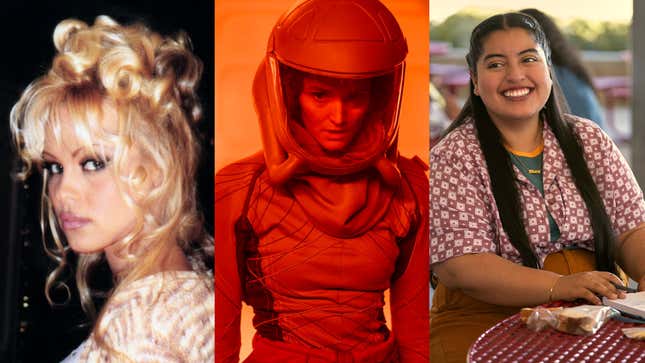 Welcome to What's On, our weekly picks of must-watch shows. Here's what you need to watch from Sunday, January 29, to Thursday, February 2. All times are Eastern. [Note: The weekend edition of What's On drops on Fridays.]

---
The biggies
Pamela: A Love Story (Netflix, Tuesday, 3:01 a.m.)
Pamela Anderson is attempting to set the record straight in a new two-hour film, Pamela: A Love Story. The actor has been working on the documentary for several years now. (She found out about Hulu's Pam And Tommy while filming it.) Directed by Ryan White, the movie features Anderson speaking candidly about that infamous stolen tape and how the leak and media attention impacted her life and career over the years.
---
The Ark (Syfy, Wednesday, 10 p.m.)

Created by Dean Devlin and Jonathan Glassner, sci-fi drama The Ark is set 100 years in the future and follows the crew of Ark One, who encounter a catastrophic event on a mission to secure the survival of the human race. The cast of the Syfy series includes Christie Burke, Reece Ritchie, Richard Fleeshman, Stacey Read, and Ryan Adams.
G/O Media may get a commission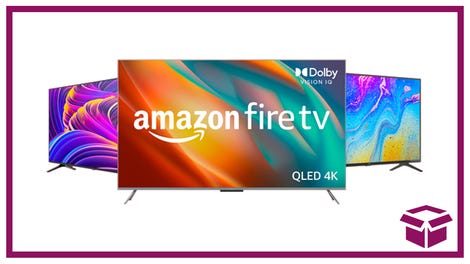 Ooh. stunning.
New Amazon Fire TVs
---
Freeridge (Netflix, Thursday, 3:01 a.m.)
Fans of On My Block, it's your time. Freeridge is a mystical coming-of-age spin-off of that underrated Netflix teen drama. The show stars Keyla Monterroso Mejia and Bryana Salaz as sisters Gloria and Ines, who, along with pals Cam (Tenzing Norgay Trainor) and Demi (Ciara Riley Wilson), accidentally unleash a curse, bringing unforeseen misfortune into their lives. The A.V. Club's review of the show publishes on Tuesday.
---
Hidden gems
The Watchful Eye (Freeform, Monday, 9 p.m.)
Julie Durk's thriller The Watchful Eye chronicles Elena Santos (Mariel Molino), a young woman with a complicated past who starts working as a live-in nanny for an affluent Manhattan family. She quickly learns, however, that everyone in the mysterious building she now resides in has deadly secrets and ulterior motives. Warren Christie, Kelly Bishop, and Amy Acker co-star, and the show kicks off with two episodes.
---
The Great British Baking Show: The Professionals (Netflix, Wednesday, 3:01 a.m.)
In this spin-off of The Great British Baking Show, contestants are, yes, professional pastry chefs from hotels, restaurants, supermarkets, and the like. All 10 episodes of season six, presented by Tom Allen and Liam Charles, drop at once.
---
Make My Day (Netflix, Thursday, 3:01 a.m.)
Make My Day is an anime set on a snowy planet called Coldfoot, which, on the surface, seems to be a crime-free utopia—but in reality is home to prisoners being forced into back-breaking mining. Things go haywire when Jim, a young prison guard, rushes to the site of a sudden accident to find a mysterious creature attacking the humans.
---
More good stuff
Taiwan Crime Stories (Hulu, Wednesday, 12:01 a.m.)
The Mandarin-language psychological thriller Taiwan Crime Stories is inspired by four true-crime investigations (including a shocking murder of a family and a fraud case), each of which is tackled by a different director over the course of an episode. Rhydian Vaughan, Patrick Shih, Simon Hsueh, Allison Lin, Frederick Lee, and Wang Po-Chieh co-star.
---
Black Panther: Wakanda Forever (Disney+, Wednesday, 3:01 a.m.)
Almost three months after Wakanda Forever was released, the film is finally coming to streaming (and just in time to witness Angela Bassett's Golden Globe-winning, Oscar-nominated turn in it, no less). The superhero film starts with King T'Challa's death as Wakanda struggles to find a new Black Panther, all while facing a new threat from Namor's superhumans. Check out The A.V. Club's review.
---
Schoolhouse Rock! 50th Anniversary Singalong (ABC, Wednesday, 8 p.m.)
Schoolhouse Rock! is back, like it or not. The fifth installment of ABC's singalong franchise revisits the hits that are as educational as they are catchy. Hosted by Ryan Seacrest, the anniversary show features appearances by Jason Biggs, Raven Symoné, Retta, Kal Penn, Shaquille O'Neal, Julianne Hough, Derek Hough, Fortune Feimster, and the Black Eyed Peas. The special streams on Hulu the day after airing.
---
Can't miss recaps
Saturday Night Live (NBC, Saturday, 11:30 p.m.)
The Last Of Us (HBO, Sunday, 9 p.m.)
The Bachelor (ABC, Monday, 8 p.m., season 27 premiere)
Poker Face (Peacock, Thursday, 3:01 a.m.)
Shrinking (Apple TV+, Friday, 12:01 a.m.)
RuPaul's Drag Race (VH1, Friday, 8 p.m.)
---
Arriving now
La Brea (NBC, Tuesday, 9 p.m., season two winter premiere)
The Proud Family: Loud And Prouder (Disney+, Wednesday, 3:01 a.m., season two premiere)