Here's what's up in the world of TV for Wednesday, October 28. All times are Eastern.
Top pick
You're The Worst (FXX, 10:30 p.m.): Yes, You're The Worst was in this same spot last week. But after what Vikram Murthi called the series' "best episode" and "the series at the height of its comedic and dramatic potential," we felt that if any show deserves back-to-back picking, it's this one. "Spooky Sunday Funday" is—as you probably already guessed—the Halloween follow-up to last season's "Sunday Funday" episode. Last season had Jimmy being very anti-Sunday Funday, but now it looks like he's getting into it: He's actually the one who plans the Halloween-themed Sunday Funday. The world has turned upsidedown.
Also noted
The Middle (ABC, 8 p.m.) / The Goldbergs (ABC, 8:30 p.m.): Imagine us saying this in a spooky announcer voice: It's "Halloween VI: Tick Tock Death" on an all-new The Middle. Muhahahahaha! (Alright, spooky announcer voice ends now. But hopefully you're still reading just this parenthetical in spooky announcer voice. That is all.) This year's Halloween episode of The Middle is really embracing the horror, as "the Hecks are placed in their own Twilight Zone-like stories," each introduced by Brick. The press release promises the episode "will provide both tricks and treats," but where does that leave The Goldbergs? Well, Adam and a visiting Dana "celebrate a Predator and Alien-themed Halloween" in "Couples Costume." Sure, that doesn't sound as spooky as The Middle, but just between you and us, Will Harris likes things a little less spooky.
G/O Media may get a commission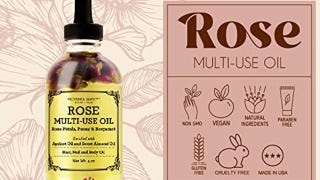 Provence Beauty Rose Multi-Use Oil
Arrow (The CW, 8 p.m.): "Oliver asks Captain Lance for a favor and while he's not surprised at the response, he is surprised at what he finds out next." Could you vague that up a little more for them, Alasdair Wilkins? Or is this all a roundabout way of saying Arrow's doing a Halloween episode, and Captain Lance has chosen to go to a costume party as the Green Arrow? (Actually, it's probably about Lance and Damien Darhk, but just play along with us.)
Black-ish (ABC, 9:30 p.m.): Dre is back to wanting the kids to be "tougher," which is why he's excited that "his nieces and nephews who have a tendency to roughhouse join the family for Halloween." Based on the full synopsis for his episode, "roughhouse" is basically code for "bully," which makes us wonder if these nieces and nephews know what Diane is capable of. LaToya Ferguson isn't a fan of bullies, so she hopes Diane does her worst.
American Horror Story: Hotel (FX, 10 p.m.): "John receives an invitation to attend an exclusive Devil's Night Soiree." American Horror Story is totally the type of show to use the word "soiree." Emily L. Stephens is partial to "shindig" herself, but she can tell how that probably wouldn't work in this context.
Moonbeam City (Comedy Central, 10:30 p.m.): "Lasers & Liars" just so happen to be two of our favorite things. How did you know, Moonbeam City? Did you tell Moonbeam City, Jesse Hassenger?
Regular coverage
Casual (Hulu, midnight)
Survivor (CBS, 8 p.m.)
Star Wars Rebels (Disney XD, 9:30 p.m.)
South Park (Comedy Central, 10 p.m.)
The League (FXX, 10 p.m.)
Elsewhere in TV Club
The moral of this latest Inventory? "Children's" entertainment is terrifying, and we're all scarred for life.
What else is on?
Be Cool, Scooby-Doo! (Cartoon Network, 6:30 p.m.): In order for Scooby to collect an inheritance, he and the gang have to spend the night in a "creepy mansion." Is it still considered cruel and unusual punishment if they were probably going to spend the night in a creepy mansion anyway?
Hellevator (GSN, 8 p.m.): In the series premiere of Hellevator (yes, that is the show's name), "three friends enter an asylum and must complete a series of scary challenges for a chance to win up to $50,000 and, oh yeah…stay alive by avoiding an evil nurse who's looking for her next patient." Oh yeah, this is an option.
The Mysteries Of Laura (NBC, 8 p.m.): "Laura and team delve into the world of fitness freaks and crossfit commandos." "Laura and team delve into the world of fitness freaks and crossfit commandos." "Laura and team delve into the world of fitness freaks and crossfit commandos." "Laura and team delve into the world of fitness freaks and crossfit commandos." "Laura and team delve into the world of fitness freaks and crossfit commandos." "Laura and team delve into the world of fitness freaks and crossfit commandos."
Criminal Minds (CBS, 9 p.m.): "When the BAU investigates incidents of bodies being incorporated into macabre graffiti art in Detroit, they suspect an elusive-yet-notorious street artist could be the UnSub." We may not know art, but we know what we like—and dead bodies being incorporated into graffiti art isn't one of those things.
Supernatural (The CW, 9 p.m.): And now for the first gimmick episode of the season: "Baby." The gimmick? "Seen entirely from the point of view of the Impala, Sam and Dean go on a road trip to fight monsters and demons." 11. Seasons. Oh, by the way, the press release for this episode starts with the upsettingly earnest use of "NOBODY PUTS BABY IN A CORNER."
Kingdom (DirecTV, 9 p.m.): This week's Kingdom has more opportunities being given to characters by other characters (just read last week's synopsis to understand), as "Jay is given an intriguing offer by Garo." One day Kingdom is just going to be a show about people striking deals and signing contracts, and we'll all wonder how we got there.
Chicago P.D. (NBC, 9 / 10 p.m.): There is no Law & Order: Special Victims Unit tonight. Instead, lay your looking balls on two back-to-back episodes of Chicago P.D. And before you ask, yes, Oliver Platt is in this episode. Oliver Platt is in all the episodes. Chicago Med is just a front to get Oliver Platt on Chicago P.D.
Nashville (ABC, 10 p.m.): In case you were wondering about Maddie, she's grounded now, and that's really a part of the episode synopsis. Meanwhile, Markus (Riley Smith) continues to be a total diva—and now Rayna has to be the one to deal with it—and "Juliette gets into a brawl with a fan that goes viral." Remember when Nashville wasn't a show about miserable people being miserable? Anyone? Anyone? Bueller?
Code Black (CBS, 10 p.m.): Slow down, Code Black. You're crazy for this one. This week's episode is titled "Doctors With Borders," and it's okay if you don't get the joke. It's it's pretty advanced. See, usually they're without borders. "Neal clashes with his father, Dr. Peter Hudson, who is a neurosurgeon, over how to treat his gravely ill mother, Asra Hudson, whose mysterious symptoms force Angels Memorial to quarantine Trauma One." But where do the borders come in, CB? And who signed off on that sentence?
Are You The One? (MTV, 10 p.m.): By our calculations, Are You The One? has used the episode title "Getting Lei'd" approximately 10 times in the course of its three seasons.
Couples Therapy (VH1, 10 p.m.): In "Joe And Kaylin Return," a funny thing happens: "Everyone is surprised to learn that Joe and Kaylin will be returning."
Watch What Happens: Live (Bravo, 11 p.m.): What do Dan Rather and Stephen Moyer have in common? Other than the obvious and both being guests on tonight's Watch What Happens: Live, we have no idea. Guess you have to watch to find out.
Halloween / Halloween II (AMC, 7 / 9 p.m.): 'Tis the season to be spooky. Muhahahaha. Haha. Ha. Ha.
He's Just Not That Into You (E!, 8 p.m.): Show of hands: How many of you have had intense discussions about how much of a dirtbag Bradley Cooper's character is in this movie? Just us? Suuuuureee.
The Purge (FX, 8 p.m.): Pop quiz! You're stuck in The Purge, and you have a set of three (currently living) celebrity companions to help you make it through the night. Who do you choose? (Also: No, you don't actually have to watch this movie tonight.)
Sports, sports, all type of sports
Women's Volleyball: Kansas at Iowa State (ESPNU, 7 p.m.)
NBA Basketball: Wizards at Magic (FSN, 7 p.m.)
NBA Basketball: Spurs at Thunder (ESPN, 8 p.m.)
World Series: Game 2: Mets at Royals (Fox, 8 p.m.)
NHL Hockey: Penguins at Capitals (NBC Sports, 8 p.m.)
NBA Basketball: Timberwolves at Lakers (ESPN, 10 p.m.)
NHL Hockey: Predator at Sharks (NBC Sports, 10:30 p.m.)
WWE NXT (WWE Network, 8 p.m.)
Impact Wrestling (Destination America, 9 p.m.)
Ring Of Honor (Destination America, 11 p.m.)
In case you missed it
Red Oaks: Red Oaks ended its first season, and according to Molly Eichel, it ended up being "an enjoyable show that was good but not great."