Here's what's up in the world of TV for Wednesday, December 9. All times are Eastern.
Top pick
South Park (Comedy Central, 10 p.m.) / You're The Worst (FXX, 10:45 p.m.): As it turns out, your friendly neighborhood What's On Tonight contributor is pretty indecisive. So tonight's toppest of picks is actually two picks for the price of one. Even better, you don't have to choose between the both of them, even if the tonal shift of going from South Park to You're The Worst is as jarring as we expect it will be. So first up is the 19th (19!) season finale of South Park, "PC Principal Final Justice." It's all been building to this. In his review of last week's penultimate episode, Dan Caffrey called this an "increasingly epic season…that relies almost entirely on cryptic intentions, shifting allegiances, and general confusion among the characters as they try to unravel who's really behind the recent madness around town." Will that be the case in this season finale? "The gentrification of South Park is pricing Randy right out of town. Meanwhile, Kyle's distrust of Stan has broken their friendship and thrown Kyle into a dangerous alliance." Sounds like it. Also, a "dangerous alliance," huh?
Then—after you've gone down a Dangerous Alliance spiral and watched South Park—get ready to laugh through your tears with the second season finale of You're The Worst. And you know what, You're The Worst? You're right—the heart is a dumb dumb. (See, the season finale is titled "The Heart Is A Dumb Dumb." You get it.) Season one ended at a Becca/Vernon social gathering, and it looks like this season will too: "Jimmy attends Becca and Vernon's baby gender reveal party." Please say there will be Trash Juice. Please. (It's Vikram Murthi's favorite of all the juice.) Meanwhile… The episode synopsis for this remains quite vague, actually. "Gretchen takes care of some unfinished business. Edgar and Dorothy's relationship reaches a turning point. Lindsay confronts Paul." Character verbs noun. However, we do know this episode is written by showrunner Stephen Falk and directed by Matt Shakman, so we're perfectly willing to assume said vagueness is just a way to keep us from being overwhelmed. Is it time for season three yet?

Top pick No. 2: Electric Boogaloo
The Challenge: Battle Of The Bloodlines / The Challenge Aftershow (MTV, 10 / 11 p.m.): "Players face their fears; and the pressure gets to one team." This is literally every episode of The Challenge, but we're still hyped for another new episode of The Challenge. Also, if you want to know what actually happens in the episode, just read up on the aftershow: "Cast members discuss the Nany-Cohutta love saga, Jenna and Brianna's confrontation, and Cara Maria and Thomas' hook-up." There we go.
G/O Media may get a commission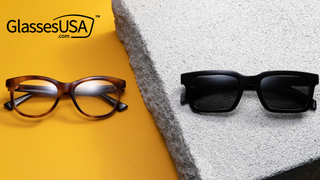 60% off frames
GlassesUSA.com Back to School Sales
Also noted
Arrow (The CW, 8 p.m.): If you're looking for some deets (yes, we said deets) within the Arrow midseason finale synopsis, we're afraid we've got some bad news. Arrow knows what it's doing, and it's giving us a synopsis that could pretty much be a part of every episode this season: "Oliver makes a bold move against HIVE when the city is attacked. Meanwhile, Malcolm checks in on Thea and leaves her with a warning; and things take a horrible turn when Damien Darhk retaliates in a brutal manner at Oliver's mayoral holiday party." Yes, Alasdair Wilkins would argue that the Damien Darhk/mayoral holiday party part may be a new deet (he really loves the non-word "deet"), but come on—Darhk is the ultimate party crasher.
The Middle / The Goldbergs (ABC, 8 / 8:30 p.m.): In the midseason finale of The Middle, "dreading the fact that they are always late to church and end up in the overflow room, Frankie makes the decision to have the family watch a Christmas Eve service on TV from the comfort of the Heck house." Sure, Frankie. "Comfort." On the opposite end of the relaxation spectrum, The Goldbergs' midseason finale has Beverly creating "Super Hanukkah" in order to get her "unenthusiastic family…into the spirit." The thing is, it's a little too close to Christmas. This is why Chrismukkah remains the ultimate holiday, you guys. Will Harris is almost on holiday overload, but it's worth it with The Middle and The Goldbergs.
Modern Family (ABC, 9 p.m.): Everything is having a midseason finale! Everything! For Modern Family, that midseason finale is "White Christmas" (insert joke about how every Christmas is a "White Christmas" on Modern Family here). "In an effort to have the picture-perfect white Christmas she's always dreamed of, Gloria rents a cabin in the mountains for the whole family to celebrate the holiday. Unfortunately, when they arrive, there are some unexpected factors like the weather and an eccentric random guest, who is already staying in the cabin." Of course there is. Kyle Fowle, of course there is.
Black-ish (ABC, 9:30 p.m.): Black-ish's midseason finale is called "Stuff." We don't know if you've heard, but Christmas has gotten kind of commercialized the last few decades or so. That's what this episode's about: "Dre thinks Christmas has become commercialized and is all about 'stuff,' and no one loves 'stuff' more than his kids. Pops and Ruby think they have forgotten the true meaning of Christmas and come up with a new plan to pare down gifts and spend more time together." Back in LaToya Ferguson's day, all kids wanted for Christmas were their two front teeth. There's a reason she doesn't much care for kids.
The League (FXX, 10 p.m.): "Who will win the Shiva? Who will win the Sacko? Will Kevin or Jenny win The Snip? Ruxin has a big decision to make that will affect not only his chances of winning but whether the league will even survive." This is the series finale of The League. Are you excited? Based on the grades for this final season, we're not too sure if Eric Thurm is.
Moonbeam City (Comedy Central, 1 a.m.): Last week's Moonbeam City aired at 1 a.m., sufficiently worrying every person who watches Moonbeam City. But this week… It's still there at 1 a.m. And it's the season finale, "The Wedding Of Rad (Lie)." Here, "Dazzle dates a socialite whose father is a mob boss; and Rad's Canadian con-artist parents set him up for an unusual arranged marriage." Jesse Hassenger remembers when his Canadian con artist parents set him up for an unusual arranged marriage, and— We've said too much.
Regular coverage
The Man In The High Castle (Amazon)
Survivor (CBS, 8 p.m.)
Kingdom (DirecTV, 9 p.m.)
Star Wars Rebels (Disney XD, 9:30 p.m.)
American Horror Story: Hotel (FX, 10 p.m.)
What else is on?
Hellevator (GSN, 8 p.m.): Ahem, let's try this again. It's "Carnival Of Carnage," where "a group of three friends enter a creepy carnival where the audience never leaves." That doesn't even make any sense. For those keeping track at home, that's still zero elevators, Hell or otherwise.
Supernatural (The CW, 9 p.m.): "Sam and Crowley come up with a plan that could have disastrous consequences." First of all, that's at least a new combination when it comes to Supernatural characters coming up with a plan that could have disastrous consequences. Secondly, how has it taken 10 seasons (and this is the midseason finale, by the way) for Supernatural to finally have an episode titled "O Brother Where Art Thou?" That sounds wrong.
Taraji & Terrence's White Hot Holidays (Fox, 9 p.m.): Missing Empire already? That's weird! But fear not: "Taraji P. Henson and Terrence Howard spread cheer, goodwill and some holiday magic in an all-new music and variety special featuring modern performances of classic holiday songs by entertainment superstars Mary J. Blige, John Legend and Jamie Foxx, among other surprise guests and performances. The special also will feature a duet by Henson and Howard."
Nashville (ABC, 10 p.m.): The midseason finale of Nashville poses one simple question: Has the show reached peak unpleasantness? Find out for yourself in "We've Got Nothing But Love To Prove," as the episode synopsis is all about Markus Keen, Luke and Colt, and a "further apart than ever" Rayna and Deacon. Everyone else "also stars."

Code Black (CBS, 10 p.m.): Code Black peaked at The Lion King musical episode, but still, it must have its own midseason finale. "The doctors find their own lives in danger when they arrive at the scene of a massive multi-vehicle accident on a highway covered in thick fog." Wait, is there a possibility of this show becoming The Fog? Go on.
Christmas Through The Decades (History Channel, 10 p.m.): Tonight, Christmas Through The Decades loves the '80s: "A look at Christmas in the 1980s recalls the fall of the Berlin Wall, the Walkman, Cabbage Patch Kids, and music by Run DMC and Band Aid." Run DMC, you say? Hit it!
The Illusionists (NBC, 10 p.m.): The Illusionists, huh, NBC?

(Your friendly neighborhood What's On Tonight contributor is now trying to mention Gob at least once in all of her What's On Tonight contributions. You're welcome. By the way, this is what the special's actually about: "One of the hottest shows on Broadway is making its way to TV as 'The Illusionists' bring their unique brand of magic with a one-hour special.")

Bad Blood (Investigation Discovery, 10:30 p.m.): We'll be completely honest—upon seeing the episode title "Justice For Britney" for a show titled Bad Blood, we just assumed this was something about Britney Spears and Justin Timberlake (and maybe even Kevin Federline). It's not, but wouldn't it be great if it were? While you're at it, why don't you bring back TRL and Road Rules, Investigation Discovery?
Watch What Happens: Live (Bravo, 11 p.m.): Trisha Yearwood and Babyface—a match made in Watch What Happens heaven?
True Life (MTV, 11:30 p.m.): Just when you thought True Life had run out of true lives, they hit you with this week's episode: "I'm A Gay For Pay Pornstar."
Neon Joe, Werewolf Hunter (Adult Swim, 11:59 p.m.): The week of Neon Joe rolls on with "Bark Bark Yum Yum," in which "Neon Joe takes extreme measures to help Sheriff deal with his past." We already love how generic Neon Joe's episode synopses can be, as tomorrow's episode (spoiler alert) is apparently the one where "Neon Joe face his destiny."
Good Burger (HBO Family, 8:45 p.m.): The rules of millennials and '90s kids state that we must mention Good Burger when it's on, otherwise we go into the grinder.
O Brother, Where Art Thou? (HBO Signature West, 8:55 p.m.): Hey, it's actually on! Great timing, Supernatural!
Jurassic Park (Spike TV, 9 p.m.): That's not "Jingle Bells" you're hearing—that's the theme to Jurassic Park! Jurassic Park / Jurassic Park / Newman gets killed bad
Sports, sports, all type of sports
UEFA Champions League Soccer: Roma vs. BATE Borisov (ESPN2, 2:30 p.m.)
UEFA Champions League Soccer: Bayer Leverkusen vs. Barcelona (FS1, 2:30 p.m.)
UEFA Champions League Soccer: Chelsea vs. Porto (FSN, 2:30 p.m.)
College Basketball: Niagara at St. John's (FS1, 5 p.m.)
NBA Basketball: Bulls at Celtics (ESPN, 7 p.m.)
College Basketball: Eastern Kentucky at Kentucky (ESPN2, 7 p.m.)
College Basketball: Howard at Purdue (ESPNU, 7 p.m.)
College Basketball: Boston College at Providence (FS1, 7 p.m.)
NHL Hockey: Bruins at Canadiens (NBC Sports, 7:30 p.m.)
College Basketball: Nebraska at Creighton (CBS Sports, 8 p.m.)
College Basketball: UNLV at Wichita State (ESPN2, 9 p.m.)
College Basketball: Dayton at Vanderbilt (ESPNU, 9 p.m.)
NBA Basketball: Magic at Suns (FSN, 9 p.m.)
Golf: Thailand Championship (Golf Channel, 9 p.m.)
NBA Basketball: Hawks at Mavericks (ESPN, 9:30 p.m.)
NHL Hockey: Penguins at Avalanche (NBC Sports, 10 p.m.)
WWE NXT (WWE Network, 8 p.m.)
Impact Wrestling (Destination America, 9 p.m.)
The Ultimate Fighter (FS1, 10 p.m.)
Ring Of Honor (Comet TV, midnight)
In case you missed it
iZombie: Proving that The CW knows what it takes to win, last night's iZombie turned Liv into a superhero. (Also, if any show is going to get the rights to anything regarding a "White Christmas," shouldn't it be the show with the very pale zombie? We're just saying.)