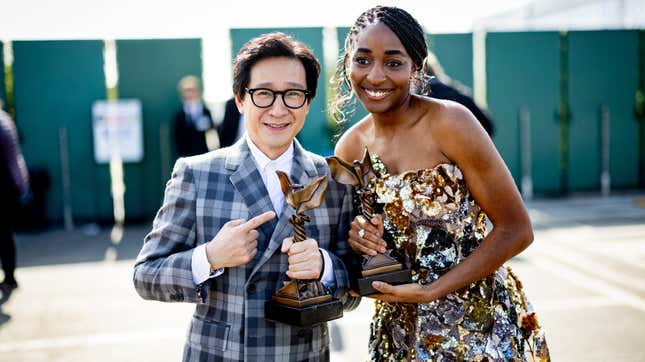 Of all the awards ceremonies that take place this time of year, the Film Independent Spirit Awards are something special. When you put on an awards show in the middle of a Saturday on the beach in Santa Monica—about as far away from Hollywood as you can convince A-list stars to go—the vibe is naturally going to be more fun and laid back. Before the show, celebrities mingle in the sandy parking lot, day drinking promotional cocktails (provided by sponsor Bulleit Frontier Whiskey) until their publicists shuffle them off to join the seated crowd. While the show can sometimes get rowdy inside the tent, where every table is the cool kids' table, outside it's pure chill.

Chill was the word of the day at this year's ceremony, which took place on March 4 following a week of storms that drenched Los Angeles, dusting the local mountains—and even the Hollywood sign itself—with rare caps of snow. Though the skies were clear, more than a few stars threw on coats over their designer dresses as soon as they finished walking the blue carpet (red is too basic for this crowd). Everything Everywhere All At Once's Michelle Yeoh, dressed in blue to match the carpet, shared some warmth by embracing her biggest rival this awards season, Cate Blanchett. Both were nominated in the category of best lead performance (Yeoh won, for the record), but in the spirit of the Spirit Awards, they expressed nothing but admiration for each other.

A very different kind of awards show
Besides the differences in the actual event, the Spirit Awards distinguishes itself with innovative categories and acknowledgement of projects that may get little recognition elsewhere. This year's new twist was the elimination of gendered categories for acting. Rather than separating nominees by male and female, all of the performances were combined into single categories for lead and supporting. The move has already started a conversation that may become a trend as other awards shows consider similar adjustments.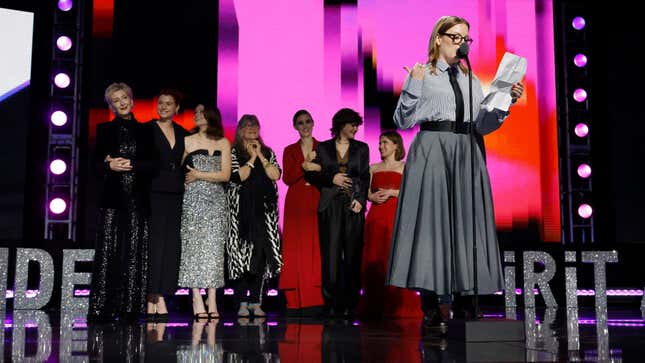 There are also special categories at the Spirit Awards like the Robert Altman Award, which recognizes a film's director, casting director and ensemble cast. That one went to Women Talking, which got an enthusiastic standing ovation. It's just the kind of small-scale, issue-oriented project the Spirit Awards love to highlight (and, let's face it, the Oscars often pass over). In her acceptance speech, director Sarah Polley took a shot at Mark Wahlberg for messing up the title of the film at the recent Screen Actors Guild Awards. "I can't tell you what it means to us to be up here being recognized in this way for this film, Women Are Talking. I mean Women Talking. Sorry Marky Mark, that's in my head." The line got a big laugh from the audience, and an even bigger one in the press room, where journalists were watching remotely.

Because it's such a quirky event, the Spirit Awards doesn't usually provide as much insight as other awards shows when it comes to predicting the Oscars (which are just a week away). Take The Lost Daughter, for example, the most honored film at last year's Spirit Awards lost in all three the Academy Award categories where it was nominated. This year might be a different story, though. Everything Everywhere All At Once continues to dominate the awards scene, and could be headed for a very good night at the Oscars.
The indie community loves hot dog fingers, too
As the cast and crew of Everything Everywhere All At Once celebrated their Spirit Awards record seven honors backstage, SAG winner Jamie Lee Curtis donned a pair of hot-dog-finger gloves for pictures. Yeoh joined the group for a brief few minutes before heading to the airport to catch a flight to Paris. Everyone on site seemed to be pulling for this little film that could. Every time it won an award you could hear the cheers erupting from inside the tent, even over the din of the busy press room across the way.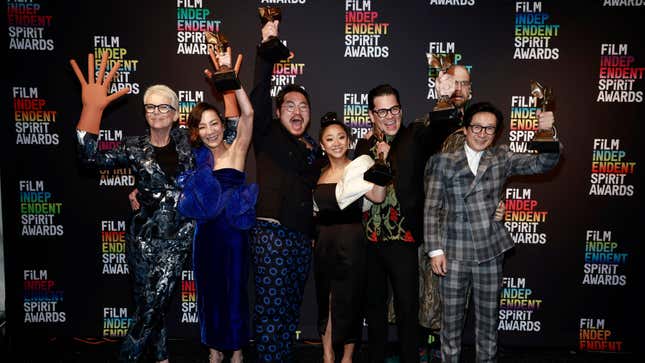 But let's back up to the beginning of the show, when the film's first honor of the day went to Ke Huy Quan for best supporting performance. He bounced into the press room full of energy, posed proudly with his award, and explained why he thanked often forgotten crew members like the boom operators and production assistants in his acceptance speech.

"When I stepped away from acting and went to film school I was so fascinated with all the different departments," Quan told reporters. "So when I graduated and was able to do that it opened my perspective up. Before, you know, when I walked on set, I'd only see my fellow actors. I'd only see the directors and the producers. But now when I walk on, I see everybody. I see the production assistant. That's why I wanted to thank them today. You know, they're the unsung heroes of our movies."

Quan's fellow cast member Stephanie Hsu, who won an award for best breakout performance, got tearful talking about how the film's success has shown her that anything is possible and taught her that it's okay to love making art. She also explained what makes this awards show different from all the others she's been to this season.

"I can tell you that I just ran on stage barefoot because my heels are so high, and I don't think I'll be doing that at the Oscars," she said. "Do you know what I mean? So there's that. But I think that actually perfectly encapsulates what I feel about this room, is that it feels like a true room of makers and people who remember how hard it is to make anything before someone believes in you, or before you're more critically acclaimed on a larger scale. So it feels like a really safe room."

When everyone's an underdog, no one is
For all the Everything Everywhere fanfare, there was still room for other films to receive some honors. The cast and director of Aftersun, which won best first feature, embraced each other like family while the film's nominated lead and indie king of the moment Paul Mescal spoke about choosing to stay in the world of independent filmmaking, his respect for director Charlotte Wells, and why he wanted to be a part of this film in particular.
"It's all downhill from here," he joked. "I never know, really, what to say to that. It doesn't feel like a tactic when you get a script from Charlotte Wells. It feels like a thing that you just have to do. There's no debate that goes into it. It just makes sense when you read the words that she's written and you talk to her about how she wants to direct the film. It just feels like it made sense."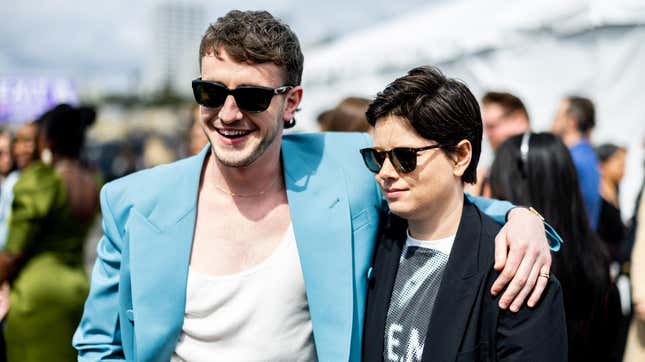 The Spirit Awards might be the only place where an under-the-radar film like The Cathedral, starring Brian d'Arcy James (Spotlight) and Monica Barbaro (Top Gun: Maverick), can get noticed. It won the John Cassavetes Award, which goes to the best feature made for under $1 million. With a budget of just $200,000 The Cathedral cleared that bar with plenty of room. Writer/director Ricky D'Ambrose dedicated his award to all the people out there making movies, and sent a shout out to the set of Revelations Of Divine Love, a crowd-funded adaptation of an obscure 14th century religious manuscript, written and directed by Caroline Golum. A future Spirit Award winner, perhaps?

How Will Ferrell dunked on the Spirit Awards
Host Hasan Minhaj opened the proceedings by calling out the fact that Spirit Awards have become so independent that they weren't even being shown on TV this year. IFC, the former broadcast home of the Spirit Awards, did not renew its contract, so the ceremony was live streamed on YouTube and IMDb. Minhaj did a lengthy bit about the film it chose to show instead, the Will Ferrell comedy Semi-Pro. Former Spirit Awards host Aubrey Plaza followed up with similar jokes about the lack of a television audience (and got a much better response from the crowd).
The Spirit Awards have only been handing out accolades for television since 2020. This year there were five awards handed out, all for new series. The Bear won two of those, taking home best new scripted series and best supporting performance in a new scripted series for Ayo Edebiri. Looking resplendent in a shiny metallic cocktail dress, Edebiri talked about the intensity on the set of The Bear with a sarcastic quip about how the cast doesn't like each other at all.
"We all have restraining orders against each other," she said, before quickly correcting herself. "I was lying. I find lies funny. No, there wasn't really a lot of intensity, I think because the work was so intense we tried to all give each other, like, space, and it's truly been one of my favorite work experiences."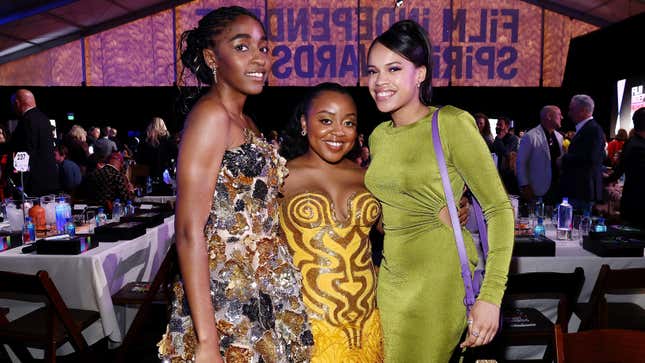 Quinta Brunson gives it up for the kids
When asked what makes the Spirit Awards different from other shows, Abbott Elementary creator and star Quinta Brunson, who won for best lead performance in a new scripted series, breathlessly reflected on the acceptance speech she'd just given. Brunson dedicated her award to all the kids out there making TikTok videos on their phones and honing their craft without expecting that it will ever lead to anything bigger.

"There's been a lot of award shows that I've been to and gotten to speak at and this is the first time I felt I could talk about kids from the internet," Brunson told reporters. "You know, I'm a kid from the Internet. And to me, that's the new era's version of the first independent storyteller, filmmaker, show maker, etc. So this is the first time I felt comfortable talking about that here and knowing that people would probably understand. It also felt really great [about] the people who won. Ayo Edibiri is a very good friend of mine, seeing her win automatically just made me feel just really great. It's cold. It's cold here. It's on the beach. Relaxed vibe. Every time I look over, it's a seagull flying outside of the Film Independent [sign], So a very chill vibe. The whiskey. Normally it's hard to find whiskey at these things, but it's just overflowing. So that too. It's a nice vibe. I'm very happy with the day."