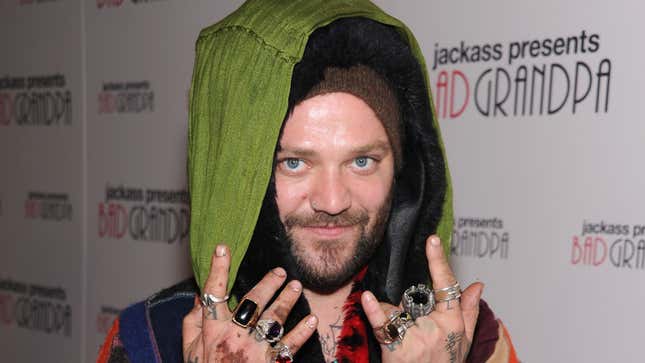 Just under a month after his hospitalization, Jackass star Bam Margera has recounted the experience that left him briefly pronounced dead in December 2022. The actor was hospitalized with a severe case of pneumonia and spent some time on a ventilator. Margera says that his dire condition came as the result of an untreated case of COVID-19, and multiple prolonged seizures.
"Basically, I was pronounced dead on December 8," Margera tells costar Steve-O on a Thursday episode of the latter's "Wild Ride" podcast (via Variety). "I did not know that I had gnarly COVID and my body was shutting down. I went into four seizures, each one lasting 10 to 20 minutes. On the fourth one, I bit my tongue so hard it nearly fell off. It got so swollen and puffy it wouldn't fit in my mouth. I was drinking the infected blood which gave me pneumonia as well."
He continues: "I went to the hospital and had my fifth seizure and then couldn't breathe without a tube down my throat. I woke up five days later thinking I was there for just a couple hours. I spent eight days in there. When they took that tube out I felt like I sucked on Darth Vader's dick."
Although Margera is well known for his Jackass stunts over the years (snake pit, anyone?) he did not participate in 2022's Jackass Forever, allegedly the result of a positive Adderall test that violated a "wellness agreement" Margera had signed. Margera fired a wrongful termination lawsuit against Johnny Knoxville and Jeff Tremaine (who has a restraining order against Margera) in 2021. Margera argued that he was "pressured" by Knoxville, Germaine, and producer Spike Jonze into signing the wellness agreement and had an Adderall prescription, but dropped the charges in April 2022.