Why it's daunting: Few art movements are as ripe for parody as the Beat generation. Thanks to the likes of Maynard G. Krebs, Scooby-Doo's Shaggy, and Mike Myers' jazz poet in So I Married An Axe Murderer, the cartoon image of the stereotypical beatnik long ago reduced most of the actual literature created during this short-lived affectation to an amusing burlesque: all earnest, adjective-laden observations, rhythmic repetition, and pronouncements against authority, man! But the Beat poets—the best of them, anyway—had a genuine love of language to rival that of Walt Whitman and James Joyce, and they posed questions we'll never stop asking. "What is this life?" (Allen Ginsberg.) "What is it that I cannot bear to say?" (Diane di Prima.) And, on several levels, "who cares?" (Jack Kerouac).
Possible gateway: "Kaddish," Allen Ginsberg
Why: Allen Ginsberg's apocalyptic epic "Howl" may be the signature Beat poem, but "Kaddish," inspired by the mental illness of the poet's mother, has an intensity of emotion that's almost overwhelming. Where "Howl" set the template for performance poetry with its vivid imagery ("angelheaded hipsters burning for the ancient heavenly connection to the starry dynamo in the machinery of night") and its undulating verbiage ("who ate fire in paint hotels or drank turpentine in Paradise Alley… who lounged hungry and lonesome through Houston seeking jazz or sex or soup"), "Kaddish" manages to say at least as much about the poet's time and place, even as it zeroes in on the writer's anguish for his beloved mother. At one point he describes Naomi Ginsberg's psychotic episode in a drugstore, amid "racks of children's books, douche bags, aspirins, pots, blood," accompanied by his father: "Louis in horror at the soda fountain—with Lakewood girlscouts—Coke addicts—nurses—busmen hung on schedule—Police from county precinct, dumbed."
It's a powerful glimpse into the '50s America that has so often been smoothed over by images of perfectly trimmed and fenced front yards—the morose, unstable landscape captured in Robert Frank's landmark photo collection "The Americans" (with an intro by Kerouac). In fact, there was talk of a film adaptation of "Kaddish," with Frank directing; Ginsberg wrote a screenplay. But the poem remains plenty cinematic on the page.
Next steps: According to Ginsberg, Gregory Corso was the truest poetic talent in the Beat circle. "Open this book as you would a box of crazy toys," Ginsberg wrote in an introduction to his friend's 1958 collection Gasoline, which set a tone with its jarring mix of classicism and contempt. A street kid from the Lower East Side, abandoned by his mother and left to various foster families, Corso spent time homeless and in prison before he was 18. Defiance saturated his writing:
It is better man give up his diction
become mouthless
it is better
that another man, myself, 
heed his restriction 
[from "No Word"]
G/O Media may get a commission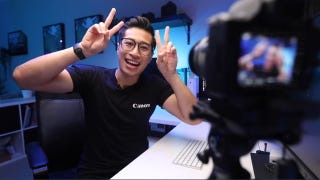 Up to 33% off
Canon Camera National Promotion
Webcam kits, lenses, & more
Since many of us adopted working from home, we've become accustomed to the crappy video quality output of our laptops' built-in webcams. Present yourself professionally with the help of a professional quality camera. Dress to impress now means set dressing and picture definition. Canon has made it easy to take your EOS camera and convert it to a webcam with the help of a variety of kits.
That sounds like a forecast of the life of the poet Bob Kaufman, a small-scale legend in San Francisco whom the French called the "American Rimbaud." Kaufman's jazz poetry was meant to be performed more than read; upon the assassination of John F. Kennedy, Kaufman assured his own obscurity by taking a vow of silence that he maintained for more than 10 years. "If i can't be an ugly rumor," he once wrote, "then i won't be the good time had by all."
Gary Snyder is the most academically accepted of the original Beats, having turned his attention from their youthful exploits toward Zen Buddhism and ecological concerns. Originally from Oregon, he was the rugged West Coast counterbalance to the urban New Yorkers who dominated the Beat heyday. Snyder's collection Turtle Island won a Pulitzer Prize in 1975, and his rich life is profiled in the 2010 documentary The Practice Of The Wild.
Lawrence Ferlinghetti, publisher of so many Beat touchstones with San Francisco's City Lights Books, heard "a hundred housebroken Ezra Pounds," as he wrote in his dense poem "Autobiography." It appeared in A Coney Island Of The Mind, maybe the most broadly popular collection of Beat poetry. An autodidact, Ferlinghetti could take on a wide range of voices:
… then this dame
        comes up behind me see
                and says
        You and me could really exist
Wow I says
        Only the next day
                she has bad teeth
                        and really hates
                                poetry
[from "A Coney Island Of The Mind"]
A decade after the emergence of the original Beats, Cleveland poet d.a. levy took up the mantel, shifting the imperative from the Bomb to Vietnam and establishing his city's first underground newspaper, the Buddhist Third Class Junkmail Oracle. In "Letter To Cleveland," he lamented a culture "educating your children to Not read/ Neruda, or Lorca, or Apollinaire/ or Ginsberg, or Kandel, or Sanders." Like levy, Richard Brautigan (The Pill Versus The Springhill Mine Disaster) was another product of the hippie generation who owed a considerable debt to the Beat poets. Both men died of self-inflicted gunshot wounds.
In their own distinct ways, two contemporary musicians, Tom Waits and Saul Williams, have helped keep the Beat torch burning. Waits started out as a kind of beatnik lounge act, writing songs about Kerouac and collaborating with Ken Nordine, the august voice of Word Jazz. The growler recently published a chapbook, Seeds On Hard Ground. Williams, meanwhile, is typically associated with the Beat descendants of the slam poetry scene. His ferocious poetry collections include Said The Shotgun To The Head and The Dead Emcee Scrolls.
Where not to start: Bob Dylan hailed Jack Kerouac's Mexico City Blues (242 Choruses) as the first poetry that spoke the singer's own language. It's one of the Beat king's most inspired works, but later collections of Kerouac's poems, several published posthumously (Scattered Poems, Pomes All Sizes), dabble unevenly in haiku, koans, and notepad scribbles. Like his fiction, Kerouac's poetry teetered between the sublime and the (sometimes intentionally, sometimes not) ridiculous. Dylan eventually attempted his own bit of Beat writing, the meandering prose-poem "Tarantula," which he has since dismissed.