With music-industry consolidation, shrinking radio playlists, media mergers, and the aggressive legal action taken against Internet file-sharing enterprises, discovering the year's best music would seem harder than ever. Still dedicated fans have plenty of avenues at hand, from legal and underground MP3 downloads to peer-to-peer online bootleg trading to college and (what's left of) Internet radio. In choosing the best of 2002, The Onion A.V. Club's six music writers scoured these areas and more, aided in no small part by the thousands of CDs that were sent to us for free.
Andy Battaglia
1. The Streets, Original Pirate Material (Vice/Atlantic) (Buy It!)
A rapper whose English tongue proves less novel than his novelistic storytelling, The Streets' Mike Skinner charts an end run around hip-hop's borders with tales pitched toward the sacred and the mundane. Rhymes about downing drinks, acing Playstation, and smoking weed hit a universal nerve, but Skinner's rave fantasias and U.K. garage beats give hip-hop provincialism a vital transfusion from a land more and less exotic than it might seem.
2. Recloose, Cardiology (Planet E) (Buy It!)
Squeezing dance music into the shape of restless space-jazz was a common practice in 2002, but no producer drained as much from the premise as Recloose. Fleshing out the tenets of his old Detroit homeland, Cardiology takes techno on a forever-searching jaunt through organic mood shifts and wooden plasticity, piling deceptively simple micro-breaks and warm chord patches into a blanket that ripples as much as it lies.
3. Kylie Minogue, Fever (Capitol) (Buy It!)
With a video presence reinforcing the icy angularity of her future-pop drive, Kylie Minogue managed to make "Can't Get You Out Of My Head" the third-best of Fever's first three songs. That's no small feat, but there's nothing small about the forthrightness of "More More More" or the Basement Jaxx-style bang of "Love At First Sight." Fever grabs hold early and never lets go, and Minogue's grip couldn't slip even if she wanted it to.
4. Michael Mayer, Immer (Kompakt)
A DJ mix that starts on a microscope slide and builds to a strobe-struck dance floor, Immer hits on all the major strains of Germany's rampantly progressive techno scene. From the gauzy dubscapes of Auch to the distant "heroin house" textures of Superpitcher, the album never finds a groove it can't rub down and prop up at the same time.
5. 2 Many DJ's, As Heard On Radio Soulwax Pt. 2 (Pias)
Flag-wavers behind the wildly anarchic mash-up bootleg scene, the Belgian artists known as 2 Many DJ's stitch 45 tracks into a 4-D picture of pop tripping up while throwing its hands in the air. Bootlegs abound, with The Stooges + Salt 'N' Pepa, Destiny's Child's + reggae-minded 10cc, and so on. But the comparatively straight thread running through Dolly Parton, Skee-Lo, Röyksopp, and The Breeders sews up the most inspired eight minutes of the year.
6. Metro Area, Metro Area (Environ) (Buy It!)
7. Fennesz, O'Rourke, Rehberg, The Return Of Fenn O'Berg (Mego)
8. MRI, All That Glitters (Forcetracks)
9. Clipse, Lord Willin' (Star Trak/Arista) (Buy It!)
10. Spoon, Kill The Moonlight (Merge) (Buy It!)
THE BEST COMPILATION IN THE WORLD EVER
Compiled by a British teenager whose weblog became a de facto weigh-station for the mash-up bootleg scene, Boom Selection_Issue 01 crams more than 30 hours of music onto three ridiculously illegal MP3 CDs. Featuring would-be canon fodder like "Smells Like Booty" (Nirvana + Destiny's Child) and "A Stroke Of Genius" (The Strokes + Christina Aguilera), the 432-track set fans out to include DJ Shadow, Negativland, De La Soul, Coldcut, and scores of others lurking around the movement, which takes sampling to its hyper-literal extreme. For those who haven't been lucky enough to taste mash-up's heady rush live, Boom Selection tucks on 10 DJ mixes by the likes of The Avalanches, Soulwax, and Freelance Hellraiser.
NU NEW YORK
Nothing from the buzzed-about New York rock scene rose to the level of the timely post-punk compilation In The Beginning There Was Rhythm, but the production duo/label known as DFA made it seem possible. Staying cultish on a string of 12-inch vinyl singles, the duo kicked out the year's most electrifying rock song: The Rapture's "House Of Jealous Lovers." And LCD Soundsystem served up an aging aesthete's last rites with the biting, hilarious "Losing My Edge," which kept its poison narrow but cast its net wide.
G/O Media may get a commission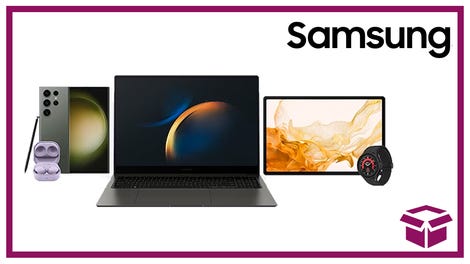 24 hour deals
Discover Samsung - Daily Deal
MICROHOUSE ON FIRE
Germany streamed forth a planet's worth of sickly intricate techno this year, with label compilations making devotion-worthy brands out of imprints like Kompakt, Ware, Poker Flat, Force Inc., Trapez, Source, and others. Then there was a slew of equally worthy "artist album" full-lengths: Closer Musik's After Love, Pantytec's Pony Slaystation, Farben's Texstar, Kaito's Special Life, Akufen's My Way, Coloma's Silverware, and at least twice as many more.
HIP-HOP GETS ITS RAVE ON
Talk of hip-hop's ecstasy-stoked rave parallels took root last year, when Missy Elliott's Miss E… So Addictive made the link difficult to deny. But 2002 poured the rush on extra-heavy, with bits like the elfin diva vocal loop of Cam'ron's "Oh Boy," the Neptunes-produced siren wail of Snoop Dogg's "From The Chuuch To The Palace," and Timbaland's dendrite-rubbing space-out on Justin Timberlake's "(Oh No) What You Got" all working on a reverse time cycle.
Josh Modell
1. Wilco, Yankee Hotel Foxtrot (Nonesuch) (Buy It!)
2. Low, Trust (Kranky) (Buy It!)
Low might be accused of over-consistency, but a trio of albums as near-perfect as 1999's Secret Name, 2001's Things We Lost In The Fire, and the recent Trust grants the Minnesota band the last laugh. In this case, it might be the last weep: Trust builds strength from its overwhelming emotion, from shining hope to crushing sadness.
3. Coldplay, A Rush Of Blood To The Head (Capitol) (Buy It!)
4. The Promise Ring, Wood/Water (Anti) (Buy It!)
5. Ugly Casanova, Sharpen Your Teeth (Sub Pop) (Buy It!)
Isaac Brock stepped away from Modest Mouse this year to record as Ugly Casanova, but he didn't go far. On Sharpen Your Teeth, he pilots a rickety, more vulnerable version of the same ship, aided by members of Califone and Black Heart Procession. The album's jumble, along with Brock's amazing songwriting, make it hum perfectly.
6. Beck, Sea Change (DGC) (Buy It!)
7. McLusky, McLusky Do Dallas (Beggars Banquet) (Buy It!)
Welsh trio McLusky is the rare band that plays gleefully abrasive and unrefined rock with a sense of humor and abandon. The group's second album, McLusky Do Dallas—its first to be widely available in America—flails profanely, Jesus Lizard-style, through cheeky but destructive songs like "Lightsabre Cocksucking Blues" and "Fuck This Band."
8. Pedro The Lion, Control (Jade Tree) (Buy It!)
Pedro The Lion's pain, doubt, and disillusionment add up to increasingly compelling music. Its third full-length, Control, explores the woes of marital infidelity, among other things, but does so with an inimitable sense of resignation that's bleak but swellingly beautiful.
9. Radar Brothers, …And The Surrounding Mountains (Merge) (Buy It!)
10. Hot Hot Heat, Make Up The Breakdown (Sub Pop) (Buy It!)
Hot Hot Heat's debut album may not age well, but for now, it's a hit. Make Up The Breakdown is bouncy, tuneful, and clever, dragging the garage onto the dance floor for a dirty hip-swivel.
TEN GREAT SONGS FROM ALBUMS THAT DIDN'T MAKE THE LIST
1. Interpol, "PDA"
2. Troubled Hubble, "You Stay Here, I'll Go Get Help"
3. Khia, "My Neck, My Back (Lick It)"
4. Cex, "One Cex"
5. Matt Skiba, "Good Fucking Bye"
6. Badly Drawn Boy, "You Were Right"
7. The Walkmen, "Wake Up"
8. Beth Orton, "This One's Gonna Bruise"
9. Andrew W.K., "Party Hard"
10. Blackalicious, "Make You Feel That Way"
COMEDY IS THE NEW PUNK ROCK
1. David Cross, Shut Up You Fucking Baby! (Sub Pop) (Buy It!)
2. Neil Hamburger, "Laugh Out Lord" (Drag City) (Buy It!)
3. Bill Hicks, Flying Saucer Tour Vol. 1 (Ryko) (Buy It!)
From beyond the grave, Bill Hicks continues his assault on the world with a series of complete live concerts. They include this set from a 1991 Pittsburgh show, during which Hicks turns on an unappreciative audience: Track titles include "Worst Audience Ever" and "Vs. The Audience 1."
4. Just Farr A Laugh: The Greatest Prank Phone Calls Ever! (Failed Pilot) (Buy It!)
5. Chain Fights, Beer Busts, And Service With A Grin: The Best Of Scharpling And Wurster On The Best Show On WFMU (Stereolaffs) (Buy It!)

TERRIFIC REISSUES OF RECENT CLASSICS
1. Pavement, Slanted & Enchanted: Luxe & Reduxe (Matador) (Buy It!)
2. The Flaming Lips, The Day They Shot A Hole In The Jesus Egg (Restless/Ryko) (Buy It!)
3. Death Cab For Cutie, You Can Play These Songs With Chords (Barsuk) (Buy It!)
4. Clem Snide, You Were A Diamond (Spinart) (Buy It!)
5. The White Stripes, White Blood Cells (V2) (Buy It!)
BEST NEW GENRE: COMEDY/SPEED-METAL
Orthrelm, Asristir Veildriox (Troubleman) (Buy It!)
Orthrelm's debut disc packs 99 tracks into just under 13 minutes: Each consists of between 5 and 28 seconds of instrumental free-metal, technically precise and contextually hilarious. Guitarists will stand in awe while everyone else chuckles.
Noel Murray
1. Spoon, Kill The Moonlight (Merge) (Buy It!)
The follow-up to last year's best rock album may not be the most immediately striking release of 2002, but in a year with too many great records and no standout masterpiece, Kill The Moonlight best represents the state of the rock: It's tuneful, abstract, ambitious, and rich with jagged, guitar-and-piano-stoked sketches of restless nightlife.
2. Josh Rouse, Under Cold Blue Stars (Rykodisc/Slow River) (Buy It!)
The story arc of Josh Rouse's ornate folk-pop concept album—about the struggles of a Midwestern married couple from the '50s to the present—matters less in the particulars than in the impressions of yearning and compromise conveyed through hummable choruses and the slippery cadences of Rouse's voice.
3. Life Without Buildings, Any Other City (DC/Baltimore) (Buy It!)
Life Without Buildings' debut is pretty much the perfect U.K. art-punk record, coming on strong with dramatically askew guitar and percussion and sputtering poetry. Then, in the second half, the gimmick begins to wear thin, and by the time the final note sounds, the band has broken up.
4. The Flaming Lips, Yoshimi Battles The Pink Robots (Warner Bros.) (Buy It!)
5. The Reigning Sound, Time Bomb High School (In The Red) (Buy It!)
Neo-garage bands have been rushing out of the shadows en masse in the past year or two, but few have put together a record as top-to-bottom solid as Time Bomb High School, which provides one instant-classic punk-love song after another, steeped in the gnarled roots of The Reigning Sound's Memphis hometown, as well as the tradition of the scene its members helped pioneer.
6. Coldplay, A Rush Of Blood To The Head (Capitol) (Buy It!)
7. Rhett Miller, The Instigator (Elektra) (Buy It!)
8. Lambchop, Is A Woman (Merge) (Buy It!)
Stubbornly slow and vague on first listen, the songs on Lambchop's sixth full-length album gradually penetrate, fogging the mind like a late-afternoon nap, and delighting with surprising shifts in country-soul orchestration and the keen imagery of singer-lyricist Kurt Wagner.
9. Hot Hot Heat, Make Up The Breakdown (Sub Pop) (Buy It!)
10. Cornelius, Point (Matador) (Buy It!)
COMING SOON
The Notwist's Neon Golden came out in its native Germany earlier this year, and it hasn't been too hard to find in the import sections of well-stocked U.S. retailers. But since it'll get an official domestic release in a couple of months, better to save it for next year's list. It's sure to make it, too: The Notwist's synthesis of dreamy indie-rock balladry and stark electronic underpinnings is too lively and beautiful to be topped by much, unless 2003's crop is astounding.
BEST COMPILATION/TRIBUTE
Red Hot + Riot (MCA)
The late Fela Kuti's revolutionary Afrobeat manifestos make for charged and relevant dance music, but digging through his massive discography—mostly album-side-length songs—takes more effort than most pop fans can expend. Aside from a truncated two-disc best-of compilation from a few years back, the best introduction to Kuti is Red Hot + Riot, which chops up his funkiest grooves and sharpest ideas into a hip-hop pastiche, with guest appearances by positivist rappers and new-soul gurus alike. Also great: the Kinks tribute This Is Where I Belong.
RUNNERS-UP
Should any of the records above fail to meet their obligations, they can be replaced nicely by the 2002 offerings of any of these 15 acts: …And You Will Know Us By The Trail Of Dead, Beck, Blackalicious, Bright Eyes, Neko Case, DJ Shadow, Interpol, Jurassic 5, Marah, The Mooney Suzuki, +/-, The Promise Ring, The Shazam, The Walkmen, or Wilco.
GADGET OF THE YEAR
The expansive storage capabilities of the iPod had its owners breaking down their entire CD collections, finding new connections between old favorites, and in some cases, scooping up CDs new and old in search of an elusive song that'll link the entire history of popular music into one seamless playlist.
Keith Phipps
1. Beck, Sea Change (DGC) (Buy It!)
The sound of a life falling apart and not quite reassembling itself, Sea Change burrowed through the pigeonhole of past successes and re-established Beck as a musician capable of virtually anything, or at least as a creator of gorgeous soundtracks to heartache.
2. Wilco, Yankee Hotel Foxtrot (Nonesuch) (Buy It!)
Wilco's triumph-over-adversity story should inspire any artist who's ever struggled with a major label, but the music speaks for itself: weird and searching, and catchy, too. Jeff Tweedy once helped define alt-country; now his band seems to create genres all its own.
3. Blackalicious, Blazing Arrow (MCA) (Buy It!)
4. Flaming Lips, Yoshimi Battles The Pink Robots (Warner Bros.) (Buy It!)
5. Josh Rouse, Under Cold Blue Stars (Rykodisc/Slow River) (Buy It!)
6. The Streets, Original Pirate Material (Vice/Atlantic) (Buy It!)
7. Tom Waits, Alice (Anti) (Buy It!)
For Tom Waits fans, this was a good year: It began with some nice contributions to the Big Bad Love soundtrack, and continued through the simultaneous release of Alice and Blood Money. Alice is the gem of the bunch—a collection of songs first written in 1992 for a theatrical piece inspired by Lewis Carroll, and filled with a carnival-esque swirl of madness and impossible love.
8. The Roots, Phrenology (MCA) (Buy It!)
A stylistically unpredictable White Album-esque collection featuring two extended "Revolution 9"-style experiments has no right to be this listenable, but as usual, Philadelphia's—and possibly America's—best hip-hop act dares and wins with songs 87 through 100 (101, with the bonus track) of its increasingly formidable catalog.
9. Solomon Burke, Don't Give Up On Me (Anti/Fat Possum) (Buy It!)
Soul giant Solomon Burke was ready for a comeback. Elvis Costello, Van Morrison, Brian Wilson, Bob Dylan, Nick Lowe, and others brought the songs. Joe Henry brought the live-in-the-studio production the music needed. With a voice undimmed by the decades that have passed since the height of his fame, the singer brought it all together.
10. Bruce Springsteen, The Rising (Columbia) (Buy It!)
BEST ARGUMENT FOR BURNING CDS AT HOME
Musicians With A Slippery Command Of The Quality-Control Button
Take the best moments from Badly Drawn Boy's two recent albums (the About A Boy soundtrack and Have You Fed The Fish?) or the best from Conor Oberst's 2002 releases (Desaparecidos' Read Music/Speak Spanish and Bright Eyes' Lifted Or The Story Is In The Soil, Keep Your Ear To The Ground), and each artist put out one great record this year. Better too much to choose from than too little, particularly when technology allows listeners to correct the lapses in judgment.
TWO FILM SCORES FOR HOME THEATERS (OR BOOMBOXES, OR HEADPHONES)
There's a good reason that classical-inspired film music has lasted through so many musical eras: It works. But more experimental approaches are still welcome. Roman Coppola's CQ had its problems, but Mellow's score was an enveloping trip through the recent past, '60s style. Played at home, Jon Brion's music for Punch-Drunk Love sounds every bit as unsettlingly romantic as it did paired to Paul Thomas Anderson's images. (And the Shelley Duvall song from Robert Altman's Popeye is surprisingly catchy, as well.)
WHEN A MUSICAL TREND IS ALSO A CULTURAL SYMPTOM
Any trip to a music megastore this year found no shortage of displays spotlighting albums like Ultra Chilled 3, Pure Chill Out, Elemental Chill 4: Water, The Chillout Session, and other collections of unobtrusive music for those still too hip for the Windham Hill catalog. Mixing dreamy, utopian electronic music with Erik Satie, Nick Drake, and remixes of The Stone Roses, these albums were originally a hit among after-hours European clubbers. But it's no wonder that they've taken root here, when the need to chill has seldom seemed so urgent.
BEST QUICKIE SEQUEL
Maybe Rivers Cuomo stockpiled a bunch of songs during his wilderness years, or maybe he's still running off the energy of last year's comeback, but Weezer's Maladroit made for another thrilling half-hour of music from one of music's poppiest eccentrics. Advice for 2003: Do put out another album. Don't feel the need to expose more details like the hookers-and-hand-jobs confession in Rolling Stone.
Nathan Rabin
1. Blackalicious, Blazing Arrow (MCA) (Buy It!)
No rap album of the past few years has radiated as much joy as Blackalicious' Blazing Arrow. A mammoth leap forward from Nia, the group's terrific debut full-length, Blazing Arrow established the tone for a year filled with audacious, ambitious, and accomplished epics from rap music's progressive elite. From the velvety warmth of "Make You Feel That Way," Blazing Arrow's perfect first single, to "First In Flight," an awe-inspiring collaboration with Gil Scott-Heron, Blazing Arrow is feel-good music with style and substance.
2. Count Bass D, Dwight Spitz (High Times) (Buy It!)
Count Bass D made one of rap's most original debuts with 1995's Pre-Life Crisis, a charming jazz-rap oddity filled with whimsical songs about lip balm, TLC, and the joy of being a musician in a genre dominated by turntables and microphones. Bass D's idiosyncrasies helped get him dropped from Sony, but he's re-emerged with Dwight Spitz, a dazzling production tour de force highlighted by inventive sampling and smart, quirky humor. Its original pressing was virtually impossible to find, but the High Times label has reissued the album through Koch, allowing its singular vision to reach a larger audience.
3. The Roots, Phrenology (MCA) (Buy It!)
4. People Under The Stairs, O.S.T. (OM) (Buy It!)
Nostalgia dominated much of underground rap this year, as rappers looked for respite from the turmoil of one Bush administration in the music and culture of another. Nobody made the past feel quite as relevant as People Under The Stairs, a pair of crate-diggers intent on recreating the Native Tongues' early-'90s heyday on the West Coast. Gorgeously produced and full of charm and personality, O.S.T. is an album to get lost in.
5. J-Live, All Of The Above (Coup D'Etat) (Buy It!)
A licensed teacher as well as one of rap's most respected lyricists, New York's J-Live watched in frustration as his debut, The Best Part, was held up for years due to label troubles. Fans didn't have to wait so long for the follow-up, this year's terrific All Of The Above. The latter disc lacks the star power of The Best Part producers Pete Rock, DJ Premier, and Prince Paul, but more than compensates with smart lyrics, complex rhyme schemes, and incisive social commentary. It also boasts the year's best protest song: "Satisfied?" is a penetrating, uncompromising look at the tricky state of racial politics following the Sept. 11 attacks.
6. N*E*R*D, In Search Of… (Virgin)
7. Common, Electric Circus (MCA) (Buy It!)
8. Cody ChesnuTT, The Headphone Masterpiece (Ready Set Go)
9. Devin The Dude, Just Tryin' Ta Live (Virgin) (Buy It!)
Backed by fans like Dr. Dre, DJ Premier, and Xzibit, Devin The Dude's Just Tryin' Ta Live offers a surreal, self-deprecating take on Southern hip-hop's obsession with sex, weed, money, and the pursuit of happiness. Stumbling from one tragicomic misadventure to another with flawless comic timing and an infectious drawl, Devin cements his status as the thinking man's Too $hort.
10. Talib Kweli, Quality (MCA) (Buy It!)
UNLIKELY SAVIOR OF TOP 40 RADIO
The Neptunes
Top 40 radio would be much worse off without the ubiquitous Neptunes, who've only gotten better with time. From Clipse's "Grindin'" to Busta Rhymes and P. Diddy's "Pass The Courvoisier Part II" to Nelly's "Hot In Herre," Chad Hugo and Pharrell Williams were behind many of the year's most infectious pop singles.
THE A-FOR-EFFORT AWARDS
John Forté, Cee-Lo, Lauryn Hill, and Public Enemy all aimed for the fences with ambitious albums in 2002, and all went down swinging. Refugee All Star turned convict Forté bombed with I, John, a genre-hopping, tortured blues-folk album, while Public Enemy released Revolverlution, a messy assortment of remixes, live tracks, and uneven originals. Hill and Cee-Lo came closest to living up to their ambition, but each of their albums had fatal flaws: Hill's live acoustic double-CD set contains a disc's worth of grating banter, while Cee-Lo's intermittently brilliant solo debut suffers from excessive length and a lack of focus.
MOST DISAPPOINTING ALBUMS BY MAJOR ARTISTS (HIP-HOP DIVISION)
LL Cool J and Wyclef Jean each devolved into self-parody this year with instantly forgettable albums. In spite of The Neptunes' presence, Cool J's slick and empty 10 has little to offer beyond its terrific single "Luv U Better," while Masquerade underlines Jean's weaknesses—ill-chosen covers, saccharine love songs, cutesiness, and arbitrary eclecticism—and steadfastly avoids exposing his considerable strengths.
BEST ONGOING HIP-HOP SERIES
BBE's Beat Generation
Rap is increasingly a producer's medium, and for the past few years, BBE has provided beatsmiths with a terrific showcase in the form of its Beat Generation series, which offers first-tier producers creative freedom and a blank slate. In 2002, the series produced DJ Jazzy Jeff's revelatory solo debut, while next year brings DJ Spinna's entry and a concept album from King Britt based on John Sayles' The Brother From Another Planet.
Stephen Thompson
1. The Flaming Lips, Yoshimi Battles The Pink Robots (Warner Bros.) (Buy It!)
In 1999, The Flaming Lips released The Soft Bulletin, an almost impossibly ornate collection of beautiful, symphonic rock. It was one of that year's most consistently heralded records, and rightfully so, but the Oklahoma band topped it with Yoshimi Battles The Pink Robots. How? By fully exposing the big, bleeding heart beneath The Flaming Lips' studio expertise. One of the year's best songs, "Do You Realize??" does the seemingly impossible, pondering the meaning of life and somehow finding it in the process.
2. Me'Shell NdegeOcello, Cookie: The Anthropological Mixtape (Maverick) (Buy It!)
After expanding her audience and winning over critics with her outstanding Bitter—a jazzy, languid, mature meditation on infidelity—Me'Shell NdegeOcello promised a tougher, blacker, and more divisive follow-up. With its ugly cover art, sprawling length, forays into spoken-word poetry, and confrontational song titles ("Dead Nigga Blvd.," et al), Cookie: The Anthropological Mixtape doesn't look like an easy record to love. But it's complex, compassionate, enormously rewarding, often beautiful, and endlessly listenable, made of equal parts anger and empathy.
3. Josh Rouse, Under Cold Blue Stars (Rykodisc/Slow River) (Buy It!)
4. Andrew W.K., I Get Wet (Island) (Buy It!)
Anointed a star before he'd sold more than a few thousand records, Andrew W.K. inspired reams of press and a gargantuan backlash almost simultaneously. His eager-to-please dance-metal is understandably polarizing, but it's hard not to feel sorry for his most venomous haters: I Get Wet is a monolithic joy machine, rocking with a sincerity that borders on sensitivity.
5. Rhett Miller, The Instigator (Elektra) (Buy It!)
6. Iron & Wine, The Creek Drank The Cradle (Sub Pop) (Buy It!)
Like a more rustic Nick Drake or a less affected Will Oldham, Iron & Wine (a.k.a. Samuel Beam) made some of the year's most quietly bracing music on The Creek Drank The Cradle. It doesn't sound anything like Sigur Rós' ( ), but both albums work equally well as soundtracks to a barren winter: bleak and desolate enough to match the climate, yet warm and inviting enough to provide respite from it.
7. Blackalicious, Blazing Arrow (MCA) (Buy It!)
8. Sigur Rós, ( ) (MCA) (Buy It!)
9. Coldplay, A Rush Of Blood To The Head (Capitol) (Buy It!)
10. Ron Sexsmith, Cobblestone Runway (Nettwerk) (Buy It!)
Few songwriters view humanity with more generosity and faith than Ron Sexsmith, who looks at a tense and troubled world—from the events of Sept. 11 to his own divorce—and concludes that we're all going to heaven. Cobblestone Runway is both a collection of beautiful songs and a long, reassuring, metaphorical hug.
A SEVEN-WAY TIE FOR #11
Beck, Sea Change (DGC) (Buy It!)
Brendan Benson, Lapalco (Star Time) (Buy It!)
Life Without Buildings, Any Other City (DC/Baltimore) (Buy It!)
Queens Of The Stone Age, Songs For The Deaf (Interscope) (Buy It!)
The Roots, Phrenology (MCA) (Buy It!)
Bruce Springsteen, The Rising (Columbia) (Buy It!)
Wilco, Yankee Hotel Foxtrot (Nonesuch) (Buy It!)
SONGS OF THE YEAR
1. Bruce Springsteen, "You're Missing"
Fifteen months after Sept. 11, and four and a half months after its release on Bruce Springsteen's The Rising, the elegant ballad "You're Missing" still brings a lump to the throat. Fixated on the details and daily grind of life after the loss of a loved one—its image of a victim's "shoes in the hall" is infinitely more powerful than the figurative boot Toby Keith shoves up Osama bin Laden's ass—it's powerful, painfully intimate, and applicable to anyone who's ever had to adjust to life without a loved one in the house.
2. The Flaming Lips, "Do You Realize??"
3. Rhett Miller, "Our Love"
4. Me'Shell NdegeOcello, "Barry Farms"
5. Beck, "Lost Cause"
6. Andrew W.K., "Party Hard"
7. Blackalicious, "Make You Feel That Way"
8. Ron Sexsmith, "God Loves Everyone"
9. The Roots, "The Seed (2.0)"
10. Badly Drawn Boy, "You Were Right"
11. Eminem, "Lose Yourself"
12. The Hives, "Hate To Say I Told You So"
13. Josh Rouse, "Nothing Gives Me Pleasure"
14. Coldplay, "In My Place"
15. Life Without Buildings, "The Leanover"
POSITIVE SIGN OF THE YEAR
Second Chances
A depressingly small percentage of the great music released every year finds the audience it deserves, but several recently buried treasures were unearthed in 2002, thanks to timely reissues. The White Stripes' White Blood Cells wasn't exactly ignored last year, but a better distribution network saw the Detroit duo become an unlikely (and almost comically worthy) commercial titan. The Swedish sextet The Soundtrack Of Our Lives was virtually unknown in America—outside of a small-scale reissue campaign and cult buzz surrounding its awesome live show—until Behind The Music was re-released this fall to great reviews and mounting buzz. And many forget that The Hives' wonderfully ingratiating garage-rock staple Veni Vedi Vicious actually came out on an indie in 2000. It's enough to make a hopeful optimist out of anyone with a pet lost classic.
Next week: The Onion A.V. Club's look at the Least Essential Albums of 2002.