In Hear This, A.V. Club writers sing the praises of songs they know well—some inspired by a weekly theme and some not, but always songs worth hearing. This week, in anticipation of  Coachella kickoff, we're highlighting some of our favorite acts set to play the fest this year.

To be clear, with the exception of a one-time-only David Bowie appearance or a reunion by The Smiths or Talking Heads, I would never even consider going to Coachella. I attend two to three large music festivals per year, but I've never felt the pull to multiply all of their worst attributes by 10, then add a desert. Still, in each lineup, there is inevitably one act—usually someone who doesn't perform all that often in the U.S.—that briefly gives me pause, provoking an internal debate, however begrudging, over whether this time it would be worth it. This year, it's Bryan Ferry.
Ferry is now four decades removed from his debut with Roxy Music, and while time has been kind to his dapper looks, aided by his ever-timeless fashion sense, his voice is a different matter. The strange, showy vibrato that echoed out of some extraterrestrial dancehall on those albums has faded to a croaking whisper, burned by too many smoky nightclub situations. But as cruel as it would be to force Ferry to belt out "Editions Of You" these days, that lived-in croon is well-suited to the flickering torch songs that have long been his other forte. In fact, the more Ferry's voice has corroded and crackled, the more expressive it's become.
Take Ferry's recent collaboration with electronic producer Todd Terje, from Terje's new It's Album Time. Like most of Terje's work, It's Album Time feels like tying one on at some tourist-ridden Hawaiian bar, a kitschy cocktail of disco, spangled funk, and breezy lounge atmospheres. But on its cover of Robert Palmer's "Johnny And Mary," the sun goes down and the candles come out. Terje slows and strips away that cheesy nightclub gloss to allow Ferry's battered croon room to tell its story of the song's couple who know each other better than anyone, to their eternal dissatisfaction.
More so than even Palmer's original, yuppie robot version—and certainly more so than Placebo's empty glam-rock take—Ferry's interpretation taps into the heartache lurking behind their growing distance, his weary voice suggesting his own lifetime of bad connections made to stand in for love. (Ferry's history of tumultuous romance definitely hints at some personal empathy.) It's an early morning song on a late-night album, and easily its best. And it's a testament to how much the 68-year-old Ferry still has to give to audiences.
G/O Media may get a commission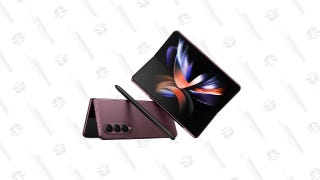 Save Up to $300
Galaxy Z Fold4
Just not in the middle of a fucking festival in the desert.