There are many reasons to go to a music festival. There's the joy of the outdoors, the endless expanse of food vendors, and lest we forget, the luxury (and the music, we guess). This year, instead of putting together a qualitative list of the year's best festivals, The A.V. Club has opted to highlight the ones that put a premium on, well, premiums. Have you always dreamed of floating in a stage-side hot tub while watching Chance The Rapper? We've got a fest for that. Do you want to stay in a "glamping"—that's glamorous camping—bell tent instead of whatever you grabbed last minute from REI? We've got two fests for that, actually. Have you longed for a wine pairing that subtly accents the Foo Fighters' performance of "Everlong"? You better believe we've got a fest for that. After all, you deserve nothing less than the very best. Gaze upon the many VIP and platinum packages at your disposal, and make a choice that's right for you—even if it's the sensible one.
Madonna takes on Tennessee's anti-drag laws
---
What it is: Big Ears
Where it is: Knoxville, Tennessee
When it is: March 23-26
If you've got money to burn: For $550 plus fees, Big Ears VIPs get guaranteed entrance at all seated venues and priority entrance at the non-seated ones, so your comfort is all but guaranteed. There's also advance notification of secret shows and access to private events, but without knowing what those are, it's hard to say if it's worth the big bucks. You'll also get to attend a brunch hosted by a local chef, though it's unclear if that includes bloody marys.
What to do if you're sensible: You could go a couple of ways with this, as Big Ears has both a music and film component. The cheapest ticket is a $50 film program pass, which includes lots of Jonathan Demme and Jem Cohen films. For a $165 music pass, you'll see festival mainstays like Wilco, but also The Magnetic Fields' 50 Song Memoir and, most intriguingly, a live improvised score to No Country For Old Men.
---
What it is: Rock The Ocean's Tortuga Music Festival
Where it is: Ft. Lauderdale, Florida
When it is: April 7-9
If you've got money to burn: Tortuga's Admiral Pass is pretty much the next best thing to actually being a member of Kenny Chesney's or Luke Bryan's backing bands. For a mere $4,499 per ticket, you'll get access to onstage seating for "select artists," plus lunch and dinner backstage at Artist Catering, allowing you to rub elbows and chicken wings with everyone from Alan Jackson to Nelly and Slightly Stoopid. But while personal concierges and "complimentary bag checks" sound nice, Tortuga's Admirals also have primo access to the most valuable commodity going for a music festival situated on a Florida beach: shade, courtesy of its exclusively AstroTurfed "viewing cabanas."
What to do if you're sensible: General Admission at Tortuga runs $300 and gets you access to such luxuries as an ATM, the festival's merch store, and (thank god) a free refill station for water. (Also "shaded areas and structures" for when the Chesney-induced sun dementia sets in.) Bump up to $1,000 for a VIP pass, and you'll also get access to free booze and a private bathroom in which to ultimately dispose of it. Sadly, Super VIP ($1,500) is already sold out, so you'll have to live without taking your lunches and dinners in an air-conditioned dining room, albeit one that doesn't offer the chance the Admirals get to watch G. Love And Special Sauce's tour manager fill his pockets with appetizers on day three, right before the festival kicks everybody out.
---
What it is: Coachella
Where it is: Indio, California
When it is: April 14-16 and April 21-23
If you've got money to burn: Coachella has become the place to see and be seen for L.A.'s flower-crown-clad hipster elite over the past decade or so, and any time the entertainment industry gets involved, the perks start getting ridiculous. This year, the moneyed bohemian class has the option of staying in a fully air-conditioned safari tent for $7,500, or sleeping in a teepee for the authentic faux Native American experience ($3,400 for two, $5,200 for four). Both of those luxury accommodation options come with VIP passes to the festival ($899), which afford festivalgoers the luxury of shaded areas, tables and couches, a cash bar, specialty food and beverage vendors, and honest-to-goodness real bathrooms in the middle of the damn desert, as well as the slim possibility of getting a henna tattoo alongside a minor TV star. VIP parking, naturally, will set you back an additional $150.
What to do if you're sensible: You could camp out in your car, or bring a tent—both cost $113 for the weekend. Either way, you can roll around in the dirt like an animal while you're waiting to hear big-name acts like Radiohead, Lady Gaga, and Kendrick Lamar from all the way across a gigantic field ($399).
G/O Media may get a commission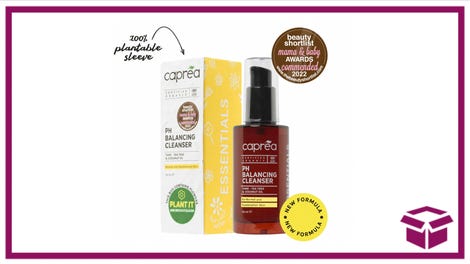 Save $9
47% Off Essential Organic PH Cleanser
Sustainable beauty
Caprea's Essential Organic PH Cleanser is just $10 with promo code TEN. Normally $19, this foaming face wash is crafted with organic Monoi oil. It's meant to target the production of oil secretion while protecting your skin against air pollution. Normally $19, you can save big on this richly-lathering face wash while supporting a brand that keeps the environment top of mind.
---
What it is: Form Arcosanti
Where it is: Arcosanti, Arizona
When it is: May 12-14
If you've got money to burn: At $2,500, the "patron package" promises to be a luxury camping experience for two. Inside a "glamping" bell tent you can escape the masses and lounge in comfort, having access to flushing restrooms, hot showers, endless food and drink, and a concierge service. The tent itself comes stocked with mattresses, throw pillows, director's chairs, and, get this, a vintage mirror. Though it's been called the "festival for the future," Form Arcosanti remains rustic, but not, like, in a gross way.
What to do if you're sensible: If you're looking to attend Form Arcosanti in a more affordable manner, you must apply for tickets, and after a four-week review process you are given the chance to purchase a $389 pass. While those are certainly hoops to jump through, the tightly curated lineup courtesy of Hundred Waters and Moses Sumney makes for an eclectic, diverse bill, overcoming its more pretentious tendencies with a show that promises to be like no other.
---
What it is: Shaky Knees Festival
Where it is: Atlanta, Georgia
When it is: May 12-14
If you've got money to burn: Sure, there are headliners like LCD Soundsystem, but the real source of the knees going weak is in the VIP treatment. For a lowly $525 (which is only worrying because some of the non-royal nobodies might weasel their way in via an easy three-step payment plan) your lordly presence will be feted with a VIP lounge, a raised platform from which you might take in the performances, and free beer and water. True, it's still a cash bar, but free appetizers will be served twice daily, and you'll be using air-conditioned restrooms, not those plastic nightmares the general attendees will be clamoring for.
What to do if you're sensible: At $99 for a one-day pass, or $185 for a full three-day pass, you'll be checking out a solid lineup. Friday has headliners LCD, Cage The Elephant, and the Pixies, with great supporting acts like Wolf Parade and Pup. Saturday sees The xx and Nic Murphy take the stage, along with Sylvan Esso, X Ambassadors, and Shovels And Rope. Sunday features the most eclectic mix, pairing contemporary festival mainstays like Phoenix and Ryan Adams with old-timers like Third Eye Blind, as well as modern acts like Warpaint, Cloud Nothings, and Whitney.
---
What it is: Hangout Music Festival
Where it is: Gulf Shores, Alabama
When it is: May 19-21
If you've got money to burn: Hangout has not one but two levels of VIP passes. While the normal VIP pass costs $1,099 and offers purchasers access to the de rigeur "ridiculously nice bathrooms" and "main stage viewing areas," they also come with unlimited food, drinks, and access to the "side-stage pool." There's also a VIP Grove. If you want to kick in $400 more bucks, though—and what's $400 when you're already dropping $1,100?—you can also get shuttled from stage to stage on a golf cart, gorge yourself on hyper-gourmet food in their "private Super VIP air-conditioned dining room," and watch all of the fest's main-stage acts from the comfort of your own private hot tub. Now that's living.
What to do if you're sensible: All-access three-day passes run $309 and give Hangout attendees access to both the festival and an adjoining beach. Hopefully at least one of the fest's headliners—Mumford & Sons, Twenty One Pilots, Frank Ocean, and Chance The Rapper—will be hanging out there too. Other acts include Major Lazer, Weezer, Sigur Rós, The Head And The Heart, Lukas Graham, Mac DeMarco, and Lil Yachty.
---
What it is: BottleRock
Where it is: Napa Valley, California
When it is: May 26-28
If you've got money to burn: First of all, BottleRock is not the fucking Catalina wine mixer—that so-called "biggest helicopter leasing event" only offers a late-'80s Billy Joel cover band for its entertainment. Instead, BottleRock pairs all manner of wines (well, the most expensive ones) with dozens of performers, including Tom Petty, Foo Fighters, Mavis Staples, and, uh, Maroon 5. More importantly, BottleRock provides a hierarchy of high-falutin' experiences, including private suites for all you oenophiles, front-row seating, shaded viewing areas, as well as chef and sommelier meet and greets. But if you really want to show off, you'll snag a platinum package for just $3,500, which gives you all this and access to an even more exclusive private lounge.
What to do if you're sensible: Sorry, but tickets are already sold out. Next time, try being born into a richer family. Or, if you ended up cashing in your 401K for general admission, indulge in the wine cabanas and food from Napa's finest chefs, or take in one of the 80-plus bands you can see with your in-and-out privileges. Your three-day pass will also allow you to imbibe craft beer and specialty cocktails, in case you forget you're at a wine festival.
---
What it is: Sasquatch! Music Festival
Where it is: George, Washington
When it is: May 26-28
If you've got money to burn: Some VIPs are more I than other Ps, as there are tiers within tiers of festivalgoers at the Gorge Amphitheatre. The cheapest VIP "experience"—a mere $999 per person—gets attendees exclusive viewing platforms, hospitality areas with free food and drinks, and private bathrooms. For just $200 more per person, music lovers can further insulate themselves from the muddy masses, as $1,199 will allow attendees to take in the likes of the raucous, psych-rock band Thee Oh Sees while a waitstaff delivers a Red Bull or Bud Light to their box seats (in addition to the aforementioned amenities). Finally, those really looking to take advantage of the outdoor music festival can hole up in a furnished two-person "glamping" tent for $4,999, with air conditioning, hot showers, 24-hour security, morning pastries, and dedicated concierge. If it sounds nicer than your own house, that's because it is.
What to do if you're sensible: $295 will get the cash-strapped three days (without camping—there ain't nothing free in this world) of musicians like Frank Ocean, Chance The Rapper, The Shins, MGMT, Car Seat Headrest, and American Football and comedians Fred Armisen, Sasheer Zamata, and Beth Stelling.
---
What it is: Summer Camp
Where it is: Chillicothe, Illinois
When it is: May 26-28
If you've got money to burn: The true measure of a VIP experience is how one transcends being a mere festivalgoer and finds a way to be treated like the artists themselves. At Summer Camp, that kind of exclusivity is for sale, as VIP packages include all the fanciest amenities along with access to the performers. The VIP package promises "activities with members of the bands," meaning that your dream of playing kickball with the members of Umphrey's Mcgee is finally in reach. And after all that hard work, you can even get a massage before watching your new friends in Primus play. This package isn't available yet, but it's probably cheaper than starting a band of your very own.
What to do if you're sensible: A three-day pass comes in at $209.50, while also offering a payment plan of three installments of $62.39. While the fest is heavy on jam bands—Moe, Umphrey's Mcgee, Trey Anastasio Band—it's got some breaks in that action. Whether it's The Infamous Stringdusters, or Run The Jewels making sure they accept every festival offer that comes their way, Summer Camp puts its simple goal right there in its name.
---
What it is: Movement
Where it is: Detroit, Michigan
When it is: May 27-29
If you've got money to burn: The basic VIP admission is almost like a $300 coupon book. In addition to a VIP entrance and viewing area and better places to take a shit, it allows you access to discounted drinks, discounted cellphone charging, discounted merchandise, and the ability to make a reservation at the "official VIP hotel." More appealing are a VIP-only massage chair as well as a mysterious selection of art installations. The real luxe shit comes if you ante up a second time for entrance to CLUB313, a $420 VIP section within the VIP section that contains bottle service, "super exclusive" viewing areas, and complimentary hors d'oeuvres. That definitely means egg rolls!
What to do if you're sensible: Movement pays tribute to techno's Motown roots, with a vast selection of electronic acts new and old across six stages. Icons like Richie Hawtin, Carl Cox, and Carl Craig share space with stars like Deadmau5 (performing as Testpilot) and a healthy infusion of rappers (Danny Brown, Earl Sweatshirt, and more). You can do the whole damn weekend for $175 and walk out with a master's understanding of Detroit techno.
---
What it is: Primavera Sound
Where it is: Barcelona, Spain
When it is: May 31-June 4
If you've got money to burn: "Primavera" means "spring" in Spanish, putting the opulence of the season and the festival right into its title. Not only do you find yourself on the coast of the Mediterranean as May turns to June, but with a VIP Full Festival Ticket, you have streamlined access to consistently one of the best alternative festival lineups worldwide every year. Far from the filthy masses, VIP ticket holders stroll through exclusive entrances to the festival, picking up "Welcome Packs" (custom-designed bags of swag) on the way in. They enjoy roped-off, stage-front views with bar and restaurant service and, between sets, get to chill in spacious VIP areas. And for the festival's limited-capacity events, they get preferential access, of course. VIP at Primavera is such a great experience (and a relatively great deal) that passes have already sold out, but you can pick up a resell ticket for $270-380.
What to do if you're sensible: Even for the frugal, Primavera offers a wealth of spirit to be found in its world-class destination and lineup. The festival attracts the best of the best in both big and up-and-coming names from around the globe. That means that in one place attendees can see major acts like Arcade Fire and Solange, finally catch Run The Jewels and Angel Olsen, and check out breakout artists like Sampha and Priests. That's not to mention Aphex Twin, Grace Jones, Annette Peacock, Brazilian icon Elza Soares, Japandroids, Bon Iver, Death Grips, and Flying Lotus, along with the many other international and local (Spanish) talent showcased here. Day passes are still available for $85 each, but full, multi-day festival tickets are sold out and turning up secondhand in the $250-550 range.
---
What it is: The Governors Ball
Where it is: New York City, New York
When it is: June 2-4
If you've got money to burn: Given that Governors Ball can frequently end up a soupy mess, the elevated viewing platform available to VIP-Plus patrons sounds kind of nice. Those passes—which also include access to a "comfortable lounge area," free booze, and a "fast lane" for entering—cost $1,000. But luckily for your wallet, they are all sold out. However, you can get a slightly less luxurious, but still pretty damn fancy, experience with the regular old VIP option. With those you still get the opportunity to skip the lines and then go to a "VIP Viewing Area," in which get you a privileged vantage point for the main stage as well as access to a bar, "comfy seating," massages, places to charge your cellphone, and shade. Oh and, most crucially, air-conditioned bathrooms. Because all of the early-bird deals are sold out, a three-day VIP ticket will run you about $700. Individual days cost $255.
What to do if you're sensible: You can still see the likes of Chance The Rapper, Lorde, Phoenix, Childish Gambino, Wu-Tang Clan, and Tool without sacrificing money you may need for stuff like rent or dental care. Three-day general admission tickets are running $305, while individual days are going for $105. You may also want to invest in a pair of rain boots.
---
What it is: Bonnaroo Music And Arts Festival
Where it is: Manchester, Tennessee
When it is: June 8-11
If you've got money to burn: Located about 90 minutes from Nashville, Bonnaroo has always been a bit of a schlep. Attendees either have to camp out or grab a hotel in a nearby town, or, if you're really a glutton for punishment and traffic jams, drive back and forth each day. Bonnaroo's VIP packages seek to alleviate some of that pain, with the fest's Nashville Shuttle Package offering VIPs rides back and forth from Manchester to Nashville each day of the fest. If you're local, or just want to camp, you and a friend can opt for the VIP package, which consists of two tickets and will run you $1,648.50. Regular old VIPs get an exclusive VIP entrance to the fest and their very own lounges, as well as preferred parking and camping spots. There are also exclusive viewing areas, seating locales, and a gospel brunch on the final day of the fest. The fest also offers VIPs wi-fi access, free phone-charging stations, and even a free yoga class onsite Friday, Saturday, and Sunday. Namaste.
What to do if you're sensible: A four-day Bonnaroo wristband will run regular people $324.50, and camping is included, though if you're bringing a car you'll have to buy a separate parking pass. This year's fest will feature performances from U2, Red Hot Chili Peppers, The Weeknd, Chance The Rapper, Major Lazer, Flume, Lorde, The xx, and more. If you're more into the comedy scene, the fest's comedy theater will host Hannibal Buress, Natasha Leggero with Moshe Kasher, 2 Dope Queens, and Kyle Kinane.
---
What it is: Firefly Music Festival
Where it is: Dover, Delaware
When it is: June 15-18
If you've got money to burn: For $2,499 you'll have access to the "artist lounge" and golf-cart concierge service along with premium parking, meaning your feet will never touch the ground as you travel from parking lot to your premium main-stage viewing area to the artist lounge you have access to because money is just as good as artistry at this music fest.
What to do if you're sensible: If you're so lowly that $289 is all you can pony up to see live music, you'll be forced to view said music from a distance, with only "access" to such amenities as food trucks and cash bars. The only real draw is The Weeknd, Bob Dylan, Chance The Rapper, Muse, Twenty One Pilots, and the rest of the music you ostensibly go to a music festival to see.
---
What it is: High Sierra Music Festival
Where it is: Quincy, California
When it is: June 29-July 2
If you've got money to burn: Too bad, rich people: High Sierra's $2,175 Festivall RV package is already sold out! (All of its VIP packages are under this cheeky "Festivall" moniker, which just looks like a mistake to us.) Had you ordered in time, you would have enjoyed an RV hookup so that you could travel cross-country to get to the fest. Don't worry, other VIP packages are still available starting at $799, with a vehicle pass for $975. Let's face it: You're probably just going to hang around in the Festivall Lounge, which features "elevated viewing, private port-o-johns, beverages, snacks, daily happy hour with appetizers, massage, plus access to evening private artisan cocktail bar," as well as a Sunday bloody mary bar.
What to do if you're sensible: Advanced-price four-day passes are now on sale for $255.75 and will enable you to check out offbeat acts like Ween, Andrew Bird, and Deer Tick while surreptitiously sipping your homemade bloody mary from your flask. Or suit up for a fun costume theme day. This year's themes haven't been announced yet, but previous ones included "Pajama Party" and "Rainbows & Unicorns." You can also sign up for a movement class, or attend a "fire performance," which sounds scary.
---
What it is: Panorama
Where it is: Randall's Island Park in New York City, and not Flushing Meadows-Corona Park, as the festival's co-option of the Unisphere might suggest
When it is: July 28-30
If you've got money to burn: "All the benefits" of a general admission, plus actual benefits like express lanes into the park and through the will call, bars at every stage, and air-conditioned restrooms that will really come in handy during the swamp-ass heat of New York City in late July. But the truly refined attendee will be most pleased to find an onsite concierge on duty at Panorama, hospitality professionals presumably hired for their knowledge of attractions beyond the park who'll almost certainly wind up answering questions about what stage MGMT is on and whether or not anybody's selling weed.
What to do if you're sensible: Well, come better prepared, for starters. Those who chose Panorama over Governors Ball because the latter will almost surely get rained out will find a more tightly curated lineup, one that corresponds to West Coast sibling Coachella with headliners including a Knowles sister (Solange here) and a moody Gen-X fave (Nine Inch Nails). Trent Reznor handles nostalgia duty alongside hometown heroes A Tribe Called Quest on Sunday night, who top a strong hip-hop program that also includes Vince Staples, DJ Shadow, and Isaiah Rashad. Spoon and Belle & Sebastian represent for everybody wearing a raggedy Matador Records T-shirt, while Angel Olsen, Mitski, and Pinegrove play selections from The A.V. Club's best albums of 2016 list. Frank Ocean and Tyler The Creator are both playing on Friday—maybe one Odd Future member will drop by the other's set?
---
What it is: Lollapalooza
Where it is: Chicago, Illinois
When it is: August 3-6
If you've got money to burn: At Lollapalooza, money really can buy a better life, or at least a better bathroom. Platinum packages run $4,200 for four days, with festivalgoers getting comfortable, air-conditioned bathrooms, and that extra chump change also pays for catered meals, concierge services, access to an exclusive hospitality area, and—because walking is for the great unwashed—free rides from one side of Grant Park to the other using a "dedicated" golf-cart service.
What to do if you're sensible: Enjoy the usual mix of repeat headliners, nostalgia acts, and bands that played Pitchfork last summer. This year sees Arcade Fire, Chance The Rapper, The Killers, Lorde, and Muse among the artists filling out eight stages' worth of music this coming August. Of course, even the general admittance prices are a little wallet-bursting: The early-bird weekend passes are already gone, and single-day tickets come in at $120 with fees on top.
---
What it is: Pickathon
Where it is: Happy Valley, Oregon
When it is: August 4-6
If you've got money to burn: Pickathon and Jason French, owner of Portland's Luddite-inspired restaurant Ned Ludd, are collaborating on "six once-in-a-lifetime food, music, and drink experiences." Hey man, once-in-a-lifetime sounds a bit extreme. It's just brunch (or dinner), put together by someone who may be foraging for food off the side of the road as we speak. But given all the hyperbole, it's probably worth your extra 60 bones. You can also pay extra for early entry and camping hookups.
What to do if you're sensible: After all, you're already paying $310 for this weekend pass. But it's a pretty impressive lineup, with something for everyone: Classics like Dinosaur Jr., Robyn Hitchcock, and Jonathan Richman for the olds, current scenesters like Drive-By Truckers, and up-and-comers like Sunflower Bean. And the kids' part of the fest sounds promising, with circus-themed acts and a family square dance. Let's see what this year's tax refund looks like.
---
What it is: Outside Lands
Where it is: San Francisco, California
When it is: August 11-13
If you've got money to burn: For the 10th anniversary of this eclectic, eccentric music/food/beer/arcade-games/comedy/outsider-art festival, consider the cozy confines of a private cabana. Here, you'll get an elevated view over the rest of the attendees, with unobstructed views of the main stage, snacks, a wait staff to fetch your spirits, a parking pass, and most importantly, something described as "upscale VIP restrooms." Upscale, you say? Perhaps toilet paper weaved from the finest Turkish cotton?
What to do if you're sensible: Ticket prices for the average joe weren't available as of press time, but 2016's iteration featured a three-day pass for an early-bird price of $325 and $355 after that. We expect 2017 to match the first-rate musical lineup of 2016, which featured headliners Radiohead, LCD Soundsystem, Lana Del Rey, and Lionel Richie.
---
What it is: North Coast Music Festival
Where it is: Chicago, Illinois
When it is: September 1-3
If you've got money to burn: North Coast's "VIP Experience" aims to tackle the most primal of bodily discomforts that accompany festival-going. Feel like water is essential to maintaining consciousness amidst an all-day bender? There's free water! Hate people? There's a VIP viewing area for both stages located adjacent to the sound booth! You can also avoid feeling like cattle with a VIP-only entrance, bar, and selection of food vendors. It is not so much a luxurious experience as it is a humane one. For a certain type of person, that is worth a modest up-charge.
What to do if you're sensible: North Coast's blend of big-tent electronic music (Bassnectar, Odesza) and old-fashioned jam bands (Umphrey's McGee, the Claypool Lennon Delirium) holds true for yet another year. A smattering of rap and indie acts fleshes things out a little, but they're a mere accent note in the three-day mass of crunchy grooves, crunchy beats, and, um, other crunchy things that define North Coast. Single-day tickets are $69 each, and they sold out a long time ago.