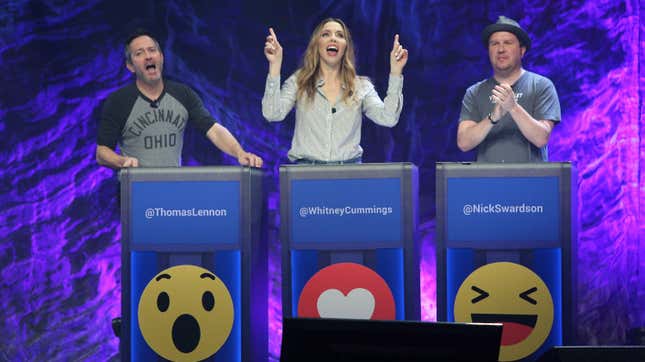 Remember when Twitter was fun? When Facebook was a place for friends, Instagram was a place for lunch, and Twitter was a place for puns?
CBS and Stephen Colbert certainly do. Tasked with the difficult job of finding something, anything funnier than James Corden to take over the soon-to-be-vacant Late Late Show spot, CBS is looking to score some points (pronounced: POINTS!) with a reboot of @midnight, reports Deadline.
CBS reportedly selected the show among a host of other options for James Corden's replacement after the disgruntled restaurantgoer leaves The Late Late Show later this year. While that should give Corden plenty of time to send his eggs back, it left CBS with a hole in its late-night offerings. Further still, the company is looking to save costs, slashing the budget of The Late Late Show from $60 million a year to $35 million. The easiest way to do that, get some comedians who will work for peanuts to generate content for cheap. Did we mention original producer Funny Or Die is involved too? However, it doesn't seem like host Chris Hardwick will be joining the show. Maybe he'll return to host Talking @midnight, an @midnight-based recap and talk show.
Launched in 2013, the two-time Emmy-winning @midnight was an alt-comedy gameshow that brought on up-and-coming comedians and industry vets to do internet-based improv games on Comedy Central. These games would mix meme-crafting and online joke competitions, like "Hashtag Wars," where contestants and people on Twitter could create puns based on a hashtag. If they win, Chris Hardwick handed out arbitrary POINTS! while people at home could see their jokes on TV. Seeing as most still love, use, and respect hashtags, we see no reason why this game would be updated.
Stephen Colbert is said to be executive producing this, adding @midnight to the pile of TV shows he's been making over the last few years, including Tooning Out The News, Fairview, Our Cartoon President, and Hell Of A Week With Charlamagne Tha God. Meanwhile, James Corden will be leaving his spot at The Late Late Show by the end of this year, marking the first time James Corden has ever turned a job down.