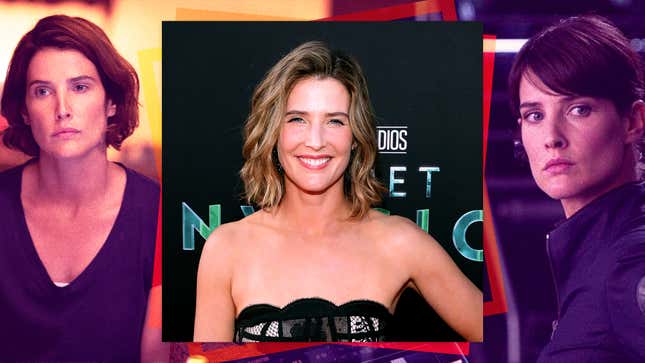 [The following contains spoilers from Disney+'s Secret Invasion.]

Cobie Smulders has officially said goodbye to Maria Hill. What that precisely means in a Marvel Cinematic Universe full of multiverses remains to be determined, but for now, Smulders has hung up her coat after more than a decade as Nick Fury's (Samuel L. Jackson) reliable right-hand woman. Smulders made her Marvel debut with 2012's The Avengers, joining the MCU's evolution from a few superhero movies into a mammoth cultural mainstay.
The A.V. Club's weekly film round up
Despite her appearances in Avengers: Age Of Ultron and Spider-Man: Far From Home, among other titles, Maria Hill hasn't been the main character ... ever. Fans expected that to change with Disney+'s Secret Invasion. After all, who is Fury without his trustworthy partner by his side for all six episodes? Turns out, that is what SI is about, because Maria dies at the premiere's end, and her demise serves as a driving force for the show's upcoming action. While Maria won't get the fleshed-out arc she deserves, Smulders is alright with moving on from Marvel after 11 years in the MCU.
The actor, best known for playing How I Met Your Mother's Robin Scherbatsky for nine seasons, has recently starred in cult favorites like the short-lived Stumptown and Amazon Freevee's High School. To mark the end of her MCU chapter, The A.V. Club spoke to Smulders about the Maria storyline she wishes had played out more, choosing projects post-HIMYM, and why she wants to play a goofball on-screen next.
---
The A.V. Club: We have to start with the big question—how did you feel about Maria Hill's fate in Secret Invasion?  
Cobie Smulders: I knew sort of from the beginning in terms of the show, and I don't know if it's because I feel like her life is constantly on the line that it wasn't as shocking. It made me sad. I've been so lucky to be a part of so many Marvel productions—film, TV, and animated things that involve Maria. This is a woman who's been through a lot. It's interesting because, at the start of each of these projects, I've had to go back and look at the big Maria moments to remember what's happened to her before and what the stakes for her are now.
Specifically for Secret Invasion, where do we find her emotionally for somebody who went through the Blip and jumped right back into work? What's it like for someone risking their life [after being snapped]? I was thinking about that. The Skrulls are a threat not seen clearly, and Maria's death has now left Fury with this intense, emotional moment where he has to wonder, "Did she think I did or not?" That's a dark question to have linger in your mind. The show will follow the ramifications of his witnessing that moment.
AVC: You've been part of the MCU for more than a decade. Do you remember what interested you about Maria at the start, or what pulled you into the Marvel of it all?  
CS: I would say, even to this day, I'm fascinated by doing something different. I want to keep things exciting and challenge myself. When The Avengers came to me way back in the day, I didn't know anyone who wouldn't be interested, even if the MCU wasn't as big then as it is now in the film industry. My husband was a very big fan of all things Marvel. He was helpful back then, and continues to be today, to explain things and tell me if something is a big deal and keep the storylines and the multiverse making sense in my brain.
AVC: Did you know exactly how long you were signing up for with Marvel? Did you expect this whole franchise to blow up the way it did?
CS: I knew it was going to be a big deal. It was the biggest production I've ever been a part of as I looked around on set and at the cast. So I knew it would be splashy when it first came out. I never could have dreamed that I would be invited to play in so many films and TV shows related to it. I feel fortunate to be Maria as many times as I could.
AVC: Everyone was hoping that Secret Invasion would be a gateway into Maria's life because we haven't had that much. Were you hoping for the same initially, or to learn more about her over your different projects in the MCU?
CS: Of course. Her character's backstory has been alive in my mind when going to play her in my scenes. But this is a rich world of characters, and it's really Nick Fury's story. He's one of the most intriguing characters in the comics. He's elusive. Expanding on that is where the focus is for this one. Of course, it would be nice to explore more about Maria. She's so interesting. These mortals in the MCU who choose to enlist to protect others within this world are incredibly fascinating to me because they're putting their lives on the line and coming up against those with super abilities. Secret Invasion is about people who have their boots on the ground, trying to get it done without superheroes, and unfortunately, sometimes they get hurt.
AVC: I'm curious about this backstory you said you had for Maria. What were some of the things you were thinking of, in general or from the comics, to flesh her out in your head?
CS: Leading into this one, there have been multiple things to touch on, like her family history. I think she comes from a military background. She's wanted to work up the ranks within S.H.I.E.L.D., but there was corruption and infiltration within that respect. What I find interesting, and wish we could've gotten into, is what it's like for someone's mental health coming back from the Blip? They touched on it a bit in Spider-Man: Far From Home and with Peter Parker [Tom Holland]. But I think it would've been cool to see that with Maria.
I don't see her as someone with many long-lasting relationships because she's always put her work first. Coming into Secret Invasion, she's struggling. I got to play with that a bit in my scenes with Sam Jackson in episode one. It's an honor and terrifying to be the one to tell Nick Fury, "I don't think you can do this job." I think it's only been me and Tony Stark (Robert Downey Jr.) who've told him that. It's cool to have that level of intimacy and trust showcasing their relationship.
AVC: What type of roles you were looking for after How I Met Your Mother while knowing you would also be doing all these Marvel projects?
CS: It's really seeing what comes my way. It's luck to see what aligns. When I got done with HIMYM, I was looking at more independent films, and I was able to do a few. More than anything, I wanted a beginning, middle, and end. I wanted to do a complete thing, finish something, and know where I was going. I'm grateful to be part of something that went on for so long on both accounts, HIMYM and the MCU, but you don't know what you're playing towards or how it'll conclude. It was exciting to read a script and see the whole arc. I wanted projects that would make me a better actress, and work with nice, kind, talented people. My family was also a top priority, so that's always a puzzle piece to figure out to make sure I can be a present parent and partner.
AVC: What was it like for you to reprise Robin for one episode of How I Met Your Father and step back into that world and that MacLaren's Pub set?
CS: It was a trip, to be honest. It was bizarre. I'm happy for our creators that they're executive producing HIMYF. It's also nice that people still like HIMYM to have another version of it. But on a Cobie-level, it was strange. They rebuilt that bar. And I'd already said goodbye to it and to that chapter. I remember taking in the HIMYM set, soaking it in, and being fully present with the last couple of moments of filming. Walking back in after all this time, literally it was the exact same decor. Joe Nieves was behind the bar, and my brain was like, "Carl's here." Our first AD and second AD work at HIMYF, and some of our other camera guys, and director Pam Fryman. But none of my buds were there. So I was kept thinking how weird it was. Time has passed but I'm back. I also hadn't done a sitcom in the years since HIMYM, so the rhythm of being quick and hitting those beats was a trip. It's exciting to think these characters are alive on the show, walking around doing their version of New York City still.
AVC: You also starred in Freevee's High School last year, playing a mom to Tegan and Sara. How closely did you relate to their coming-of-age stories? You have similar backgrounds.
CS: High School was amazing. Clea DuVall, who wrote all the episodes and directed some, sent me Tegan and Sara's book. I read it cover-to-cover so fast. And you're right, it was similar to my childhood growing up in Vancouver, Canada. I could relate to so much. There are some slight differences; both of them grew up in Calgary. [Laughs]. But the music, the parental conflict, it was all so familiar to me. It was cool to read and relate to that. It was lovely to then be able to play their mother, who was a strong woman having raised twins solo, and she's now looking around and wanting more for herself. I don't think we've heard anything about season two yet, and it's such a weird time right now.
AVC: With this Marvel chapter over for now, what characters are you hoping to tackle next?
CS: It's funny because I do get asked to play these super strong, tough, and determined women. It's cool, don't get me wrong. I find it complimentary. That's a bit of a unifying trait to a lot of the roles I play, which is wonderful for me and wonderful to have out in the world for young girls to see. I'm also a bit of a goofball, though. Yes, I consider myself tough. I'm a mom, I have a career, and I'm driven. But I can chill, and these women [don't]. It's also weird because, for the first time, I'm not sure what's next with everything going on right now.
AVC: Speaking of, I'd love to hear your thoughts on the studios holding out on a deal, the ongoing WGA strike, and a potential SAG-AFTRA strike.
CS: Yeah, I'm a proud union member. I don't think writers are able to make a living wage anymore. I remember the strike 15 years ago, and we were picketing with the writers back then. It was before anything was online. Netflix was still sending out DVDs. Networks said, "We're not going to put anything online, don't worry. We don't even need to chat about it." And here we are now. It's how we consume almost all of our content, and writers aren't protected. I'm worried about future generations of writers and performers. When I came into this business, because of how my family operated, it didn't even seem like a way to make a living, being an actor. It's about bolstering and supporting new people and giving them a good leg up to create more things for people to enjoy.