I've recommended Recity to a lot of people in the last few years, though those recommendations usually get hung up on the show's subject matter. You can emphasize the eye-catching photography or the soulfulness of the lead performances, but at some point, you have to address the elephant in the room, as Chloe does in "Bob & Carol & Ted Jr. & Alice." Daniel Holden was convicted of murder and rape and sentenced to death, all topics that might send potential viewers running for the hills.
Death-row stories are not entertaining. We want to believe in the efficacy and accuracy of our justice system. People with Daniel's reputation aren't the type to be invited into America's living rooms. All of these things—along with the show's ambiguous morality and philosophical leanings—combine to make Rectify a "difficult" show.
But as I watched the conversations that comprise the bulk of "Bob & Carol & Ted Jr. & Alice," Rectify appeared not at all difficult. As Amantha and Billy and Ted Jr. and Melvin shoot the breeze between missed phone calls and emptied beers, it's easy to understand Rectify's appeal, to grasp what the show does so well. It's simple human connection, two people finding common ground in high-school reunion gossip or a mutual acquaintance. They're not really people, just actors saying words in front of cameras. But in its easygoing manner, Rectify casts an illusion that each and every one of them grew up in the same town, went to the same school, fought against or perpetuated the same gossip about Daniel Holden and what happened to Hanna Dean.
"Bob & Carol & Ted Jr. & Alice" can be a very sudsy episode of the show. "Will Janet sell the family store?" is a stock small-town-drama plot; the snockered sniping between her and Amantha a low-key, down-home version of mother-daughter fights on nighttime soaps set in higher-priced zip codes. But even in that scene, Rectify's innate humanity is on display: Under the soft glow of living-room lamps, J. Smith-Cameron and Abigail Spencer strike up prickly conversation about romantic prospects and honoring the legacy of Paulie Tire & Rim while not losing sight of the fact that a) their characters love one another, despite their differences in opinion and the emotional baggage, or b) that Amantha threw back multiple cheap beers at Thrifty Town and Janet is deep into a bottle of wine.
G/O Media may get a commission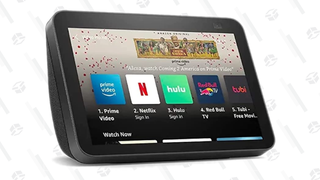 Moments of consequence occur during "Bob & Carol & Ted Jr. & Alice": There's the phone call from a real-estate lawyer who'd like to make an offer on tire store, and Jon Stern shows up at the sheriff's office to drop a big load of "I know what you did" on Daggett. Those scenes provide a framework for the episode and add to the show's bigger picture, but what sticks with me are these attempts to make contact. My heart was warmed by Teddy providing a sympathetic ear for Melvin. (Is this the charisma of Clayne Crawford at work, or is Teddy really coming around?) Jon Stern sits alone in a hotel, calling former clients (and an ex-girlfriend) who won't pick up the phone; it makes him a lot like Daniel's new roommate, Manny, who's desperately overstepping bounds in search of a connection. Janet actually gets a hold of Daniel, catching him on a break—though she can't give herself a break from worrying that an unattended shopping cart belongs to Trey Willis. No one on Rectify is without remorse—Tawney's so seeped in the stuff that she can't bring herself to say the word "divorce." Her therapy scene corresponds to Amantha and Janet—"I didn't want you to come back here to be my de facto psychiatrist"—and Daniel too, the latter actively participating in the New Canaan group session and considering outside assistance for PTSD.
But rather than seeing a professional, he takes solace in old comforts: art and the art of conversation. The concluding scenes at Chloe's co-op keep audience and characters alike guessing at Daniel and Chloe's intentions—is this romantic or something else?—and Aden Young and Caitlin FitzGerald make easy use of pre-established and newly established defense mechanisms. Chloe is sarcastic, cyncial—she'd either get along with Amantha, or they'd drive each other nuts. Daniel cuts an aloof figure that projects mystique and just a little bit of danger—this sort of confidence is a strange look on him, Aden Young commanding the room at the co-op in ways he doesn't at New Canaan. But Chloe pierces this armor when she admits that she's Googled her new friend. In turn, she reveals that she's pregnant.
The scenes between Young and FitzGerald verge on being the type of "difficult" that could shoo people away from Rectify. Daniel and Chloe chat in elliptical terms, answering questions with more questions and verbally sparring in a manner that's one part theatrical, one part screwball comedy. It kept me at a distance for a good long while, until the music shifted into a lovely little piano waltz, the defenses lowered, and Daniel and Chloe shared a moment of connection with his hand on her stomach. Daniel Holden, former living dead man, is there, in the moment, with a future life. It's over so quickly, I had to rewind the screener, like re-reading the last line of short story to make sure it all sinks in. But it's there, and it's real, and it pokes shafts of light through the darkness that hangs over Rectify.