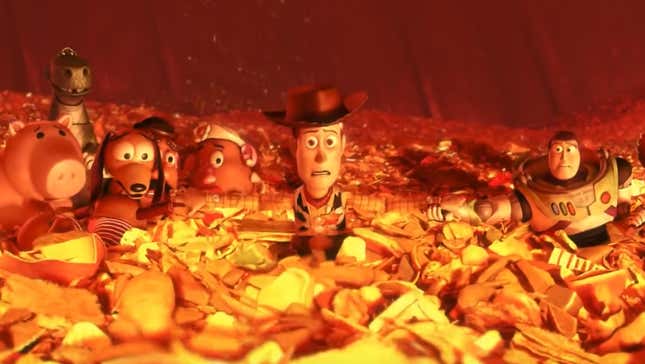 The dream factory known as Disney is making its dreams of fiscal responsibility a reality by laying off swaths of its workforce and doubling down on sequels. Per Variety, during the company's year-end earnings call this morning, newly returned CEO Bob Iger announced he's cutting 7,000 employees in hopes of finding $5 billion in savings. He also announced that the company would be dumping another round of necessary installments to the Toy Story, Frozen, and Zootopia franchises on our laps. Aside from the depressing news that Disney would, once again, test fate and make another Toy Story, the company is also bringing Avatar rides and experiences to Disneyland in California.

It wasn't a particularly great call for Disney as the company also announced that Disney+ lost more than 2.4 million subscribers, mainly from Disney+ Hotstar, the company's Indian streamer. Apparently, like in the United States, Disney+ Hotstar subscribers weren't too keen on Lightyear, which explains why Disney's returning to the toybox. Maybe if Disney gives us more Forky, it'll bury the news that Disney is making 7,000 employees redundant.
"I have enormous respect and appreciation for the dedication of our employees worldwide," Iger said mere moments after respecting his employees into unemployment.

This is a far cry from 2016 when Mr. Iger posted on Facebook, "To Bernie Sanders: We created 11,000 new jobs at Disneyland in the past decade, and our company has created 18,000 in the U.S. in the last five years. How many jobs have you created? What have you contributed to the U.S. economy?" Sanders had previously criticized Iger's company, asking the audience at an Anaheim campaign rally, "Anybody make a living wage working for Disney? It's an example of what we're talking about when we talk about a rigged economy."
Proving Sanders somewhat correct, Iger's decision to lay off 7,000 workers is strange, considering the company's overall revenue was up 8% last quarter, posting $23.51 billion in revenue. Disney, where the dreams of investors come true.